Showfish
Gurney's Star Island
Resort and Marina
32 Star Island Road
Montauk
631-668-3133
I barely remember going to review the restaurant at Montauk Yacht Club a few years ago. If I recall correctly, it had okay food, a beautiful setting (marina, pools, boats), and the decor let you know it was in a nautical place, rather Ralph Lauren-lite.
The people who have purchased and renovated Gurney's Montauk Resort and Sea Water Spa have also taken over the former yacht club and it is now Gurney's Star Island Resort and Marina. There are 232 boat slips, three pools, a lot of rooms, oodles of outdoor lounging opportunities, and more. The colors are pleasantly neutral — lots of taupes and ropes. It is not easy to find the jewel in the crown here; there are various walkways, ingress and egress through another restaurant (Il Forno), and then a paper sign leading you to Showfish. There is an attractive marble bar with a high ceiling, dark wood beams, and a fascinating light fixture comprised of what looks like a lot of pressed glass vases and jars hanging from wires. The dining room is spacious and open to the outdoors.
When I heard that Jeremy Blutstein, former chef de cuisine at Bridgehampton's Almond, and before that of Crow's Nest and East by Northeast in Montauk, was to become executive chef of Showfish, Il Forno, and the Pool Club, all within this brand spanking new resort, I thought, "Ruh roh." I feared that his badass, maverick, potty-mouthed, Wu-Tang-Clan-loving, fierce loyalty to localism talent might be tempered, quashed, repressed, stifled.
Well, hallelujah, such is not the case.
Showfish's menu illustrates Chef Blutstein's exuberant adoration of local fish and farms. Interestingly enough, his name is not on the menu but the names of over 13 farmers, fishermen, and cheesemakers are.
After settling in at our table, we were served some warm bread and softened butter, both sprinkled with black and white sesame seeds. At first I thought it was gomashio, a Japanese black sesame seed salt, but I think it was just toasted seeds. The bread tasted like a cross between Parker House rolls and Portuguese sweet bread, absolutely delicious. For starters we tried tuna crudo, warm carrot salad, grilled octopus, and bluefish rillettes.
The tuna crudo was presented in a ramekin, the fish neatly pressed to one side, topped with buttery, garlicky crumbs and six baby nasturtium leaves. The other side of the ramekin had a slick of spicy chili oil. The fish was superbly fresh and lightly seasoned. Once you took a bite of the crumbs and a swipe in the oil, each bite came alive. The nasturtium leaves (Good Water Farms) were not just a pretty garnish, they popped with concentrated pepperiness.
The warm carrot salad was big and reckless, the rainbow carrots (Quail Hill Farm) almost raw, perhaps blanched, very crunchy. They swam in a harissa tahini and were topped with baby lettuce and mustard green leaves, pickled red onions, and what appeared to be feta, but was even tastier ricotta salata.
The grilled Spanish octopus was served on top of rich olive oily smushed (Marilee Foster) potatoes. The octopus was tender and smoky, the potatoes perfectly seasoned, and then there were little chewy meaty fatty bits of lamb bacon lardons. A lot of chopped green herbs and a sprinkling of mild espelette pepper finished the dish beautifully.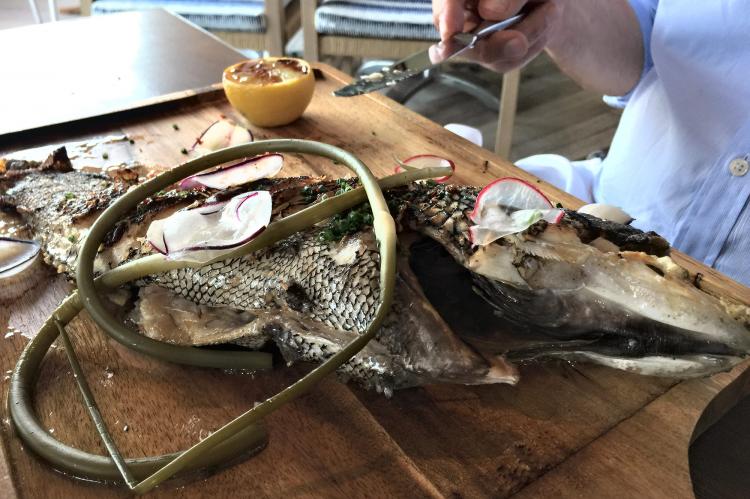 The smoked bluefish rillettes weren't your usual Nantucket blob of dark grey fish with cream cheese and horseradish dip. No sirree. This version was pale and fluffy, sophisticated, light yet rich. Pickled garlic scapes strewn about added a vinegar and allium note, but the surprise element was bay leaf oil. (One of my guests wrote the following morning saying he'd been thinking about that "nice subtle surprise flavor.") What looked to me like a crispy thin pappadum to break up and top with the bluefish turned out to be house-made matzoh. I'm a shiksa, what can I say?
For entrees we ordered roast chicken, the black bass special, tagliatelle with Jonah crab, and a side order of lobster kimchi fried rice. The chicken was moist and well seasoned, possibly brined. The skin was crisp and there were thick wedges of king trumpet mushroom alongside (Open Minded Organics). The creamy grits (Stone's Throw Farm) underneath the chicken stole the show. These grits could put any Charleston or Geechy Boy Mill grit to shame. The sauce surrounding the grits tasted of browned butter, which should be a perfume.
The black bass came to the table whole, on a wooden board with a grilled lemon half and another tangle of pickled garlic scapes and radish slices. This guest, Geoffrey Drummond, hangs out with the likes of Eric Ripert, and he declared it beautifully seasoned and consumed it cheeks first, leaving nothing behind but a Steve Miller x-ray of bones.
The tagliatelle was another grand dish, a twirled mound of yellow pasta, cooked al dente, full of crab bits and faintly tasting of Maine uni. Some Calabrian chili oil gave it bite and some breadcrumbs similar to those on the tuna crudo gave it crunch. We loved this dish.
The lobster kimchi fried rice, offered as a side dish, could easily be an entree and would be worth double the price charged here. It was ridiculously full of lobster meat, just enough kimchi to add acid, and it had bits of (fermented?) black beans and Swiss chard.
The service on the night of our visit was excellent, very attentive and friendly, from the charming hostesses to the managers, bartenders, our waiter Jeriel, and smiling busser, Eugene. The staff is young and they are happy. Perhaps they know there's a good thing going on here.
Prices are expensive but worth every penny. Raw items and plateaus are $14 to $240, appetizers are $17 to $24, entrees are $29 to $44, entrees to share are market price, sides are $8 to $19, and desserts are $14.
For desserts we tried banana toffee cake, blackberry tart, and mango tembleque. Again, all three were excellent. The banana toffee cake was light, served with a wonderful banana ice cream and caramel toffee sauce. The blackberry tart had a sweet shortbread-like crust with a layer of hibiscus curd (!) and pastry cream, and was topped with fresh blackberries. My favorite was the mango tembleque, a riff on a Portuguese rice pudding. This rice pudding was rich with coconut and tart from the mango chunks on top. There were some crunchy crumbles on top (puffed rice?) and a pool of mint oil around the edge. A perfect summer dessert.
Upon exiting we came across the man himself, Jeremy Blutstein. He expressed appreciation for the fact that this Star reviewer is the only anonymous one in town, in county, in state, and told us that the secret ingredient of the brilliantly yellow tagliatelle is . . . duck egg yolks. Minds blown!
The only other place where I have experienced such hyper-local focus and out of the box, off the leash creativity with ingredients is Dan Barber's Blue Hill at Stone Barns, where the meal plays out like a cross between a Tim Burton and Wes Anderson movie. Vegetables and fish and meat and eggs reverse roles and surprise you with every bite. A beet is coated in tallow, eggplant comes out of eggshells, a Jerusalem artichoke flower is tempura battered. Chef Blutstein makes mushroom lardo, herb infused oils, sun choke crudo, dry-aged bone-in tuna ribeye.
 I see no ego here, although it is warranted. I see highly spirited creativity and respect for the sources. In their own words: "freshness is key, locality is paramount, and flavor reigns supreme."