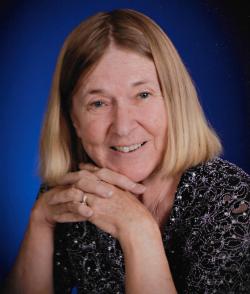 Barbara Oeffner, an East Hampton native and a 10th-generation relative of Nathaniel Dominy, one of the town's early settlers renowned for his woodworking and clockmaking skills, died on Jan. 24 in Moore Haven, Fla. She was 74, and had been ill for six months.
Born on Aug. 25, 1944, in Southampton to the former Grace Dominy and Walter Renkens, she was the salutatorian of her graduating class at East Hampton High School, and a National Merit Scholar.
As the editor of the school's Beachcomber newspaper, she interviewed Carl Yastrzemski, a Hall of Fame baseball player for the Boston Red Sox.While at Northwestern University, where she majored in journalism, she interviewed the Hall of Fame hockey player Gordie Howe.
After college, she worked at the Encyclopedia Britannica in Chicago. She married Michael Dunning, had two children, and moved to Cape Cod, where she founded and edited Sandscript, a national poetry magazine. The marriage ended in divorce.
In 1989, she traveled the world with her college roommate. Her favorite city, said her family, was Cairo, where she got the chance to ride a camel.
She married Thomas Oeffner in 1990. The couple lived in Delray, Fla., and Ms. Oeffner had worked as an insurance agent for two days before Hurricane Andrew struck.
She and her husband then began managing rental properties, including an eight-unit apartment building in Palm Beach.
During that time, she met James Billie, the chief of the Seminole Tribe, on whom she wrote the biography, "Chief: Champion of the Everglades." She also wrote two books about the communities surrounding Lake Okeechobee.
Due to her enduring friendship with Mr. Billie, who lived in Moore Haven, she and her husband moved there. 
She became the director of several local libraries, where she secured national grants to bring exhibits, including one on the explorers Lewis and Clark, to the communities. Her work inspired her to earn a master's degree in library science at Florida State University.
She became the director of the library for the Seminole Tribe at Big Cypress Reservation prior to her retirement.
An adventurous spirit, she loved to take cruises with her husband, and would spend summers with her sister in the East Hampton house in which they grew up. Her hobbies included quilting, gardening, and golf.
She was a member of the Moore Haven Methodist Church and East Hampton Methodist Church.
She is survived by her husband Thomas Oeffner, her children, Brendan Dunning of Halifax, Va., and Amie Dunning of Barnstable, Mass., a stepdaughter, Heidi Greene of West Yarmouth, Mass., her sister, Carol Lubetkin of Fairfield, Iowa, and East Hampton, and three grandchildren.
A memorial service will be held in East Hampton at a date to be announced.