No sooner had East Hampton's 11-under softball players celebrated their regional championship "mercy rule" win over the Bohemia-based Sunrise Hawks here Sunday than they were called back to resume play.
The celebration began when, in the top of the fifth inning, East Hampton, the quote unquote visiting team, whose players hit well and repeatedly stole bases that morning, took a 17-7 lead with two outs, nobody on, and Abby O'Sullivan, the eighth hitter, up.
Up by 10 runs after four innings of play: That seemed to be it. And indeed the visitors seemed to agree. The players lined up, handshakes were exchanged, photos of Mike Ruddy's gleeful charges with the large Region IV championship banner were taken by proud parents, and the umpires had left before doubt began to set in.
As Kenny Dodge was saying "it happened just like this last year, at Hampton Bays," the rule book was consulted, and it turned out that, given the fact the Hawks were the "home" team, the game had to be picked up where it left off.
When play resumed, and with the aforementioned two outs, O'Sullivan singled, Kerri O'Donnell doubled her home, Lila Ruddy drove in O'Donnell with a base hit, Sienna Salamy walked, and Lily Griffin's triple drove in Ruddy and Salamy to make it 21-7, after which Olivia Walsh beat out a dribbler toward first, plating Griffin with East Hampton's eighth run of the inning and its 22nd of the game. It remained for Hailey Rigby to ground out pitcher-to-first to end the explosive inning.
Georgia Kenny, who went all the way for East Hampton on the mound, struck out the first batter to face her, the second reached safely on a grounder that bounced off Kenny's glove, but moments later Kenny gathered in a comebacker and alertly threw to second base for a forceout there. 
A subsequent infield throwing error, which put runners at second and third, raised the Hawks' hopes momentarily, but only momentarily, as a 4-to-3 groundout closed out the 22-7 win and clinched the best-of-three championship for East Hampton, which had lost the first game 6-5 here Friday and had, on the Hawks' field Saturday, won the second 13-3, a game that ended after four innings owing to the mercy rule.
On Sunday, East Hampton scored five runs in the top of the first, three in the second, three in the third, three in the fourth, and, as aforesaid, eight in the interrupted fifth. The Hawks scored two in the bottom of the first and five in the fourth.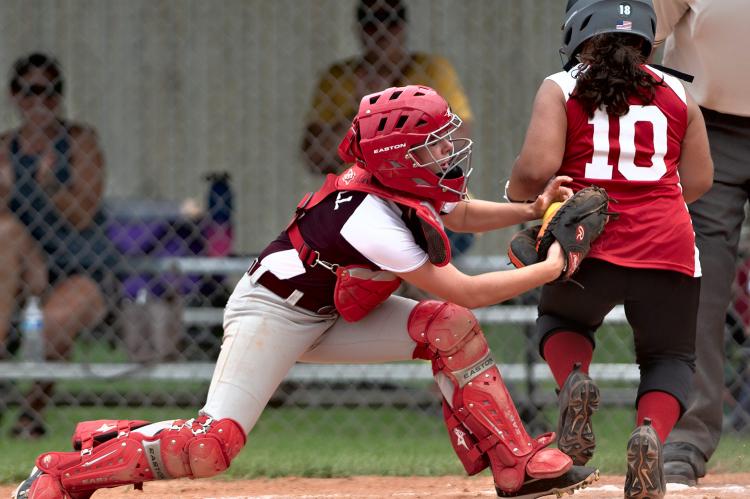 Ruddy, who is assisted by Joe Lenahan and Andrew Salamy, said afterward that the team would leave for the state tournament at Glens Falls Monday, and might, depending on what happened in pool play, stay up there through the weekend. Six regional winners, he said, would vie in pool play with the top four emerging as semifinalists. East Hampton's first pool game was to have been played Tuesday. 
Last year's 10-and-11-year-old team, the first ever from here to play for a state championship, finished as the runner-up to Pearl River.
Ruddy has four returnees from that team — his daughter, Kenny, O'Donnell, and Salamy. It will be a new experience for the rest of them, namely Olivia Dodge, Susie DiSunno, Anya Crio, Mackenzie Lenehan, Olivia Walsh, Paige Daniels, O'Sullivan, Emily Bruno, and Griffin. 
In related news, Annemarie Cangiolosi Brown's 14-and-under softball team, the East Hampton Hawks, which is playing in the Brookhaven summer league at Baseball Heaven in Bellport, was as of earlier this week undefeated, at 9-0, with three games to go.
"And we've been beating our opponents by a lot — we've scored 82 runs to their 18 all told," said East Hampton High School's varsity coach, who is volunteering her time this summer in order to help rebuild the program.
There are 15 on the 14-U roster (mostly 12-year-olds), including Alyssa Brabant and Maddie Brown, who also play with the Long Island Express, Caroline DiSunno, the team's pitcher, who will be a ninth grader in the fall, her sister, Susie, who will be in seventh grade, and the O'Donnell sisters, Riley, who will be an eighth grader, and Kerri, who will be a seventh grader.
Kerri is the catcher on the 11-U team that headed upstate for the state tournament in Glens Falls on Monday.
Brown, who also coaches a 10-U team in the Brookhaven league, a team that has had mixed results, "but is learning," has been working with all of the town's younger players this summer, having taken time off from Ross's summer camp, where she has worked for the past decade.
"You can see they're all improving," she said. "They've changed their swings and are hitting the ball, they've learned how take leads, how to slide . . . they're doing really, really well. Varsity rules prevail in the summer leagues, which is good . . . unlimited walks, steals, passed balls, dropped third strikes. . . . Defensively, they're learning about throw-downs to first or third and backing up. They're getting experience, and it's good for them. It will be even better for the younger ones in Little League next year."
Brown added that she would work with pitchers and catchers of all ages in the high school's gym next winter, and was thinking of entering teams in Brookhaven's fall league too, though she wasn't sure at the moment which ones.