An 11-year-old triathlete from Brooklyn, Macy Putka, who started off in the third wave, wound up winning the I-Tri program's 10th youth triathlon at Noyac's Long Beach Saturday in 35 minutes and 59.27 seconds, besting a record turnout of 145 entrants.
"We've never had more than 100 before," Sharon McCobb, the race director, said afterward. "The swim was a little choppy, but it was a great day, and everything went smoothly," the sole reported injury being a sprained ankle on the bike leg.
McCobb added that the I-Tri girls — the program's reach was extended from Montauk unto middle schools in the William Floyd and Riverhead school districts in the past year — all had made it through a dress rehearsal, as it were, at Long Beach four days before the race, which comprises a 300-yard swim, a 7-mile bike, and a 1.5-mile run.
Peter Sloniewsky, 14, of Setauket, was first over the line, in 36:22.45, with Bella Tarbet, a 16-year-old East Hamptoner, not far behind, at 36:44.09 — four minutes better than her time last year.
David Powers, a veteran triathlete who is on I-Tri's board, said that Tarbet, who was sixth or so out of the water, whisked by "a number of boys who were toweling off" on the way out onto the North Haven bike course. She had a slight lead on Sloniewsky going out onto the run, an out-and-back course along Long Beach, but his 10:57.84 was the best of the day, her 11:22.61 being second best.
Putka, the youngest competitor to win the event, didn't exactly come out of nowhere: Her mother, Micaela, a triathlete herself, said Macy had been in USA Triathlon's national junior championships held in West Chester, Ohio, near Cincinnati, last summer (where she finished 22nd among the 7-to-10-year-old females), and had also been in the Canadian national championships in Ottawa. Macy's younger sister, Gigi, 9, was also in the third wave of Saturday's race, winning the 10-and-under division in 40:15.06.
Micaela Putka, who placed 19th at the world championships in her age group, said that she and her husband, Peter, "who was 17th in his age group, I think," had met when they were on McGill University's triathlon team. She was happy, she added, that their daughters were "doing sports rather than staying inside and watching YouTube."
That all the I-Tri participants — Amanda Koszalka, a 12-year-old Southampton Intermediate School student was the top one, in 44:24.27 — finished was the main thing, bearing out the program's founder Theresa Roden's conviction that triathloning can be transformative, that meeting the physical challenges posed by a triathlon's three disciplines, swimming, biking, and running, together with fellow teammates, serves as a big confidence booster across the board.
Lori King, who has a Catalina Channel crossing among her impressive long-distance swimming credits, and who was one of the speakers at I-Tri's "mentoring day" at the East Hampton Middle School in April, said then of Roden's program: "What Theresa has created in I-Tri is a hug. With open arms outstretched these girls say, 'It's okay — you can be you, we want to see you and we'll help you.' They're providing that safe haven that every young girl needs to dim her insecurities so that her authentic self can shine through — so that, with the love and support of others, she can go on to achieve amazing things."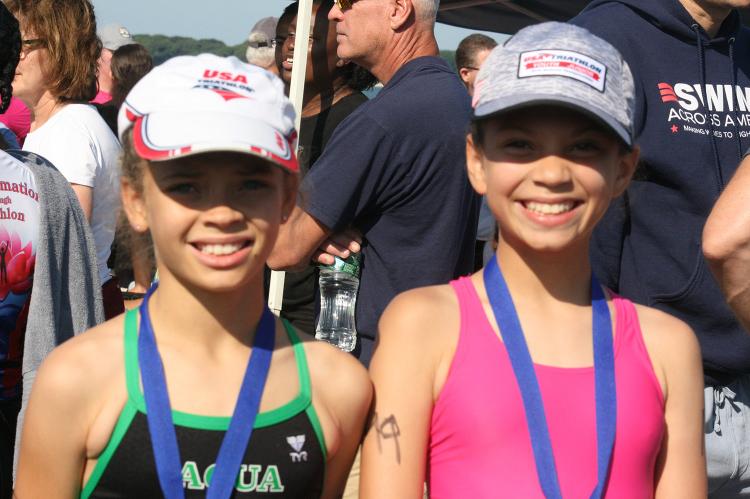 A number of East Hampton Village Ocean Rescue squad members, Rich Kalbacher, Heather Caputo, Barnaby Friedman, Katie Osiecki, and Chris Chapin among them, made sure the 300-yard bay swim was safe, though because of bunching close to the shore McCobb said she'll probably put the swimmers out a bit farther next year.
The I-Tri girls, a number of whom each year begin with doubts at the beginning, had been training for the event since March, under McCobb, Amanda Foscolo, Kelly Roesel, and Diane O'Donnell, East Hampton High's girls cross-country coach.
Sammie Davis, 13, of Riverhead, whose father, Mike, grew up in East Hampton, said, when asked about her first year in I-Tri, that she had "made a lot of new friends," and added that when first told she'd be doing a triathlon in the summer, had said, 'Yeah, right.' " It definitely was a confidence booster, she said.
Meanwhile, Coach O'Donnell was particularly pleased that day with Tarbet's 11:22.61 and Dylan Cashin's 11:29.39 in the 1.5-mile run. Cashin, who topped the female 12-year-old division and was fifth over all, with her 38:17.15, is expected to run as an eighth grader with Tarbet (third over all Saturday, behind Macy Putka and Sloniewsky) on the varsity girls cross-country team.
Ava Engstrom, her fellow incoming junior, had not yet been persuaded to add swimming to her repertory, Tarbet, a lifeguard at Atlantic Avenue Beach, said. O'Donnell said Engstrom, Tarbet, Emma Hren, and Cashin, and another incoming eighth grader, Riley O'Donnell (no relation), ought to form a formidable top five in the fall.