Jakob Dylan is capping off a busy year with a visit to the South Fork. His film "Echo in the Canyon," about the Laurel Canyon music scene in Los Angeles during the 1960s, was released in late May, and he is on tour with his band the Wallflowers this summer.
"Echo in the Canyon," which was directed by Andrew Slater, features Mr. Dylan's interviews and performances with artists such as Brian Wilson, Roger McGuinn, Eric Clapton, Michelle Phillips, and David Crosby, and has the last interview with Tom Petty before he died. This is punctuated with interviews with and more performances by contemporary musicians such as Beck, Fiona Apple, Regina Spektor, Cat Power, and others to underline the connection between past and present.
The film opened the Los Angeles Film Festival and DOC NYC in 2018 and received mostly enthusiastic reviews from critics and the public. It is still showing in some scattered art house theaters around New York City.
Mr. Dylan and the band will join Montauk's Colin Jost in a benefit performance for the Celiac Disease Center at Columbia University Irving Medical Center on July 27 at Guild Hall. Mr. Jost, a co-head writer on "Saturday Night Live," for which he also co-anchors the show's "Weekend Update" segment, will offer stand-up comedy in addition to the concert in an event called C.U. (as in Columbia University) Out East.
Mr. Dylan said he counted himself "lucky enough to have been able to [perform] a number of times" on the South Fork, and looks forward to staying longer when he gets the chance.
The documentary has taken up much of his time in recent years — "both filming and the work involved since it's been released," he said. "As soon as some time is cleared I'm looking forward to a record of new material, be it solo or as the Wallflowers."
The band has had its ups and downs and several personnel changes over the years. Mr. Dylan told Rolling Stone on its "Music Now" podcast that bands generally don't stay together over the long haul. "You start as kids and then grow out of it," he said, adding that touring also takes a toll.
"This summer I'll be touring with the Wallflowers and collecting new songs for whatever is next," he told The Star.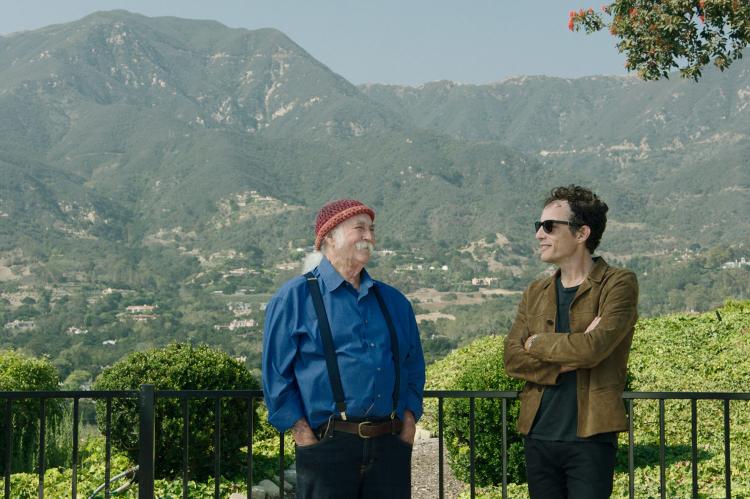 Making the film was an opportunity to "step off the treadmill that records and touring creates after 20 years of making music," he said. There "should be time for everything if you take stock now and then."
Although some of his seminal influences included the Clash, who were making music around the time he turned 13, he said the complete catalog of musical influences growing up was too large to list. "My earliest interests were bands that had great songs. More than singer-songwriters, I like the idea of bands. Still do, but the best bands usually have great singer-songwriters."
Although Mr. Dylan is too young to have experienced the music described and performed in the film, Mr. Slater, who is also his manager, grew up in the 1960s listening to AM radio. "The Beatles defined mod London, while songs from the Byrds, the Beach Boys, the Mamas and the Papas, and Buffalo Springfield painted an idyllic picture of life in bohemian Los Angeles," he said in the director's notes for the film.
In this environment, creative influence flowed back and forth across the world, as the Beatles and Beach Boys pushed each other to create breakthrough albums such as "Pet Sounds" and "Sgt. Pepper's Lonely Hearts Club Band."
"Not only did I set out to explore how this musical symbiosis encompassed bands of the era, but also how the magical moments of the beginning of the Laurel Canyon music scene had reached out to contemporary songs and artists as well," Mr. Slater said. He enlisted Mr. Dylan, along with artists of his generation, and went to where the music was made to speak to those who made it. "Jakob had known many of these people his whole life, and they began telling him the stories behind the songs."
Ticket categories for C.U. Out East and availability can be found at the Celiac Disease Center at Columbia University Medical Center website. Proceeds will fund research, patient care and advocacy, outreach, and education. The event will feature locally sourced, gourmet, and gluten-free hors d'oeuvres, signature cocktails, and a luxury online and live auction.