"He's an example," said Vanessa Edwardes, putting an arm around Eliot Fisher at last Thursday's Nipper Guard session at Albert's Landing Beach on Gardiner's Bay. "He was in the town swimming program at the Y with me when he was 4. Now he's a lifeguard and one of our instructors."
With Haley Ryan, Edwardes runs the East Hampton Town Recreation Department's increasingly popular Nippers program for kids too young to be junior lifeguards. 
The idea for the bay swimming and water safety classes for 6, 7, and 8-year-olds was born "four years ago, at the ocean, where I was lifeguarding and my goddaughter [Sierra Metz], who was 2 years old then, asked if she could go out on a paddleboard," said Ryan. "The water was flat, so my Dad [John Ryan Jr.] and I put her on one. That night, at the dinner table, we agreed that it would be a cute idea to teach the young ones."
"So you're the one who began this?" this writer said to Sierra, now 6, who, on arrival, hugged her godmother.
There were 37 kids in the program the first year, 2016. 
"The second year," said Edwardes, an eight-time national champion in beach flags and the distance run, "we had 78."
"There were 80-something last year."
"And there," Edwardes said, pointing to a long list on a card table where the participants were signed in, "is this year . . . 100."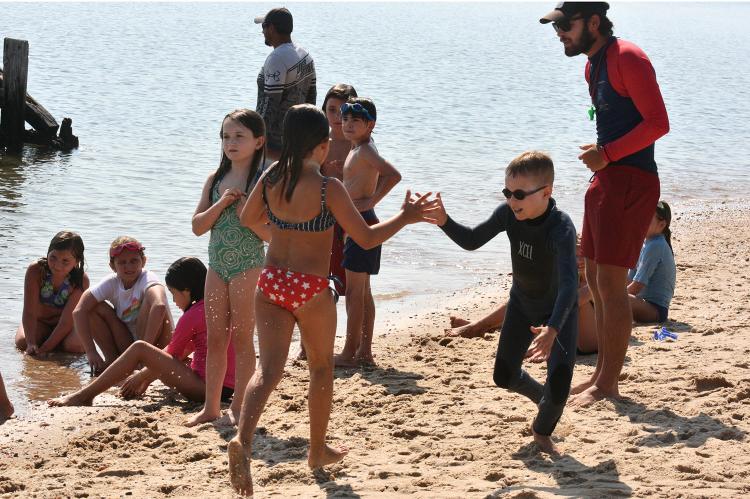 In the beginning, Ryan, who swam at the State University at Purchase, and Edwardes, whose answering machine says she's either in the pool or coming out of the pool and will call you back once she's dry, had a few assistant instructors. Now, there are many more, Bella Tarbet, Tanner Smith, Marikate Ryan, Shannon Ryan, Nina Piacentine, Olivia Brabant, Devin Coy, Peter Stacom, Lexy Parsons, Fisher, and Abby Nancy Ross among them.
The latter, said Ryan, oversees a Nippers group of about 20 that meets Wednesday and Friday mornings at the East Lake beach in Montauk. 
John Ryan Sr., the guru of lifeguarding in this town, and Haley Ryan's grandfather, who had come to give that day's gathering a pep talk, said Nippers training, which includes run-swim-run and rescue relays with torpedoes and paddleboards much like those junior and senior lifeguards take part in, made a lot of sense given the fact that drowning poses a particular threat to the youngest of East Hampton's children. 
All the Nippers had to pass a swim test at the Y.M.C.A. East Hampton RECenter earlier this year.
"We've got three groups, As, Bs, and Cs," said Edwardes, as she and Ryan folded up the card table and headed toward the beach where Piacentine would lead the large circle in warm-ups, ending with a few Burpee squat thrusts that begin and end in a standing position. "They're ability-grouped. The Albacores are the faster swimmers, the Bass are next, and then the Carp."
Edwardes added that the reason the 9-year-olds needed no persuasion to race into the ocean surf at the opening day of junior lifeguarding recently was because "most of them had been in this program for three years."
Fisher, who said he remembered also having lessons at the bay when he was 4, said Nippers would provide kids with the confidence they needed to perform in the ocean, "which is much different than the bay. It begins here," he said. 
Among the parents looking on were Josh Brussell, East Hampton High School's varsity boys volleyball coach and a popular musician here, and Sarah McDermott Menu, each of whom has children in the program — Aurora and Kai in Brussell's case, and Aidan, a swift swimmer, in the case of Menu, whose older son, Miles, is a junior lifeguard.
"One more time?" Ryan asked the Albacores after a run-swim-run relay.
"No!" they said.
"Two more times?"
"No!"
And then they were at it again, rounding Coy, who was standing 10 yards up the beach on their way to and from instructors stationed about 12 yards out in the calm bay water.
The Nippers are to have their own tournament — with water events at Albert's and beach events at Atlantic Avenue in Amagansett — on the first two days of August.