Tenia Campbell, the Medford mother accused of killing her twin daughters, intentionally suffocated them and drove to Montauk with their bodies in the car, the Suffolk County District Attorney's office said yesterday at her arraignment on upgraded charges that include first-degree murder.
Ms. Campbell, 24, appeared on the new charges before Judge Richard Ambro in Suffolk County Criminal Court in Riverhead yesterday morning. A grand jury indicted her on four charges: two counts of first-degree murder, which involves the killing of one or more individuals in the course of the same criminal transaction, and the originally charged counts of second-degree murder, which indicates she intentionally meant to kill Jasmine and Jaida Campbell. They had turned 2 in April.
Their mother faces life without parole if she is found guilty on the first-degree murder charges, or 25 years to life on the second-degree murder charges.
While Suffolk police had withheld the cause of death pending autopsies, Kerriann Kelly, the homicide bureau chief for Suffolk County District Attorney Timothy D. Sini's office, told the court yesterday that the medical examiner had determined they were "killed through homicidal violence, consistent with manual asphyxia." At a press conference later, she said, "There are probably a number of different ways that could occur, but basically it's covering an individual's mouth or nose so that they are no longer getting any oxygen. Whether that's by hand by pillow or in some other manner."
Ms. Campbell admitted to police and on a recorded conversation with her mother that she killed her daughters, Ms. Kelly said. "She indicated, 'I killed them,' meaning the girls. 'The girls are dead in the car with me. I killed them with my hands. I can't kill myself so someone is going to find me and I'm going to jail.' "
Ms. Campbell's court-appointed attorney, John Halverson, entered a plea of not guilty on her behalf. She has been held without bail at the Suffolk County jail in Riverside since her June 27 arrest, the evening her daughters were found dead, and she was brought into the courtroom yesterday handcuffed and wearing a green prison uniform. She said nothing, except to identify herself at the request of the judge. Judge Ambro remanded her to jail. 
Ms. Campbell was found at the entrance to the Third House area in Montauk County Park after an extensive two-hour search throughout the county that started when her mother called 911. Ms. Campbell had called her and said she had killed her twins with her "bare hands," according to court records, and was going to kill herself next by walking into the ocean to drown. She would not give her exact whereabouts.
Police used telephonic GPS to find her. An East Hampton Town police officer found Ms. Campbell's minivan parked just past the Montauk Highway entrance to the county park. Ms. Campbell, who was not armed, walked toward police and screamed at an officer to shoot her. Police were soon able to subdue her and found the children in their car seats, not breathing and without a pulse.
Emergency medical personnel tried to resuscitate the girls, but it was too late. They were pronounced dead shortly after arrival at Stony Brook Southampton Hospital.
Vanessa McQueen, Ms. Campbell's mother, told police that her daughter, a mother of three, had been diagnosed with bipolar disorder years ago and struggled with depression and anxiety. Ms. Campbell also has a 4-year-old son, who was with his father that day.
"Clearly there were some emotional issues prior to this incident occurring," Ms. Kelly said when asked at the press conference what led up to the children's deaths. "I really don't feel comfortable to comment any further at this time."
While the children were found dead in Montauk, it has not yet been determined where they were killed. Ms. Kelly said the investigation is still ongoing and that her office is working with the medical examiner and the Suffolk County homicide squad to make such determinations.
"Obviously, my thoughts and prayers go out to Jasmine and Jaida. This is a horrific tragedy," Mr. Halverson told the press after his client's arraignment. He is in the beginning stages of mounting a defense based on his client's mental disorder. "I think the act speaks for itself . . . any mother alleged to have harmed their children obviously is not in the right state of mind."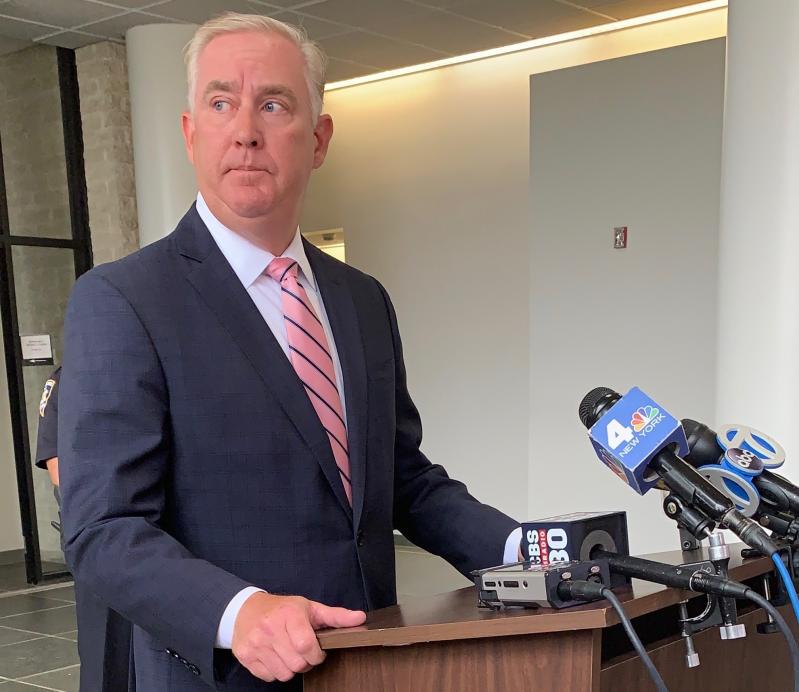 He is preparing an order for the judge to allow a psychiatrist to evaluate Ms. Campbell. Once his doctor's examination is complete, the prosecution has the right to have a doctor examiner her as well, Ms. Kelly said. She said she does not believe that Ms. Campbell will be able to prove she was not responsible for killing her children.
"I don't think the facts bear that out. I think the facts bear out a woman who knew exactly what she was doing, why she was doing it, and she did it intentionally. Her statements certainly support that, at this particular time," Ms. Kelly told the media.
Several family members, including young children, came to court for the proceeding. A woman who identified herself as Ms. Campbell's aunt, Cindy Campbell, described her niece as "a beautiful person" who doesn't deserve all the "negative comments that people are making."
"God allowed what happened to happen for a reason," she said.