East Hampton High School's class of 2019 graduated on Friday, and this group of seniors, according to Adam Fine, the high school principal, is particularly well equipped to deal with the challenges life brings them next. The 223 students stand out, he said, as one of the most "empathetic, thoughtful, dedicated, and honorable" classes he has known in his nine years at East Hampton.
"I've never encountered a school culture and climate that emanates positivity as much as I did this year," Mr. Fine said at the commencement ceremony. "Grades 9 through 12 were led by the senior leadership that created this environment, which focuses on well-being, mental health, and just being nice to each other. The administration of this school depends on the seniors to take the reins and lead the school through each year. You have grabbed those reins and led us through the best year we've had in memory. Kudos to all of you."
In her remarks, Annelise Mendelman, the class salutatorian, thanked the school's teachers and staff for "never giving up on us," and thanked the community at large for "providing such a loving place which we will always call home." She called her classmates "amazing people."
"I know I wouldn't be the person I am today without all of you there with me through the years," Annelise said. "We studied together, got in trouble together, laughed together, and now we're graduating together. Every single one of you is outstanding and talented."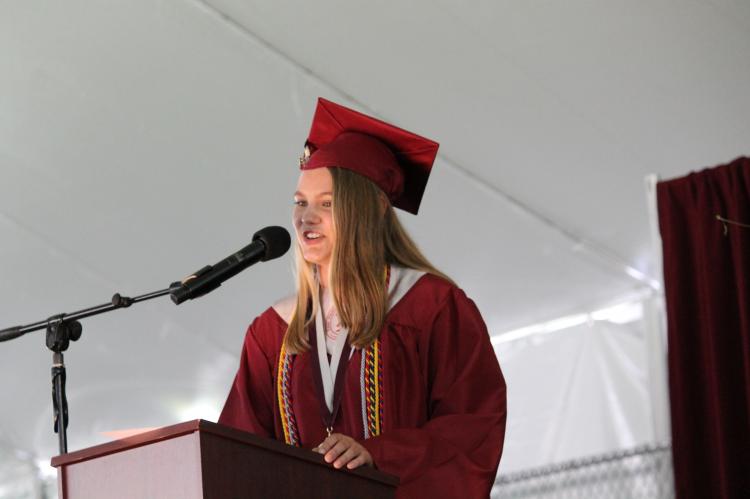 Emily Hugo, the valedictorian, noted that the Latin root of the word "valedictorian" translates to "one who says goodbye."
"Just be yourself. Chase your dreams," Emily told her peers. "Don't jump out of anything higher than a first-floor window. Follow your heart. Give it your all -- maybe finish writing your speech before graduation! Work hard, and have fun."
After the ceremony, Jonathan Rodriguez called high school "a long four years, but a good four years." Bound for Suffolk Community College in the fall to major in business, he called on his classmates to "do what you love to do -- go out and make yourself happy. Follow your heart, because it's going to be a tough ride."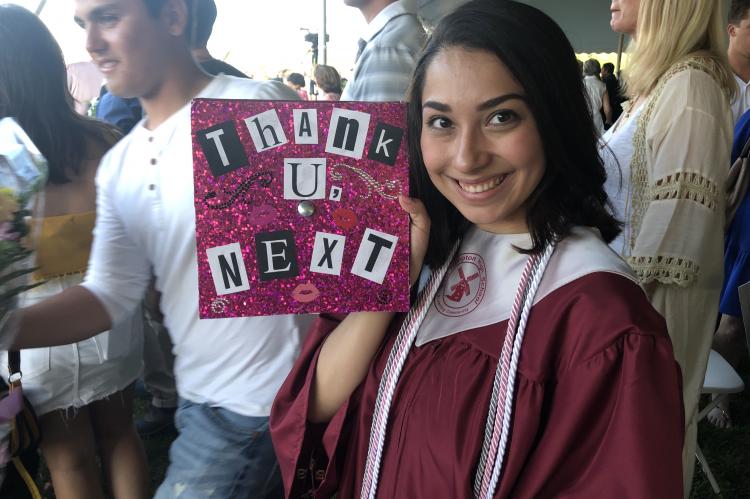 Some students decorated their graduation caps to reflect their personalities, while others chose to communicate a message. One student's cap acknowledged being "nervous," while another said "Look, Mom, I made it!"
Madison Mannix, a dedicated Ariana Grande fan who will study nursing at Suffolk Community College, showed off her sparkly pink "Thank U Next" cap design. She said she loved her high school experience but wished the music department had more resources. She urged her classmates to "just do you."
"Do what you want," Madison said. "Don't let anyone else determine what's wrong or right."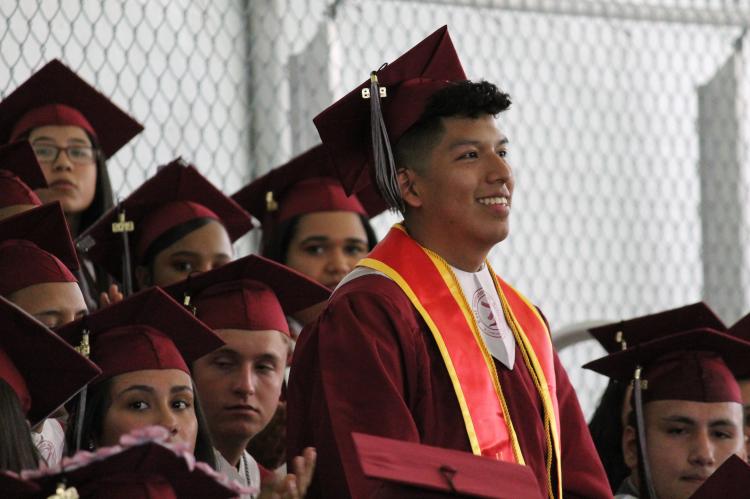 Julie-Ann Moseley adorned her cap with gold butterfly stickers and the outline of a fashion model. She will attend Johnson and Wales University to study fashion design in the fall. "It's been great. I really enjoyed high school," she said.
Julie-Ann thanked her Latin teacher, Erik Hamer, for his valuable lessons. "We learned new things every single day," she said. The first Latin word that came to Julie-Ann's mind on Friday was "ecce," which means "look" -- appropriate for the occasion, she realized.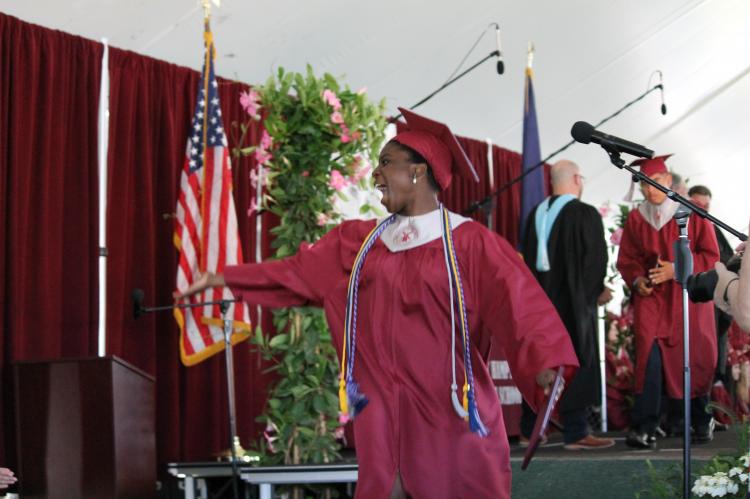 Nuelle Johnson cuddled her eight-week-old Border collie, Ollie, after the graduation ceremony. Not only did she say goodbye to high school Friday, but she's leaving East Hampton as well, moving away with her family at the end of July following her father's retirement from the East Hampton Town Police Department. Elle will study art history and business at Piedmont College, hoping to manage an art gallery one day.
"It feels surreal, honestly," she said of graduation. "It's a step forward, but at the same time, I'm going to be missing a lot of people. I'm really close with my friend group, so I know we'll stay friends."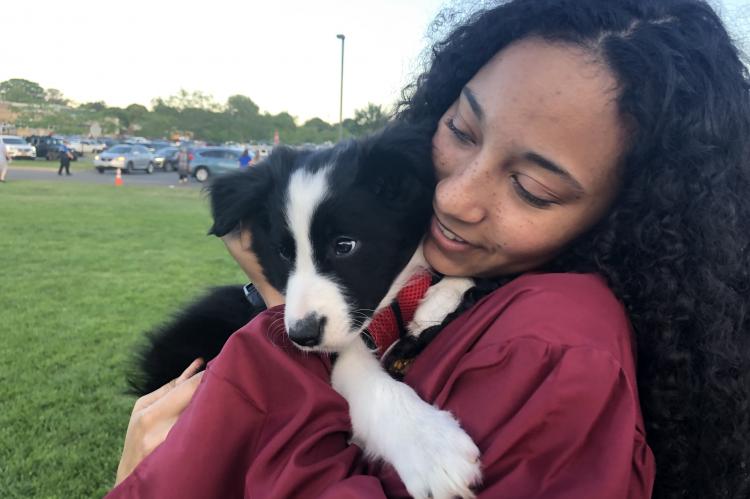 Jennifer Salsedo, whose son, Vincenzo, earned the school's "Outstanding Senior" award and will attend Brooklyn College in the fall, had only good things to say about East Hampton. "There's a sense of community that was really great," she said. "He was able to become a well-rounded young man."
Vincenzo himself was in a celebratory mood. After pausing for both serious and silly pictures with his fellow seniors Nino Facendola and Seth Martin, as well as Jack O'Brock, who had graduated a semester early, Vincenzo called the ceremony "quite beautiful."
"One could say it was lit," he said. "Go Bonac!"
During the graduation ceremony, Mr. Fine remembered Richard Wilson, a school board member who died in October 2018. Mr. Wilson, who was elected in 2013, has been credited with helping boost science and technology programs in the district.
Mr. Fine also spoke of the recent spate of shootings in schools and public places across America, citing "adults failing to compromise in our country" and the consequences for young people.
"We need to do better jobs as adults modeling leadership for you," he said. "Your class understood the challenges and shortcomings and persevered through the year. You remained focused and committed to your studies and growth as students."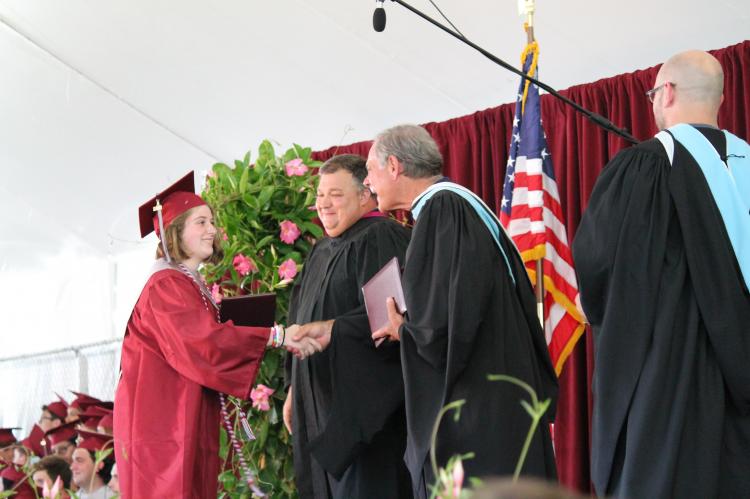 Rebecca Kuperschmid and Kelsey Vela, co-presidents of the East Hampton Student Association, reported an academic breakdown of the students' achievements. Of the 223 seniors, 80 earned Regents diplomas and 106 earned Regents diplomas with advanced distinction, including 21 receiving advanced distinction with honors. Fifty-one seniors are members of the National Honor Society. Seven are entering the U.S. armed forces and at least 184 are continuing their education in colleges or trade schools.
After the ceremony, Jordan Uribe's little brother, Matthew Altagracia, 7, tried on his brother's graduation cap and posed for a picture. The cap didn't quite fit the young Montauk School student, but someday it will.
Jordan is headed to Fordham University, where he will study biology, and has plans to go into a medical field and "give back to all the people who gave back to me, especially with all the hardships and illnesses my family went through."
Of his time at East Hampton High School, he said, "It was probably the best education I could have gotten anywhere. We looked out for each other, and the teachers were able to look out for us individually to make sure we got the education we needed."