Barry Johnson, a sergeant, retired on Monday after nearly 22 years with the East Hampton Town Police Department.
During his decorated career, he served as a training instructor, a team leader for the emergency services unit, a school resource officer, and a highway patrol officer. He received numerous department awards and volunteered his own time to teach cardiopulmonary resuscitation to various community groups.
In his spare time, he was a volunteer firefighter and emergency medical technician with the Springs Fire Department off and on over the past 20 years.
Sergeant Johnson decided to become a police officer at the age of 27 after starting a family and getting a degree in sociology from Southampton College. He is an East Hampton native, having grown up on Town Lane. He attended the Hampton Day School and graduated from East Hampton High School in 1987.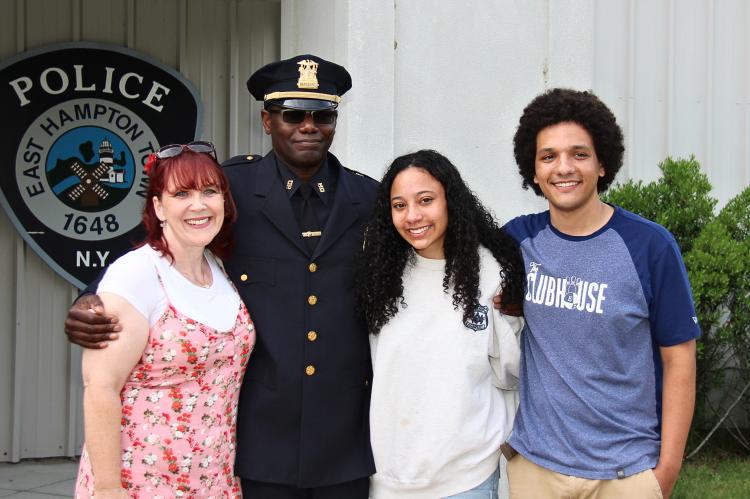 "Barry embodied community policing and was a mentor to many officers," Police Chief Michael Sarlo posted on the department's Facebook page following a ceremonial walkout, in which his fellow officers from both the town police and the Fire Department saluted him. "His work ethic and dedication will be greatly missed by the department and the citizens he served."
By email yesterday, Chief Sarlo added, "Barry was a tremendous asset to the department. He trained officers from many agencies, and had a quiet confidence in his patrol work that earned the respect of fellow officers and people he came in contact with through his duties. His work ethic and professionalism were exactly what you want in a local law enforcement officer. Committed to community safety and invested in his job and helping his neighbors."
"He was a good friend we will all miss around the department and in town."
With his youngest daughter, Nuelle Johnson, graduating from high school tomorrow and his two other children out of college, Sergeant Johnson said the timing was right. He and his wife are retiring to Palmyra, Va., just south of Charlottesville.