Levain Bakery's chocolate chip walnut cookies should probably come with a warning label: These cookies are known by the State of New York to be highly addictive. Huge and gooey and packed with chocolate chips just this side of melting, they have been named to just about every best cookie list in New York, which helps to explain the famously long lines outside of Levain's 74th Street and Amsterdam Avenue locations.
"It's nice to do something that makes people happy," said Pam Weekes, who founded Levain in 1994 with Connie McDonald. Twenty-five years later, their cookies have attained something of a cult following. In the lines that sometimes snake around the block in the city, "there are people from all over the world, all different races, religions, and they're all happy and talking to each other," Ms. Weekes said earlier this spring at the bakery's Wainscott outpost.
"We came up with this saying a few years ago. . . ."
"World peace, one cookie at a time," the two said in unison.
The troubles of the world may not be solved by a chewy confection, but they can at least be forgotten for a few minutes as people connect over something that brings joy across cultures.
The offerings include not only the famous chocolate chip walnut cookie, but also a dark chocolate peanut butter chip cookie, an oatmeal cookie, and a dark chocolate chocolate chip cookie, each of them six dense and irresistible ounces.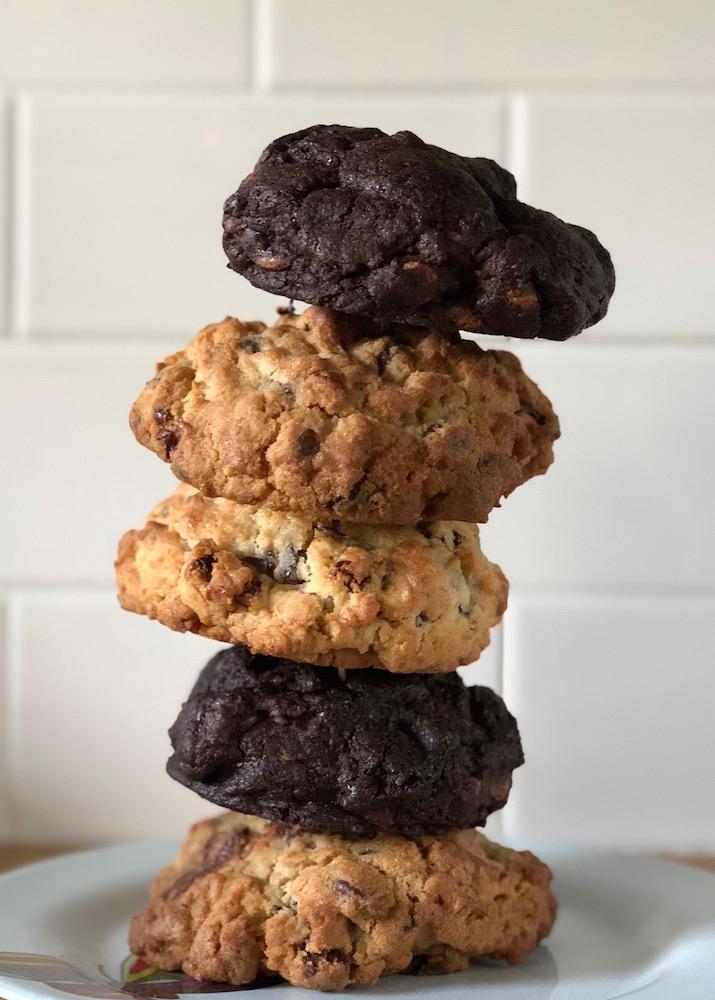 Too big for you? Don't worry, the duo said. They are meant to be shared. "We never made it with the idea that you'd eat the whole thing yourself," Ms. McDonald said. At $4 each, a massive cookie is "an affordable and a fun experience for a family, for friends," Ms. Weekes added.
In addition to the shops mentioned above, the partners have a large bakery in Harlem and are getting ready to open two more in the city: one on the Upper East Side on Third Avenue near 84th Street and another downtown on Lafayette Street. Their Wainscott location has gone from a seasonal venture to a year-round operation, and they ship gift boxes nationwide.
Levain also makes scones, quick breads, fruit tarts, three kinds of brioche, flatbread pizzas, muffins, and five varieties of bread. (Levain, by the way, is French for "leavening.")
"The cookies are the star," Ms. McDonald said. "And everything else is like the supporting cast," Ms. Weekes added.
As their business has grown, the two kept their hands in every part of it, including the baking, so much so that for the first 10 years neither one of them took a single vacation. "People were like, 'You guys are crazy. You're working too hard. What are you doing?' " Ms. Weekes recalled of the early years. "But we really liked what we were doing and really believed in it."
The two met in a pool at Columbia University (where they still swim today) while training for an Ironman triathlon. Ms. Weekes was in the fashion business, but grew up wanting to bake. "My mom was a great baker and a really good cook," she said. Ms. McDonald was in investment banking. "I was feeling really unfulfilled, and it was kind of mutual; they were feeling unfulfilled about me as well."
Swimming every day and spending most of their Saturdays on bikes, "It gives you a lot of time to ponder your life and what you want to do," Ms. Weekes said. She loved her job, but had it in her mind that by the time she turned 40 "I wanted to be doing my own thing," even though "I wasn't really sure what that meant."
Ms. McDonald, on the other hand, was already set for a change. Thinking she might be a caterer, she went to culinary school and discovered bread baking, "which I loved."
She spent a few years working in re­staurants as part of a team that helped open a handful of eateries, the last of which was One Fifth Avenue. The re­staurant was foundering. The chef she had opened it with had been let go and replaced by Anthony Bourdain, "before he was anybody." But her breads were popular, and when she heard she might be the next to go, she brought a proposition to Ms. Weekes: " 'What do you think if I asked Tony if I can go off their payroll, but stay in the kitchen,' because it was a huge kitchen. 'Do you want to try and start a bread business with me?' "
Bourdain agreed, and they traded bread for space while also working to develop wholesale clients. They baked the bread and delivered it themselves in a Renault Alliance with no reverse gear. "We had to push it with our feet," Ms. McDonald said, laughing.
Their business had literally nowhere to go but forward, and that it did.
They baked out of the One Fifth Avenue kitchen for about a year, until they became much busier than the restaurant itself, and then they opened their own tiny bakery and storefront on 74th Street. "It's so small, and it's so efficient," Ms. Weekes said. "We maximized every inch." 
They grossed only about $8,000 each their first year. "I don't think Connie and I made any money for like 10 years. We were living on eating what was left over from the bakery," Ms. Weekes recalled. "Everyone always got paid; there was never a vendor that wasn't paid on time, or early," Ms. McDonald added.
Summers, however, "were a little scary," Ms. Weekes said. "We thought people on the Upper West Side stuck around all year, but it got really quiet, which is how we ended up looking for spaces out here." They have been at the same spot on Montauk Highway in Wainscott for 20 years.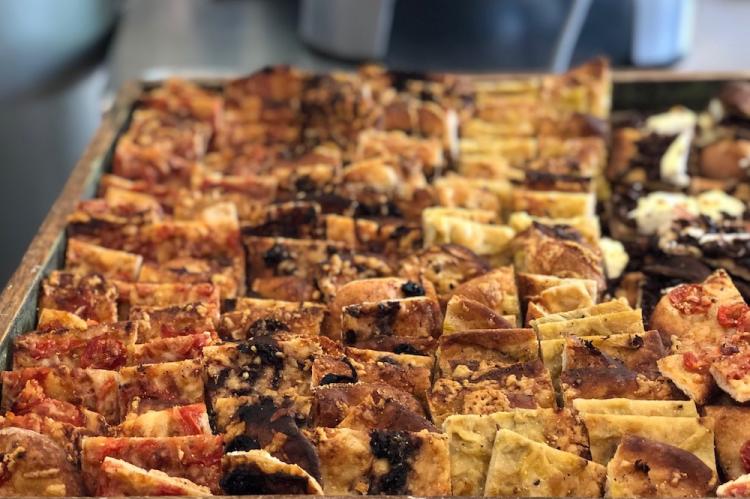 In Levain's early days, "neither of us had any debt; we had pretty low expenses. We knew that we weren't going to be bringing in a lot, but we also didn't need much to live on," Ms. Weekes said. "We did this because we loved what we were doing, not to make a lot of money."
"One of our basic premises was that we wanted to make everything fresh every day, and that what we didn't sell, we wanted to donate," she explained. "We wanted to do something that we enjoyed, and be part of the community."
"And want to come to work every day," Ms. McDonald said. Levain now has over 100 employees across its four, soon to be six, shops.
The introduction of cookies to the Levain arsenal came in part because the two triathletes were looking for a high-powered snack to fuel their long workouts. And it has been the cookies that have brought them the most attention.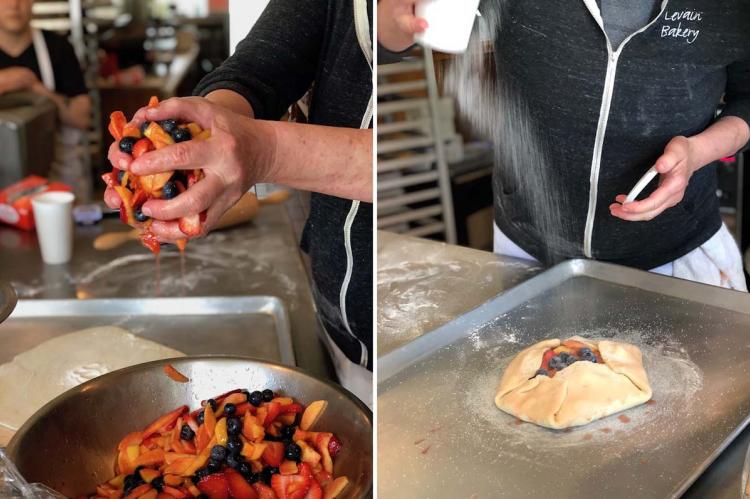 A short 1997 article on the bakery in the "Temptations" column of The New York Times, complete with a picture, really got things started, Ms. McDonald said. It described their cookies as "possibly the largest, most divine chocolate chip cookies in Manhattan."
"We got calls from all over the country that day," Ms. Weekes said.
An appearance on the Food Network's "Unwrapped" was pivotal, and the phones went crazy after they appeared on a chocolate chip cookie challenge on "Throwdown With Bobby Flay." 
Levain may have been the first bakery in the country to have its own website, established soon after it opened its doors and now complete with "line cams" where customers can see how long a wait they can anticipate. It has also embraced (and been embraced by) Instagram, where 150,000 followers swoon over shots of luscious cookies, savory flatbreads, and fresh-baked bri­oche. But don't look if you're hungry, the pictures will torture you.
While they are no longer competing in triathlons, one of the things they learned from the Ironman especially is that "giving up is never an option," Ms. McDonald said, and they have brought that ethos to their business.
"What's been most important to us," Ms. Weekes said, "is our culture, to have a great place to work, create the best possible product we can, and make our customers happy."