Andromeda, as the classical Greek myth goes, was the victim of the hubris of her mother, Cassiopeia, and the god Poseidon's rage, and in the end was saved from a sea monster by the hero-god Perseus. But along the way, one never really hears from Andromeda herself.
And that always bothered Kate Mueth, the founder and artistic director of the Neo-Political Cowgirls, whose recent theatrical portrayals of "Andromeda" have flipped the script on the myth in such a way that the protagonist has a say in her own story.
"Not much has changed in modern-day society, but things are getting better," Ms. Mueth said. "This is why we have so few female voices in history or myth."
Now, Ms. Mueth is calling upon Andromeda once again.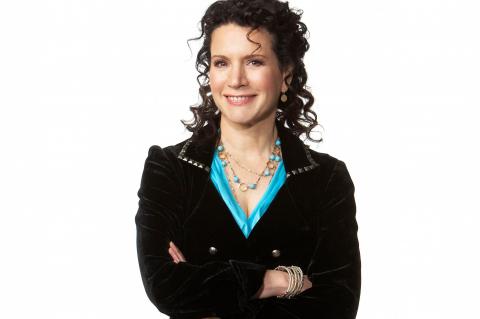 The Neo-Political Cowgirls will host an evening of readings of one-act plays and scenes, dubbed "Andromeda's Sisters," on Friday, June 14, at Guild Hall in East Hampton. The "sisters" are the women who have written the plays and scenes and the actors who will perform them as a benefit for the Neo-Political Cowgirls' educational programs. A 7 p.m. cocktail party will be followed by the readings at 8 and a meet-and-greet after the show.
Andromeda didn't have sisters in her myth, but in Ms. Mueth's theatrical retelling Andromeda calms the sea monster, who's female instead of male, and reasons with Poseidon's daughters, who free her from her chains.
It's what sisters would do for each other.
"If they listen to patriarchy, they should hate Andromeda, but instead they swim against the tides to help her," Ms. Mueth said. "This is a social construct that I want to continue to work on. How when we as women, and out of women, humanity, help one another, we're all stronger and better. We all become more engaged, and we all find deeper seas of ourselves."
Among the writers taking part are Lucy Boyle, Julia Jordan, Anna Ziegler, Suzanne Bradbeer, Margo Hammond, Liana Sonenclar, and Joy Behar.
"What I love about these pieces is they are laugh-out-loud funny, but when I was reading them I also wanted to start weeping because there was also . . . so much truth in how relationships unfold and how women perceive themselves and each other," Ms. Mueth said.
Ms. Behar will present two scenes from an as-yet-untitled work, about a woman named Ginger who has a midlife crisis and "snaps."
"I'm not normally a playwright," Ms. Behar said in an interview. "I'm on 'The View' and was a stand-up comedian for 30 years. I have started to reinvent and try new things. I wanted to try this form, and I'm enjoying it. I enjoy the process of writing, reworking, workshops, and rewriting."
She met Ms. Mueth at a recent "Salon Night" at LTV Studios in Wainscott. When Ms. Mueth invited her to participate, Ms. Behar signed on.
"Generally, women are underrepresented" in entertainment, Ms. Behar said. "It might be changing. Women writers are starting to come into their own, women playwrights, and that's a good thing."
Among the actors who will be taking part are Blythe Danner, Catherine Curtin, Laura Gomez, Susie Essman, Tamara Tunie, and Ellen Marie Dolan.
"I'm so wowed by this cast that's come together," Ms. Mueth said.
On June 23, a Sunday, "Andromeda's Sisters" part deux will include a "women's workshop for creative deep-diving" and an interview with Sarah Greenman, the director of operators of Statera Arts. The nonprofit organization works to take "positive action to bring women into full and equal participation in the arts," putting an asterisk next to "women" to denote a commitment to helping "anyone on the gender spectrum who identifies either always or some of the time as a woman." The workshop is from 10:30 a.m. to 1:30 p.m.
"What we are very much about is reframing, if you will, the stories of women, the marginalized, the unrepresented, the voiceless, in order to hear their side of the story," Ms. Mueth said. "History is written by the conquerors. What we try to do is focus on the people who have not had a place center stage for their story to be told."
More information and ticket reservations can be found at npcowgirls.org.