The question that came to mind over and over again while watching "Maiden," the first SummerDocs offering of the 2019 season, was "Can this really be 1989?" 
The film, part of an annual showing of a trio of documentaries by the Hamptons International Film Festival during the summer months, takes place at a time that most people probably assume was open to women doing anything they wanted. In the sailing world, at least, that turns out not to be the case.
The "Maiden" of the film's title is the name of the boat sailed by Tracy Edwards and an all-female crew, the first to sail around the world while competing in what is now known as the World Race. At first they encountered ridicule and hostility, then curiosity, as it became clear they would likely succeed. After each hard-fought segment of the race, they eventually gained respect.
Alex Holmes, the director of the film, said last week he had heard Ms. Edwards's story five years ago, when she was a speaker at his daughter's elementary school graduation celebration. "I knew straight away that she was a remarkable person. Tracy had this energy that was palpable as soon as you heard her speak. As she unraveled this story to a group of rapt 11-year-olds and their proud parents, I could see this film unfolding in front of my eyes."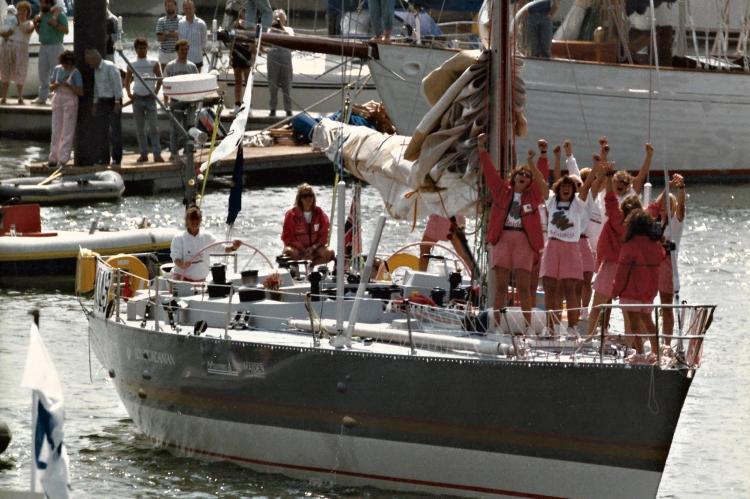 Mr. Holmes said he was stunned a film had not previously been made. He first thought a narrative film made the most sense, given the time that had passed and the low probability of existing footage. "I didn't think for a second it could be illustrated in a documentary. This all happened on the salty water, a long way from land." The odds that there might be private moments captured in an era before selfies and iPhones also seemed remote.
He soon learned the crew had a camera on the boat for the entire trip. The challenge became finding that footage, sections of which had ended up in some far-flung locales. "It was scattered to the four winds," he said. Through tenacity and detective work, they were able to pull together enough footage to illustrate the story, along with the recollections of the crew 30 years later. 
Much of it was shot by Ms. Edwards's childhood friend, Jo Gooding, who served onboard as cook and videographer. Mr. Holmes said her footage demonstrated "a very gentle sensibility and a high level of emotional intelligence. She let the camera linger," capturing changes in mood and relationships over nine months and the very palpable tension, drama, and danger of sailing in the Southern Ocean. 
There are times when scenes start out grainy and end up in sharp focus. Mr. Holmes credited Katie Bryer, the film's editor, with splicing together the mosaic of footage they found. One piece of film was stitched together with another part of the same shot that might have been copied four or five times. "It was like rejoining shards of a smashed vase."
Tracking down the crew for interviews was easier. Even as they had scattered to "the four corners of the earth," continuing to seek adventure long after the race, they had mostly stayed in touch. "Tracy reached out to them all to see if they thought it was a good idea to share their memories and put them onscreen."
The filmmakers had them travel to London to separate them from their home environments and take them back to the place the race began and ended for them. The intention was "to create a bubble so their imaginations and memory would take them back all those years ago and they could relive that experience on camera for us."
Although by then Mr. Holmes had gathered and reconstructed a lot of the footage from the trip, he didn't show it to them. In this way, he said, he hoped to arrive at some truth in their stories. "I didn't want them to prejudge what was important by what was in the footage." In the end, they were surprised by what they remembered, going through hours of recollections after initially thinking they wouldn't have more than a few minutes to share.
When he was finished, he said not one but two truths were evident. The first was "If you follow your dream and take your courage in your hands to try something new, good things will happen. They may not be the things you expect to happen . . . but you will certainly be better off than if you sit back and accept the world as it is." 
This was the initial inspiration he took from Ms. Edwards's story, and he said the deeper he was drawn into it, the more he found it to be true.
The second truth? "Nobody does anything on their own."
The SummerDocs showing and discussion of "Maiden" with Mr. Holmes, Alec Baldwin, and David Nugent, the festival's artistic director, will take place at Guild Hall on June 29. The film will begin limited release on Friday, June 28. Tickets are $25, or $23 for members of Guild Hall and HIFF.