Over the past decade or so, commercial creep has threatened Amagansett's mix of practical and boho shops on Main Street, with high-end pop-ups taking over some of the funkier storefronts. In the face of this upheaval, a determined group of dealers of art and crafts has been holding its own while negotiating a trend of escalating rents. 
The latest gallery arrival in the hamlet's business district is ARC Fine Art, an import from Connecticut with ties to the region. Adrienne Ruger Conzelman, its proprietor, has been coming to East Hampton for many years and showing art informally on the East End in pop-up spaces more recently. This year, she has decided to formalize that relationship and open a space at 145 Main Street in the 18th-century house next to the hardware store that has been home to a variety of emporiums, including a GOOP store pop-up.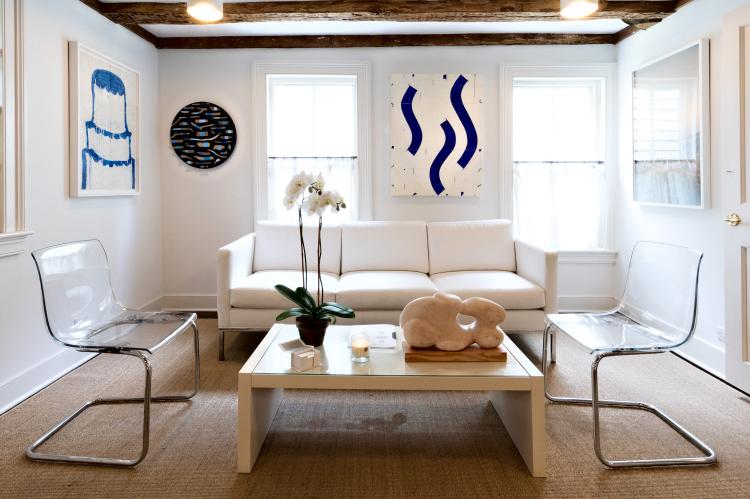 Rather than a pristine white box, the house's series of small connecting colonial rooms offers rough-hewn beams on the ceiling, fireplaces, and old-school moldings and wainscoting. Ms. Conzelman has kept the walls cool and white, but has warmed the space with sisal rugs and furniture, encouraging visitors to relax and linger, allowing them time and space to contemplate how the art would look in their own homes. The mix of early American architecture, modern furnishings, and contemporary art reminds us how some of the simplest elements of design, often based in geometry, carry forward through the centuries. 
Possessing a master's degree in art history from Williams College, Ms. Conzelman was a specialist at Christie's auction house and a private art adviser, in addition to showing art in Manhattan, Fairfield, Conn., Charleston, S.C., and Shelter Island. Her father was a collector of historical American art, and she published a catalog documenting his collection.
The works on view here include a range of artists, mostly contemporary and many based on the East End. Interspersed are works on paper and multiples by elder statesmen such as Willem de Kooning, Milton Avery, Alex Katz, and Donald Sultan.
There is often an absence of color contrasted with exuberant works that have power in their rich hues. Sometimes this contrast happens within the displays of the same artist's work across different rooms. Idoline Duke is represented by precise botanical drawings of milky white ink on contrasting paper with specifically named examples such as "Bellflower," "Milk Vetch," "Cyclemen," and "Crocus." The contrast with her explosive and improvisational large watercolor "Big Yellow Flower" is striking and delicious.
Joni Sternbach's tintypes, taken locally and/or with a surfing theme, complement the subtlety of works on paper by Bastienne Schmidt, Meghan Geraty, Andrew Blauschild, and Toni Ross. 
Ms. Sternbach's and Mr. Blauschild's subjects also fit in with a beach theme that encompasses the work of Jane Parkes, who is Ms. Duke's sister, Geoff Reinhard, Peter Dayton, Philippe Cheng, Gary Komarin, Tony Caramanico, Janet Jennings, and possibly others in a more abstract sense. These works also loosely and directly tie into nature, which is an overarching theme in even more of the works on view by Laurie Lambrecht, Mr. Sultan, Sandi Haber Fifield, Gustavo Ten Hoever, and even a collection of Hunt Slonem's bunnies.
Mr. Slonem's paintings, with their endless variety of frames and background colors supporting simple oil-painted lines, are an art fair and resort gallery fixture, often displayed serially as they are here, the way rabbits are said to multiply in nature. So commercially successful that they now adorn Vilebrequin bathing trunks (as past and present artists such as Keith Haring and KAWS decorate fashion), they are hard to like 
in one sense and yet irresistible, often for the very same reasons.
Defying classification in the previously described areas are Caio Fonseca's pure abstractions, Christine Matthai's meditative mixed-media circle compositions, Mr. Katz's powder-coated aluminum sculptural figures in black dresses, and Perry Burns's patterned abstraction. Each of these finds its home within the different spaces, contributing to the push and pull of the conversations taking place with its neighbors in an altogether pleasing way.
The installation, which will be tweaked now and then but stay consistent over the summer, has a domestic and lived-in feeling, making new discoveries as appealing as the more familiar names, subjects, and styles. A variety of price points and a selection of print folios of the artists on view and others allow the space to seem approachable to those looking to buy as well as those just looking. 
Ms. Conzelman will host a reception for the artists on June 29 and announce some talks and other events as the summer continues. Updated information will be listed in The Star's calendars and on the gallery's website.