As Montauk residents began their day last Thursday, a couple walking a trail in Kirk Park made a gruesome discovery: a man unconscious and with severe head injuries. He died at the hospital a short time later. Suffolk County homicide detectives are investigating his death as a murder.
No arrests had been made as of press time.
Police identified the victim as Robert Casado, a 38-year-old Dominican Republic national who lived in Montauk, not far from the park. "We do not believe this was a random attack," County Police Detective Lt. Kevin Beyrer, chief of the county's homicide squad, said last Thursday afternoon.
His death is the first murder in East Hampton Town in a decade.
Mr. Casado, known to friends as Panda, was found just before 7:30 a.m. on a trail that runs between Montauk Main Street (Route 27) and Second House Road. The trail is not visible from the street.
Mr. Casado usually walked from his apartment by the I.G.A. through Kirk Park — often with a co-worker — to get to the Mickey's Carting depot on North Shore Road, where he had worked for a little over a year as a residential driver, according to Valinda Valcich, an owner of the carting company. He is believed to have been walking to work when he was attacked. His co-worker had not walked with him that day, Ms. Valcich said.
"He was a hell of a nice guy — very pleasant, very nice," Ms. Valcich said on behalf of the company.
Emergency medical service providers with the Montauk Fire Department transported Mr. Casado to Stony Brook Southampton Hospital, where he was pronounced dead.
Lieutenant Beyrer could not specify what caused the head trauma, though rumors swirled around Montauk that it could be a machete. He said the Suffolk County medical examiner's office will determine the specific cause of death.
Both town and county police officials, including Town Police Chief Michael Sarlo, dismissed rumors that Mr. Casado's death was gang-related or a bias crime.
On Friday afternoon, the East Hampton Town police dive team was seen searching the waters of Fort Pond where it abuts Kirk Park.
Investigators believe Mr. Casado entered the park around 7 a.m., leaving just a half-hour window between the pre sumed time of the attack and when he was discovered by the parkgoers.
Detectives have asked that anyone who saw any type of suspicious activity or a suspicious person in the area between 6:40 and 7:30 a.m. call the homicide squad at 631-852-6392, Crime Stoppers at 1-800-220-TIPS, or East Hampton Town police detectives at 631-537-7575. All calls will be kept confidential.
As the investigation continued, Mr. Casado's family prepared this week for his funeral services. They are planning to send Mr. Casado's body back to the Dominican Republic this weekend and were to receive visitors at Yardley and Pino Funeral Home in East Hampton yesterday.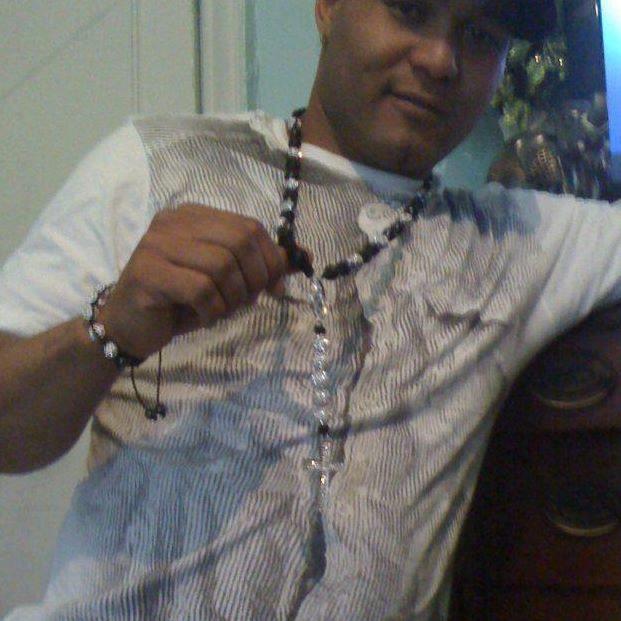 His father, Benny Garces, who has long worked at Gurney's Resort in Montauk, and his family "have been devastated by the loss of their son," according to Michael Nenner, a general manager at Gurney's. He created a GoFundMe account on the fund-raising website "to assist Benny and his family with the payment of these arrangements," he wrote, adding, "Please join me in contributing to our friend and Gurney's family member."
As of yesterday afternoon, $8,305 had been raised toward a $10,000 goal. His father and brother, Jose Garces, did not return calls for comment this week.
Juan David of Montauk, who said Mr. Casado was a good friend of his, remembered him as "a really good person."
"Me and my friends have an idea who did it and want justice," he said. "I really miss him. This is crazy how life works sometimes."
Mr. Casado, a father of five, has children in Montauk. Asked if the school community was helping his family in any way, Jack Perna, the school superintendent, said, "We have several relatives here and we have worked with each of them as needed."
Students were supposed to board a bus from outside of Kirk Park for a field trip to Citi Field last Thursday morning around 7, and were supposed to walk through Kirk Park, Mr. Perna said. The bus was delayed, however, and by the time it arrived at 8, police had alerted school officials to the police activity in the area. Kirk Park and Second House Road were both closed; the students took a bus from the school instead.
East Hampton Town police turned the investigation over to the county's homicide squad, a routine course with such cases. There has not been a murder investigation in town since 2009, when David Soto killed his wife, Blanca Soto, 29, in front of their two children in their Oakview Highway trailer. He tried to harm himself as well.
He was charged with second-degree murder and ultimately pleaded guilty to a reduced charge of first-degree manslaughter. He is serving a 22-year prison sentence in the Green Haven Correctional Facility in Stormville, N.Y., and is eligible for parole in 2028.
Montauk has not seen a murder since 1999 when John Villaplana, an East Hampton High School senior and soccer star just one week shy of his 21st birthday, was stabbed outside of Rick's Crabby Cowboy. His older brother's designated driver for the night, he reportedly tried to help him during a fight.
Omar Gutierrez is serving a sentence of 25 years to life at Fishkill Correctional Facility for the killing. He was convicted in 2001 of second-degree murder, known as depraved indifference murder, but acquitted of intentional first-degree murder.