Twenty mixed teams of men and women vied outside the Montauk Brewery Saturday in the Old Montauk Athletic Club's Brewathlon, a relay race comprising a 5,000-meter rowing machine leg, a 7-mile bike, a 3.1-mile run, and a 2,500-meter row.
Cobra Command (Neil Falkenhan, Jill Jacinth, Drew Falkenhan, and Amy Falkenhan) won it, in a record 59 minutes and 36 seconds. That team, with the Falkenhan brothers, Natalia Woodward, and Sara Colletti of East End Row as its competitors, was last year's winner, in 1:07:02. Moreover, under the Bad News Beers banner, the Falkenhans and Colletti teamed with Mike Bahel to win in 2017 as well, in 1:02:32.
So, yes, Neil Falkenhan said, as his wife, Amy, wound up the anchor leg, you could call it a three-peat insofar as he and Drew, whose 5K time was 16:15, went.
In contrast to last year, the popular event was contested on a beautiful fall day. "It's great fun," said Jenn Fowkes, the lead rower on OMAC 1, once her stint was done and her daughter, Mimi, had run 20 yards from the rows of Concept 2 ergometer machines to tag Kevin Barry, who was waiting on the bike leg's start.
As was the case last year, Jon Jamet of the Montauk Brewery Juicers logged the day's fastest bike time, 14:28 (almost a minute quicker than in the 2018 race). "We're going to ban skin suits next year," Caroline Cashin, the event's director, said in discussing the results Monday.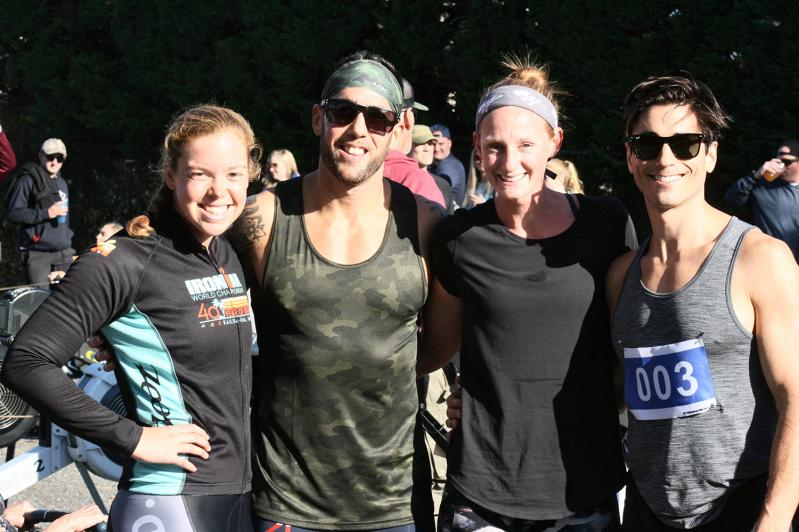 Jacinth, a personal trainer and Deer Park High School swim coach from Babylon, was not far behind, nor were Ed Cashin of Truth and James McGroarty of Team Sweatzel.
Team Hops (Fiacra Hallissey, Mike Bahel, Laura Brown, and Cheryl Bahel) was the runner-up to Cobra Command, in 1:07:36. Team Good to Go (Jim Divan, Christina Cone, and Erin Tintle) was third, with Divan doing both rows.
(The next day, at the East End Rowing Institute's Snowflake Regatta in Riverhead, Divan was to win the men's masters singles final, besting Lee Oldak of Sag Harbor Rowing on the 3,000-meter Peconic River course.)
Missing from this year's Brewathlon was Sinead FitzGibbon. And for good reason inasmuch as she was competing in the world rowing championships in Hong Kong. She did well there too, Cashin said, finishing sixth in mixed doubles and 13th in female singles. "I burnt myself in the doubles and did it again an hour later in the singles," FitzGibbon texted Cashin. "It's such a great sport. I'm addicted. It's not so much the winning but meeting the challenge and doing it."
Both of East Hampton High's cross-country coaches — Barry and Diane O'Donnell — were among Saturday's competitors.
Dylan, the Cashins' daughter, an all-division designee owing to her top-20 performance in the recent divisional meet at Sunken Meadow State Park — as was Ava Engstrom also — sat the Brew­athlon out, saving her energy for tomorrow's state qualifier at Sunken Meadow, though Barry green-lighted Isaiah Robins, one
of his young charges, when it came to running for his family's 3 Out of 5 team.
"He passed Holly [Li], me . . . he must have passed seven people on the run," Cashin said of the East Hampton freshman. Isaiah's father, Chris, did the bike, and his mother, Jill, who is to be feted by OMAC as its female athlete of the year at the South Fork Country Club in Amagansett on Dec. 2, did both rows.
Barry's cross-country team is seeded seventh in tomorrow's Class B championship boys race, and O'Donnell's girls, though young — Cashin is an eighth grader — are given a decent chance of winning out among their peers, and thus advancing to the state meet, which would be, for the girls here, a first.
"We're one of three Bs — Westhampton and Sayville are strong — that could win," O'Donnell said. "Maybe we can do it — you can't count us out."
The boys race is to start at 2 p.m., the girls at 3:30.
The Brewathlon netted about $4,000 for the Old Montauk Athletic Club, which will cover $1,000 grants the club is to give out at its holiday dinner to four high school seniors — Sophia Swanson, the club's East Hampton High School female athlete of the year, Tom Desmond, the club's E.H.H.S. male athlete of the year, Julia Brierley, recipient of the William A. O'Donnell swimming scholarship, and Kal Lewis of Shelter Island, a county and state cross-country champion.