Joe McKee continues to tell his junior varsity football players that sterner tests are to come, but as of earlier this week, the Bonackers were sailing high, at 3-0.
The latest win, a 29-0 shutout, came Saturday on East Hampton High's turf field before homecoming spectators in whose number were parents of the visiting William Floyd players, freshmen by and large, a team that in the words of Floyd's athletic director, Mark Mensch, is as good as any jayvee around. Mensch, a former trainer in East Hampton, has said he supports McKee in his drive to rebuild a program here.
The Bonackers, who run a fluid triple-option offense designed by the offensive coordinator, Lorenzo Rodriguez, got off on the right foot, scoring a touchdown before two minutes had passed — a 41-yard first-down pass from the quarterback, Topher Cullen, to Santi Maya putting East Hampton on the board.
The visitors almost turned the ball over on their first play, and were forced to punt from their 25-yard line minutes later.
East Hampton, on its second possession, seemed to have a third-and-12 converted at Floyd's 28, but Rene Criollo fumbled Cullen's spot-on pass as he hit the ground.
Following an exchange of punts, Floyd, facing another fourth down — with four yards to go — ran the ball 12 yards through a big hole for a first down at East Hampton's 24, a moment or two before the first quarter ended.
With third-and-seven at Bonac's 22, the visitors' Robert Font, who made his presence known on both sides of the ball that morning, gathered in a pass for what looked like another Floyd first down as the second period began, but a holding call annulled the gain, and, with third-and-long, Kevin Bunce broke through from his linebacker position to sack the quarterback.
East Hampton took over at its 39, but a third-and-eight pass of Cullen's was picked off by Font at midfield, an interception that immensely cheered the visitors' entourage.
Notwithstanding, Bonac's defenders, its line and linebackers, continued wreaking havoc in the backfield, one of the sacks causing the starting quarterback, who had been hit in the chest, to go to the sideline, where he was attended to by East Hampton's trainer, Nick Jarboe.
Floyd's subsequent punt made it into Bonac's end zone, which brought the ball out to the 20. Seven plays later, the Bonackers were in Floyd's end zone again, as the result of a second-down 45-yard Cullen to Danny Lester pass play. This time, the extra-point play — a pass to Jaden Daige — was good, for a 14-0 lead.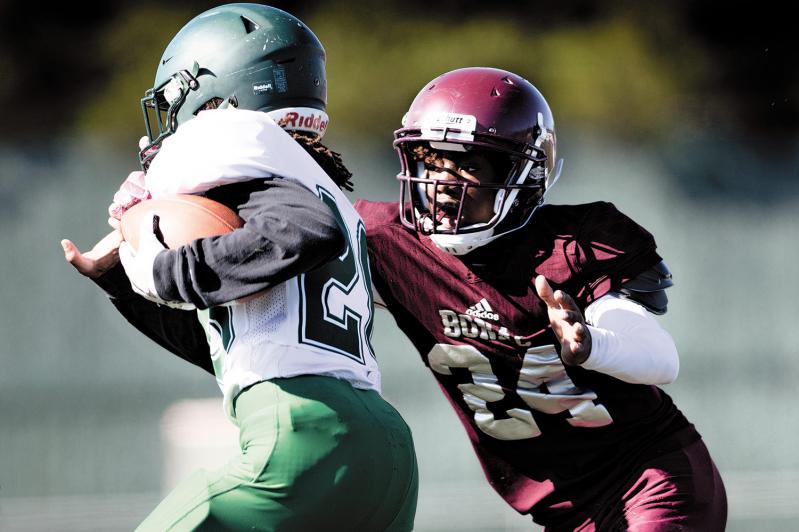 McKee's charges almost scored again before the halftime break, but Maya, after Wayne Street had made an electrifying 44-yard catch in traffic that advanced the ball to William Floyd's 9-yard line, fell back out of bounds as he caught Cullen's pass deep in the end zone with no time left on the clock.
"After that first series we had a little bit of a letdown," McKee told his players during the break. "We can't do that. They've got speed and can break one at any time. You have to keep your head in the game. Relax, and tackle lower, like a double-leg takedown. Play like it's zero-zero. . . ."
Floyd's starting quarterback re-entered the game when the third quarter began, and remained in, though the visitors weren't given much room to breathe by Bonac's defenders in the second half.
Font stymied a Bonac drive at Floyd's 20 with a fumble recovery near the end of the third quarter, but he and his teammates could make no headway, a third-down sack forcing a punt from the 10. East Hampton had the ball with a first-and-15 at Floyd's 40 when the period ended.
East Hampton made it 22-0 as the fourth quarter began by way of another electrifying pass play, this time from Cullen to a tall wide receiver, Colin Ruddy, who caught a 30-yard third-down heave at Floyd's 25 and ran unmolested the rest of the way. A reception in the flat by Bunce tacked on the extra points.
Maya's 45-yard touchdown run and Michael Moret's point-after kick midway through the quarter capped the rout.
"Brett Nicholson must have had 20 tackles today," Kevin Bunce Sr., one of those manning the chains, said with a smile, adding, "Maybe we'll get a little bit of spunk back into this school."
"We're jelling," Rodriguez said in the postgame huddle.