After unveiling its new quarters, boasting 40,000 more square feet of exhibition space, in previews and an official opening on Oct. 21, the Museum of Modern Art has proven that it can be a site for multicultural and interdisciplinary art to come together in a way that recasts the canon of the last century and beyond.
In taking over and connecting the building to its west, the museum has expanded its exhibition space by 30 percent and reconfigured its original galleries with the vision of the architecture and design firms Diller Scofidio + Renfro and Gensler. The new space is welcoming, even beckoning to visitors in a way its previous lobby was not. They will also be able to move more freely through its enlarged galleries and open spaces.
Speaking in the sculpture garden during a press preview, the museum's chief curator, Ann Temkin, said its installation reflects the same effort in the galleries — to connect the "absolute and familiar with provocation or surprise, with things newly acquired or that have been in the museum for decades and decades, but have been kind of buried." She noted that the garden is the only part of the museum that remains unchanged, except for an upgrade to the fountains' plumbing.
It takes a while to acclimate, but it quickly becomes clear that the recent curatorial reassessment of where MoMA had underrepresented various groups in the past will have a lasting impact on the installation of its collections.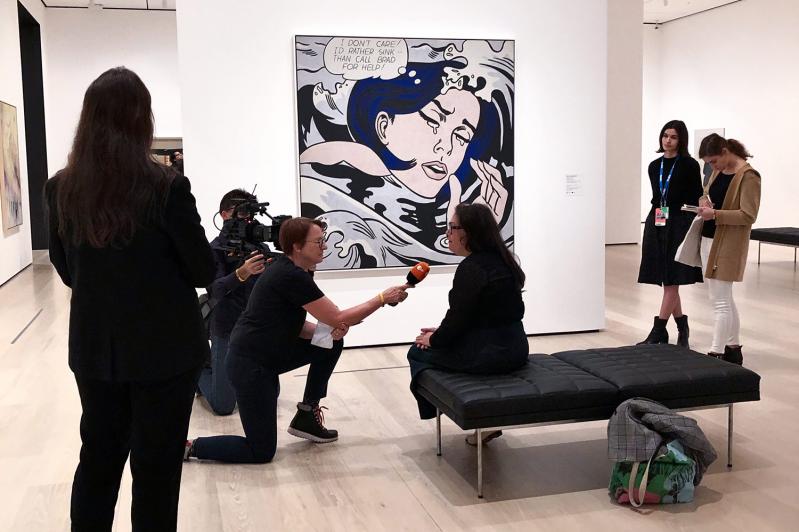 In exhibitions such as 2017's "Making Space: Women Artists and Postwar Abstraction," the museum brought out works that had only occasionally been on view, if at all, to demonstrate the power of female artists who were overlooked in favor of their male colleagues. It was a start, but one that still kept women confined to their own subgenre. Now, however, many of those same works are fully integrated in the galleries with those of their better-known male counterparts and with other demographics long absent from the walls.
In the second of two rooms devoted to Action Painting (and most relevant to the South Fork), half of the artists are female. Sharing space with later Jackson Pollock and Willem de Kooning paintings and sculpture by Isamu Noguchi and David Smith are Helen Frankenthaler, Grace Hartigan, Lee Krasner, Joan Mitchell, and Pat Passlof.
Hartigan's "Shinnecock Canal" is a powerhouse in blues and greens, highlighted with white and accented with red, black, and gold. The artist, who once signed her paintings George Hartigan in order to be taken seriously by exhibitors, offers a composition that is both aesthetically appealing and muscular.
Action Painting could do worse than have "Shinnecock Canal" be its standard-bearer. Clearly MoMA, which acquired the painting in 1960, felt similarly about the artist, as she was the only woman included in its exhibition "New American Painting," which toured in Europe from 1956 to 1958. The show helped solidify the primacy of New York as artistic locus in the last half of the 20th century.
Krasner's "Gaea" is another marvel, only enhanced by its wall companions, not diminished. In its rolling and roiling curves of rose and white, bracketed by blacks and deep dark purples, she has harnessed the power of the earth goddess she references in an explosion of energy. Frankenthaler, Mitchell, and Passlof also shine in this room.
While the 10th artist here, Beauford Delaney, has no ties to the East End, he is worth a closer look. Both black and gay, he came to New York from Tennessee via Boston in 1929, becoming part of the Harlem Renaissance in the 1930s and '40s and then the Abstract Expressionist movement. He moved to Paris just as New York became the center of the art world.
"Composition 16," from 1954 to 1956, uses colored and rhythmic lines to define its skeletal structure in thickly applied ribbons that look straight from the tube. Standing back, it becomes obvious that the artist has also ordered his composition into groups of colors forming perceptible horizontal bands. This painting, acquired in 2012, proves to be as complicated as its author.
The earlier room of action painters has no fewer ties to this area. De Kooning, Krasner, and Pollock make additional appearances along with Smith and additions by Franz Kline, Hedda Sterne, and Clyfford Still, all from around the late 1940s to mid-'50s. It's a more somber room, mostly in grays and blacks. De Kooning's iconic "Woman I" offers the most color, although Krasner and Sterne sneak a little into their otherwise austere palettes. Fans of Pollock will be happy to see that the museum has not forsaken two of his drip masterpieces, "Number 1A" and "One: Number 30."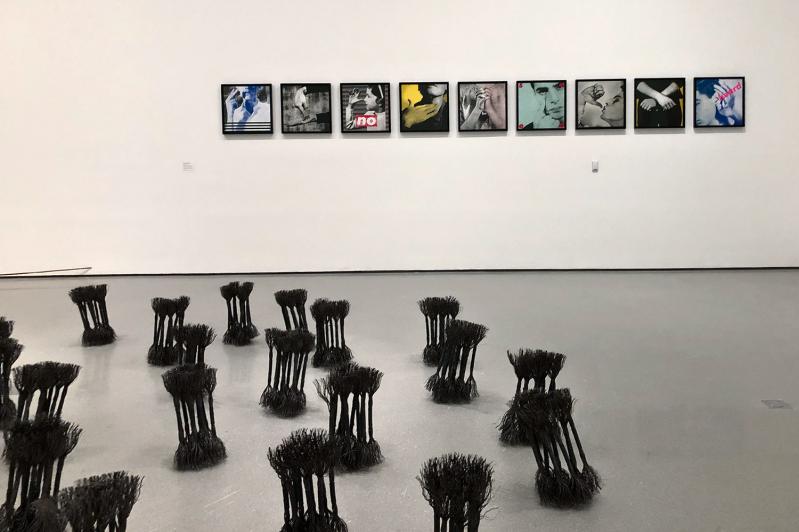 Further on there is a small room devoted to Frank O'Hara, a legendary figure of art and letters both here and in the city. A curator at MoMA in the 1960s, he wrote poetry on his lunch breaks until 1966, when he died at age 40 after a car accident. The room contains several preparatory drawings for a memorial book MoMA produced the following year. The art includes a double portrait of O'Hara by Larry Rivers and an excerpt from a poetry and art project the two worked on together called "Stones."
A theory has emerged over the years that had O'Hara lived, a different interpretation of modern and contemporary art might have resulted, given his friendships and collaborations with representational artists as well as abstractionists.
Another integration that becomes obvious as one moves through the various floors is one across genres. Films screen in black box spaces that become part of the overall installation; design and architecture find themselves incorporated into their appropriate eras near or next to the art that was being made contemporaneously. Prints, drawings, and photography have special rooms for their lighting needs, but are considered in their proper context.
Not far from O'Hara's room, Andy Warhol has a screening space dedicated to three of his early films: "Sleep," "Kiss," and "Blow Job." Ranging from 41 minutes to more than five hours, the films alone could be a reason for a visit. The next room carries the theme "From Soup Cans to Flying Saucers" and holds a collection of Warhol's last hand-painted "Campbell's Soup Cans" as its centerpiece. "Gold Marilyn Monroe," one of his first photo-silkscreened canvases, hangs nearby. Both are from 1962, the year Monroe died.
The expected names from Pop Art are here as well, including a Roy Lichtenstein ("Drowning Girl") and James Rosenquist's ceiling-mounted painted floor plan of a split-level house dotted with working lightbulbs. Claes Oldenberg's vinyl fan sculpture flops nearby. The work of many other artists fill this large room, absorbing and expelling the same tendencies, but they are better known in other contexts if familiar at all.
There's Richard Hamilton, the British artist who actually coined the term Pop, describing it as "Popular (designed for a mass audience), Transient (short-term solution), Expendable (easily forgotten), Low cost, Mass produced, Young (aimed at youth), Witty, Sexy, Gimmicky, Glamorous, Big Business."
Other artists here are Sigmar Polke, Gerhard Richter, Vija Celmins, Edward Ruscha, Yayoi Kusama, Allan D'Arcangelo, Michelangelo Pistoletto, Ketty La Rocca, Keiichi Tanaami, Herve Telemaque, Wolf Vostell, and Idelle Weber. The room epitomizes the ethos of the whole museum, to tell different stories among the familiar and, as a curator said, "reconnect pictures that we know well to others."
Artists working in this era may have given their pieces a commercial gloss, but there was always an undercurrent of critique. These new works help to see that more directly and shed new light and depth on old friends.
These rooms are testaments to the idea that one day such installations won't be remarkable. But as of this moment, all of the art looks fresh and compelling, like missing elements of a grand mural or tapestry finally coming into view.
East End artists such as Robert Gober, Barbara Kruger, Dan Flavin, Joan Semmel, Arshile Gorky, Mark Rothko, Ellsworth Kelly, Cindy Sherman, Richard Serra, and Lee Bontecou appear as well in the later rooms and on the second floor.
In general, the museum has made sure its marquee players remain accessible. There are separate galleries devoted to Matisse, Picasso, and Monet's "Water Lilies." Vincent van Gogh's "Starry Night" makes an early and, to traditionalists, reassuring appearance on the fifth floor. Most of the famed examples of the historically important artists are covered, but they are in new contexts and sometimes jarring juxtapositions that may upend conventional understandings of time and place. This is a good thing over all.
For residents of the greater New York area, who will need a couple of visits to absorb everything on offer here, there is even more good news. MoMA will rotate 30 percent of its collection every six months, allowing for new experiences with every visit. Even if those traveling far to make a pilgrimage to see one object are disappointed by its absence, there are so many other compelling and magical pieces and spaces (including the temporary exhibitions that also opened with the museum) that they could forget what they came for in the first place.