A massive drug ring operation that each year distributed more than $1 million worth of heroin cut with fentanyl near the Shinnecock Indian Reservation was taken down last week. According to Suffolk County District Attorney Timothy D. Sini, the deadly opioid cocktail was linked to at least five fatal overdoses.
In raids last Thursday morning that included more than 200 officers, federal, state, and local agencies worked together to execute five search warrants and arrest 24 people. "The network of drug traffickers," Mr. Sini said, sold not only heroin but thousands of pounds of cocaine, oxycodone pills, and marijuana. Many have prior records and/or drug-related arrests.
A grand jury has indicted almost all the accused on at least one felony count, according to an assistant district attorney who appeared in Southampton Town Justice Court on Tuesday afternoon. Had the indictment not come down by then, the defendants, most of whom did not make bail, would have had to be released from custody. The indictment will be unsealed in county court in Riverhead in the coming days.
"For far too long, criminals have attempted to evade law enforcement and hide on the Shinnecock Reservation, terrorizing the law-abiding members of the Shinnecock Nation, selling drugs, and committing various acts of violence. That ends today," Mr. Sini said at a press conference Thursday evening.
The multi-agency investigation began last December, following an uptick in criminal activity on the reservation, including gun violence, gun and narcotics possession, and fatal overdoses. The members of the conspiracy were "selling this poison on the reservation, as well as to nearby residents, selling this poison in our communities, causing death and destruction," Mr. Sini said.
Through the use of undercover officers, informants, and wiretapping, investigators found that each month the drug ring was selling roughly 250 grams of heroin, which has a street value of $83,000, and 200 grams of cocaine, worth $33,000.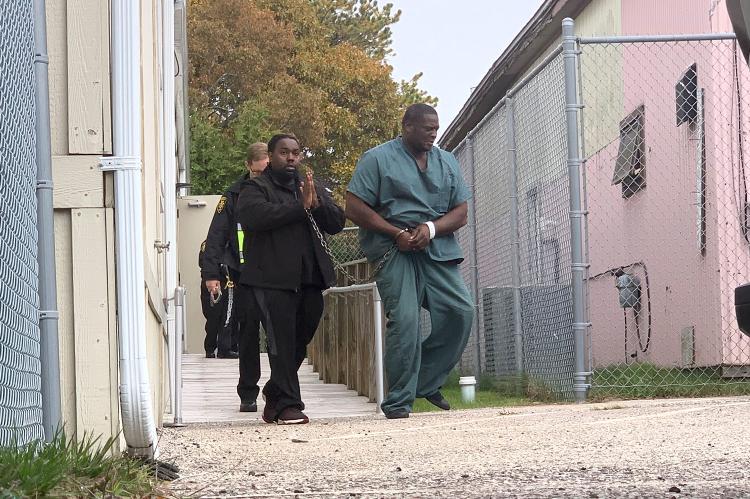 The D.A.'s office charged three men with operating as major traffickers. The investigation led to Justin Eleazer, 29, and Ryan L. Kellis, 32, who the D.A.'s office said "conspired to distribute heroin and cocaine to members of the Shin necock Reservation and other residents of the Southampton area." These two Southampton men allegedly used other reservation members to test the heroin they were selling to ensure its potency and determine its value. Mr. Sini emphasized the point that these men were testing out "potent, potentially fatal drugs" on other members as part of the alleged conspiracy.
Mr. Eleazer and Mr. Kellis, both of whom live on the reservation, we­re charged as major traffickers, also known as the state's kingpin statute, an A1 felony punishable by a sentence of 25 years to life in prison. Mr. Eleazer is also charged with second-degree conspiracy and driving while intoxicated. Mr. Kellis is additionally charged with conspiracy, four counts of criminal sale of a controlled substance in the third degree, and six counts of possession of a controlled substance in the third degree.
A Bronx man, Benjamin Diaz, 47, and Kenneth Rivero, 34, of Flanders were identified as the pair's suppliers. Mr. Diaz was also charged as a major trafficker and with conspiracy, while Mr. Rivero was taken in on charges ranging from conspiracy to possession of a weapon in the second degree, considered a violent felony. Mr. Rivero, who is out on $10,000 bond, is facing eight and one-third to 25 years in prison.
Defendants also include two East Hampton men and a former East Hampton High School football star.
Ryan Aldrich, the 27-year-old son of former East Hampton Village Police Detective Scott Aldrich, and John X. Tracy, a 25-year-old convicted of robbing the Springs Liquor Store several years ago, were charged with second-degree conspiracy. Mr. Aldrich is facing eight and one-third to 25 years in prison, while Mr. Tracy is facing 121/2 to 25 years. Mr. Tracy was released on $100,000 bail; Mr. Aldrich remained in custody as of yesterday.
Joseph Dowling, a 27-year-old Sag Harbor man who played for the 2009 East Hampton-Pierson-Bridgehampton Bonackers and made all-county in his junior and senior years, was charged with conspiracy in the second degree, criminal sale of a controlled substance in the third degree, and criminal possession of a controlled substance in the third degree. Mr. Dowling is being held on $25,500 bail after a previous arrest, in late August; he has been arrested several other times in the last four years, including in 2016 when he was accused of leaving heroin in neighborhood mailboxes.
The D.A.'s office also said William I. Bess III, 35, of Southampton had purchased large quantities of heroin and cocaine and resold the drugs to people on the Shinnecock Reservation and elsewhere. He is charged with fourth-degree conspiracy, criminal sale of a controlled substance in the third degree, and criminal possession of a controlled substance in the third degree. He faces a maximum of 12 years in prison.
His alleged supplier of cocaine, Johnnie Booker, 45, of Bellport also faces a maximum of 12 years in prison on conspiracy, narcotics, and weapons charges.
The Shinnecock Council of Trustees issued a statement last Thursday night, saying in part that nine tribal members had been arrested during the execution of search warrants on the reservation and that multiple raids had also taken place off tribal land, resulting in the arrest of nontribal members. "Although the Council of Trustees did not have prior knowledge of the operation, the Shinnecock community at large has suffered greatly due to the opioid and fentanyl epidemic, and tribal members have consistently requested the assistance of outside law enforcement agencies to help combat the issue," the council said.
During the search on the reservation, police seized approximately 120 grams of heroin and fentanyl, 90 grams of cocaine, more than 10 pounds of marijuana — worth about $21,000 — an assault weapon, numerous shotguns and rifles, and drug paraphernalia, including materials consistent with drug packaging, scales, grinders, and cutting agents.
The following Southampton residents were charged with conspiracy in the second degree: Max Byrne, 30, Edward Gumbs, 57, Frank Taylor, 59, Brandon Gardner, 33, Walter Mims, 33, Derrick Quinn, 49, Valton Reddick, 51, Nichole Rosado, 29, and Richard Short, 50. Thomas A. Halek, 49, Matthew Manzella, 30, and Nicholas Spiegel, 32, all of Hampton Bays, face the same charge.
Trevor Hardin, 29, of Flanders was charged with criminal possession of a weapon in the second degree, possession of a controlled substance in the third degree, and possession of marijuana in the first degree. If convicted of the top count, he faces a maximum sentence of up to 15 years in prison. 
New York State police, who have jurisdiction at the reservation, took the lead on the raids on Thursday morning. "These arrests are the result of hard work and determination by our law enforcement partners," said State Police Superintendent Keith M. Corlett. "Every day we see the impact these harmful substances have on families, neighborhoods, and communities. We pledge to continue to work tirelessly to make sure individuals who are at the root of this illegal activity are held accountable, and the dangerous narcotics and crimes stay away from our streets."
It was a collaborative effort, Mr. Sini said, that included the Federal Bureau of Investigation, Suffolk County Sheriff Errol Toulon's office, the Suffolk County Police Department, and other local law enforcement agencies. The D.A. office's East End Drug Task Force, which includes members of the East Hampton and Southampton police departments, also played a part. Mr. Sini called it "an all-hands-on-deck investigation and takedown operation."
The investigation is continuing. Assistant D.A. Ryan Hunter of the Enhanced Prosecution Bureau will seek a top charge of operating as a major trafficker for several more of those arrested, Mr. Sini said. 
"Thanks to the collaborative efforts of our state and federal partners, along with the district attorney's East End Drug Task Force, two dozen people were charged in connection with a drug distribution ring," Suffolk County Police Commissioner Geraldine Hart said. "We will continue to put our resources into fighting the opioid epidemic and focus on taking the dealers, who are fueling the spread of narcotics, off our streets."