On the eve of the playoffs, East Hampton High's girls and boys volleyball coaches, Alex Choi and Josh Brussell, were sanguine concerning their prospects.
"I like our chances," Choi, who's in his first year as the girls' head coach, said during Friday's practice session.
Choi's charges, the league runner-up, at 8-2, to 10-0 Kings Park and the third seed among the six Class A teams, were to have played sixth-seeded Half Hollow Hills West here yesterday, with the winner to play Tuesday at second-seeded Hauppauge at 5 p.m. The A final is to be played at Newfield High School in Selden on Wednesday at 2 p.m.
A recent win in four over Westhampton Beach was particularly pleasing. "We're peaking at the right time," the coach said, noting that Brooke Wittmer, his libero and most improved player, had led the way with her digs and serving.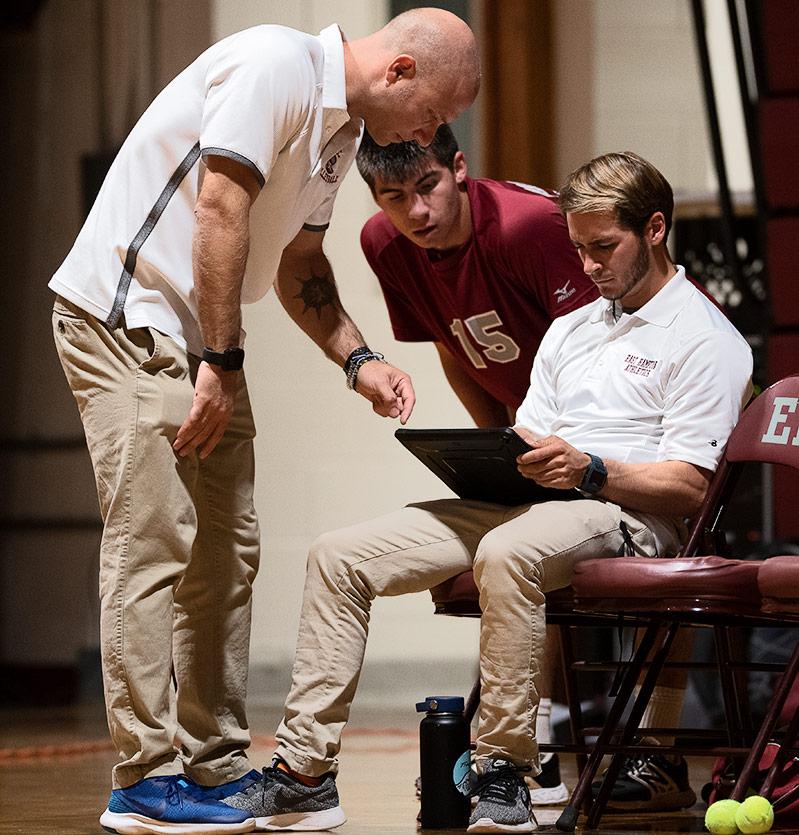 "Brooke led the defense, our serving was excellent over all, and our hitting was pretty good, though it could have been better."
Asked what needed tweaking, Choi said, "There's always room for improvement — especially when it comes to our communication, but that's improving every day."
The libero, he said in reply to a question, "can play anywhere in the back row and is the voice of the defense — she's in charge." The setter (Molly Mamay in this case) was "in charge of the offense," he added.
Mikela Junemann, who moved from outside to middle hitter this season, was, Choi said, "a force — she can swing from anywhere without sacrificing power."
Hannah Hartsough was "a great all-around player . . . she's the one with the fewest hitting errors, I believe." She, Junemann, and Wittmer put topspin on their hard, leaping serves.
The team itself was "very solid now," Choi said. "They're excited about the playoffs. As long as they keep their heads in the game they'll be fine. We're looking at it as a brand-new season."
Josh Brussell, the coach of the boys, was also confident going into the postseason. His team, which finished ninth among 22 power-rated teams countywide with a 9-4 record, could well play at home, probably with Hauppauge, in a Division II semifinal-round match on Friday, Nov. 8.
The Division II final is to be played at Newfield High School on Monday, Nov. 11, at 4 p.m.
Westhampton Beach, which defeated East Hampton 3-0 recently, "will get a bye into the final," East Hampton's coach added.
The boys were to have finished the regular season here with Half Hollow Hills Tuesday. In the season's penultimate game, last Thursday, they beat Walt Whitman 3-0.
"Logan [Gurney] led with 12 kills, Luc [Campbell] had eight, and Clark [Miller] had seven — we've got a well-balanced attack. We don't rely on just one player."
Asked who his most improved player was, Brussell answered, "Travis Wallace — he had a big block and a big kill last night. He's been getting more and more playing time." Wallace started the third set at outside hitter, replacing Henry Garneau, who started the first two.
Tuesday's game was a boon in a way, the coach added, inasmuch as the team would have to wait only a week and a half until its playoff semifinal while Westhampton's wait until the final would be two and a half weeks.
He might try to line up a scrimmage during that hiatus with Eastport-South Manor — a large school now — "though I haven't talked to their coach yet."
"If we beat Half Hollow Hills we'd finish at 10-4," Brussell continued. "Two of our losses, to Ward Melville and Sachem East, were shoulda-coulda-wouldas. But it's almost a blessing that we're not the top seed. I wouldn't want to take two and a half weeks off before the postseason begins."