On Oct. 12, the Montauk Chamber of Commerce held its 38th annual Fall Festival. The festival has included a clam chowder contest since 1998. 
The rules are as follows: Any restaurant or caterer that is a member of the chamber can enter the contest. Contestants must provide 10 gallons of soup and be ready to ladle by 11 a.m. For a number of years there was a people's choice winner in addition to the judges' chosen winner.
Also for a number of years, the New England and Manhattan chowders were lumped together in one category. There were always more New England chowders than Manhattans so little Miss Bossypants here suggested the chowders be divided into their respective categories. There are still always more whites than reds, but now they each get a winner. The people's choice Award was done away with a few years ago because it was impossible for every person to try every single soup — there can be as many as 30.
On Saturday, the East Hampton Historical Farm Museum held its second annual chowder contest on the beautiful museum grounds and I had the honor of being a judge, along with the lovely Patti Lacarrubba and chef Max Weintraub. The event ran from noon to 4, and both home cooks and restaurants were allowed to enter the contest. For $15 guests got a big soup mug and could try all they wanted. There were also apples, Cracker Jack, Parker House rolls, and some baked goods. Local honey, beach plum jam, and a homemade clam pie were offered for sale by the entrance. There would be a judge's winner and a people's choice winner. Patti, Max, and I agreed that the 15 entrants should be divided into their respective categories, in this case, New England, Manhattan, and Bonac, or "clear," chowder, as Mr. Weintraub called it.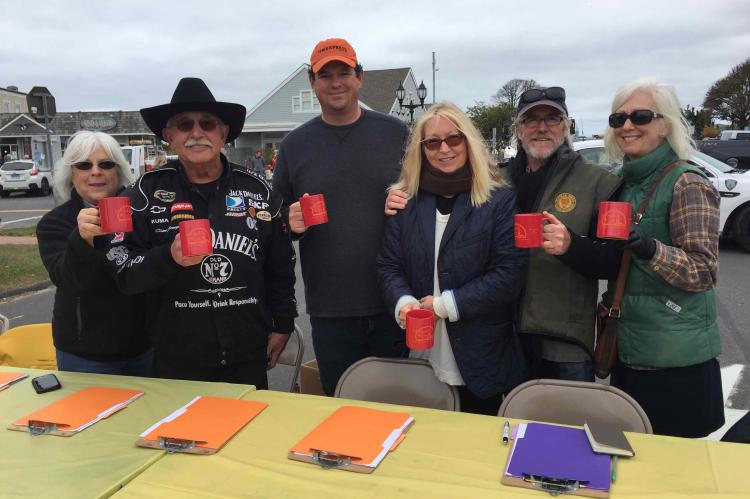 The Montauk judging crew has seen members come and go, but for the last couple of years it has been Wendy Samuelson, Paul Roman, Gavin Menu, Sally Richardson, Andy Harris, and me. It's a fun bunch! We are lined up and cordoned off by police cars in the middle of Main Street. Sally and Andy bring a bottle of their Stonecrop wine and I request some local IPA . . . to cleanse the palate, naturally.
Three of us judge the whites; three judge the reds. There can be up to 20 or more whites and usually around 10 reds. We have been suggesting the possibility of a third category for "most creative" or "most innovative" chowder because sometimes a talented chef goes rogue with some coconut milk and spice or other nontraditional but wonderful ingredient. Some judges even balk at the addition of corn to a New England clam chowder, but I love the occasional sweet pop of October corn mixed in with the briny clams.
The quality of the chowders varies wildly. We are pretty sure that some places just open a can of vegetable soup and throw in some processed clams. One white chowder this year literally looked and tasted like salty oatmeal. We pace ourselves, taste small amounts, scribble notes, and sometimes end up grading on a scale. We seldom disagree with each other and each judge can try any chowders from the other judge's category. As this contest is a blind tasting with numbered chowders, we don't know who made what until the next day. This year's winners were West Lake Fish House for New England (outstanding!), and MTK Lobster House for Manhattan chowder. This chowder was entered very late but was declared the "runaway winner" by Gavin.
At the farm museum contest, the makers and/or their representatives are present, and both professional chefs and home cooks compete together. Perhaps home cooks add a little love to their pots, because I honestly thought that most of these 15 chowders were superb. They were bursting with briny flavor whereas quite of few of the Montauk restaurant submissions in the other contest were tame and safe.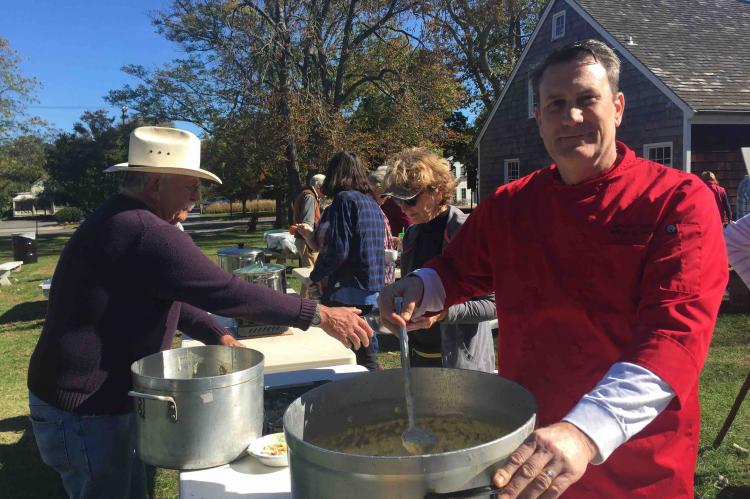 The winners of the East Hampton Historical Farm Museum contest were Arthur Wolf of Smokin' Wolf for a perfectly balanced New England chowder, Terry O'Riordan (former Suffolk County Health Department inspector striking fear into the hearts of every chef on the East End and an amazing cook) for Manhattan, Smokey Anderson for Bonac chowder, and we had to include Aleaze Hodgens's New England hybrid for its flavor and creative blending of herbs. The people's choice looked to be very much in sync with the judge's selections, which I always find reassuring.
Both contests took place on pretty, crisp October Saturdays. The Montauk festival was the most crowded I've ever seen. There were games and carnival shenanigans for children, the usual farmer's market taking place at the same time with many tents set up on both sides of Main Street. I always pick up some Bambino pumpkin ravioli to serve with sage-infused brown butter, some Finn's smoked fish dips, and a few bunches of Pierpont Farm dahlias.
At the museum event, also very well attended, you could tour the museum, wander the grounds checking out the vintage carriages, or just sit at a picnic table enjoying your chowder and listening to the player piano.
If you're feeling inspired to make your own chowder, here is a recipe that I found in several locations. Saveur magazine published it in 2007 and credited it to the 1898 edition of the L.V.I.S. cookbook. Round Swamp Farm has the identical recipe on its website and defines it as a Lester family recipe. Saveur describes the addition of butter and half-and-half as "optional." The Round Swamp Farm/Lester family recipe says you can add it to their Bonac chowder "if you want it to be good."
Now you be the judge!