It was déjà vu all over again and again. The weather, especially the wind, has been relentless of late. It started early on Oct. 8 and finally blew itself out by Sunday. Chicago may be dubbed the Windy City, but the eastern end of Long Island can certainly hold its own when accounting for prolonged periods of gusty weather.
In addition to the wind, heavy rain mixed in at times for a classic northeast gale. The weather was miserable, as were fishermen, both recreational and commercial, who had to stay on terra firma until the seas calmed down.
Hearing in advance of the extended spell of wind and rain that ultimately transformed a northeaster into a tropical storm named Melissa, a decision needed to be made. Stay at home and wait it out? Or drive north to where the storm was out of reach and where the sun was going to shine? It was a no-brainer. In military parlance, it was time to bug out. 
Up near the border of Quebec and Vermont, the sun was strong, the air was crisp, and the fall leaves were in prime peak colors for leaf peepers like yours truly. Fishermen in boats plied Lake Champlain looking for action, and duck hunters sat quietly along the deserted lakeside in their camouflaged blinds.
On one of those days, nearby Montreal hit a balmy 69 degrees. Meanwhile, back in Montauk, one of my many weather apps said that it was 47 degrees with winds steady at nearly 40 knots out of the northeast, with a 15-foot swell just off the Lighthouse. The wind chill made it feel like it was in the 30s. Amazing what a difference 400 miles can make in the world of weather. Needless to say, I was very happy where I was. For once, I had made the right decision.
Alas, the out-of-state excursion lasted  only four days. The return trip on the Cross Sound Ferry out of New London on Friday afternoon rivaled many of the rides at a Six Flags amusement park. The swells coming in from the southeast were standing up in the stiff northeasterly wind, making for a roller-coaster experience. Truth be told, it was fun. As for the other passengers holding on in the crowded topside cabin, perhaps not so much.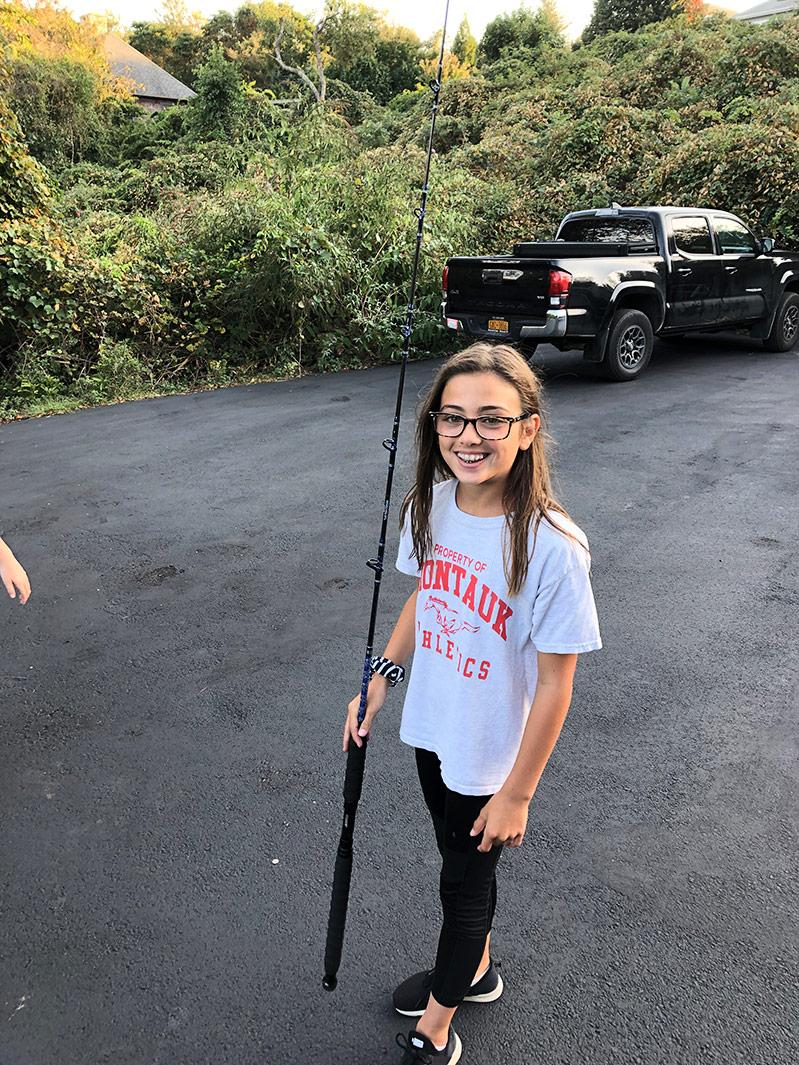 While fishing activity was shut down for nearly a week, a few folks started to get back on their boats by Sunday morning to see what the aftereffects of Melissa had brought to the inshore fishing scene. And the early signs were promising.
"Now that was a real doozy of a storm," smiled Harvey Bennett of the Tackle Shop in Amagansett. "It was a classic fall nor'easter that pretty much stopped most forms of fishing. But a storm like this usually brings on some positive changes."
Bennett said that a case in point was that the strong winds brought a nice slug of striped bass to the bayside and ocean beaches, where hapless schools of baitfish provided an easy meal for the foraging bass.
"Such a northeaster usually stirs up the action for stripers and this was the case," explained Bennett. "There were lots of schoolie bass up to 34 inches landed on the bayside, including at the inlet to Three Mile Harbor. On the ocean side, there were some good shots of keeper bass up to 25 pounds taken, along with some weakfish and shad. The action was really good during the blow and it's been consistent afterwards."
"Bass fishing from the surf during the storm was fantastic, with fish into the mid-30-pound range taken," said Paul Apostolides of Paulie's Tackle in downtown Montauk. "But after the blow it has been a bit quiet."
Farther off the beach, Capt. Hugh Chancey of Chancey Charters of Montauk, said that the fishing rebounded nicely. "The fishing was great on Sunday. We had a full limit of sea bass, a half basket of porgies, four big bluefish, and five striped bass up to 22 pounds."
The veteran skipper Capt. Rob Aaronson of the charter boat Oh Brother! echoed Chancey's observation. "Everything cooperated nicely today," he said of his fares' mixed bag of sea bass, stripers, and supersize bluefish on an unusually calm Sunday.
"I've not received a fishing report in almost a week," sighed Ken Morse of Tight Lines Tackle in Sag Harbor. "Many ocean beaches in Southampton were severely damaged by the storm and nobody has ventured out on their boats yet."
Morse did say that he has sold a large number of green crabs to those anglers looking to take advantage of the blackfish season, which opened on Tuesday in local waters. "Many are chomping at the bit to get out and fish," he added. "There should be some good action off the bat, as I'm sure the waters have chilled off quite a bit since the big blow."
Morse was correct in his prediction, as the blackfish season in Long Island Sound, which opened Friday, produced some excellent catches on Sunday and Monday. Charter boats sailing out of Orient Point found the fish in a hungry mood, with fish up to seven pounds landed from the north side of Plum Island, Little Gull and Big Gull Island, and other local rocky lairs. An excellent start for sure.
Want your views to be heard on striped bass regulations? The New York State Department of Environmental Conservation has launched an online survey to gain additional public opinion on options developed by the Atlantic States Marine Fisheries Commission to address striped bass overfishing. The online survey allows anglers to select their preferred bass management option and provide suggestions for developing commercial and recreational regulations for next year. The deadline is Oct. 28, and it can be found on the D.E.C. website at dec.ny.gov/press/118316.html.
There is a new fluke champion in Montauk. Emily Bruno fished hard and long and was rewarded with a custom-made fishing rod by MTK Custom Rods for landing the largest fish in the season-long 2019 Montauk Youth Fluke contest.
"Hats off to all the kids who fished and gave it a great effort," said the tournament organizer, Tim O'Rourke of Montauk Point Fly Fishing Charters. "More importantly, thanks to the support of the Montauk community and all of our sponsors, we raised $2,300 for the Tyler Project. The donation will be made in Emily's name."
The Tyler Project was established several years ago in Montauk after the passing of Tyler Valcich to increase and improve coordination and delivery of mental health services for students, young adults, and families on the East End. Funding is used for counseling, educational services, and programs to help predict and prevent some of the crises, including cyberbullying, that young people face today. Good on you, Emily, for helping a great cause.
---
We welcome your fishing tips,
observations, and photographs at