Jenno Topping, who grew up in Sagaponack, came home on Saturday to introduce "Ford v Ferrari" as the producer of the film, directed by James Mangold. The movie was the Saturday Centerpiece of the Hamptons International Film Festival.
Even to those not familiar with her film work, her name should sound familiar. She is the daughter of Tinka and the late Bud Topping of the Topping Riding Club in Sagaponack, and she was an award-winning equestrian in her younger years.
Now, she is the head of film and television at Chernin Entertainment, a company affiliated with 20th Century Fox, which was founded by Peter Chernin, who was once president and chief operating officer of News Corp, Fox's parent company. Not long ago, she and Mr. Chernin were included in a Hollywood Reporter list of the 30 most powerful film producers in Hollywood. Her film "Hidden Figures" received several award nominations and won many as well.
The plot of "Ford v Ferrari" concerns the effort the Ford Motor Company made in the mid 1960s to produce a car capable of beating Ferrari's long reign of championships at the French race Le Mans. The film stars Tracy Letts, who plays Henry Ford II. Christian Bale and Matt Damon play Ken Miles and Carroll Shelby, the legendary drivers who designed and refined the racer Ford took to France in its attempt to be first to the finish line.
Ms. Topping said the men whose live are represented in the film reminded her of her father, a potato farmer, "as odd as that sounds," whose lives and obsessions were also their work. 
Mr. Letts spoke with David Nugent, the artistic director of the festival, after the screening. He admitted that no one involved with the film was particularly interested in cars or knew about the story they were portraying before they were involved with it. He said it was his response to the script, as always, that guided his decision in taking the role. 
"I thought it was really well written, I thought even though it had a lot of familiar notes from sports films, there was this really human basis for the story," he said. "It was a lot more about the people than the cars."
Although he was playing a real person with some notoriety, he said he didn't do a lot of research into him before playing the role in the script. "Not a lot of people remember what Henry Ford II looked or sounded like, nor do they care," he said to laughter in the audience.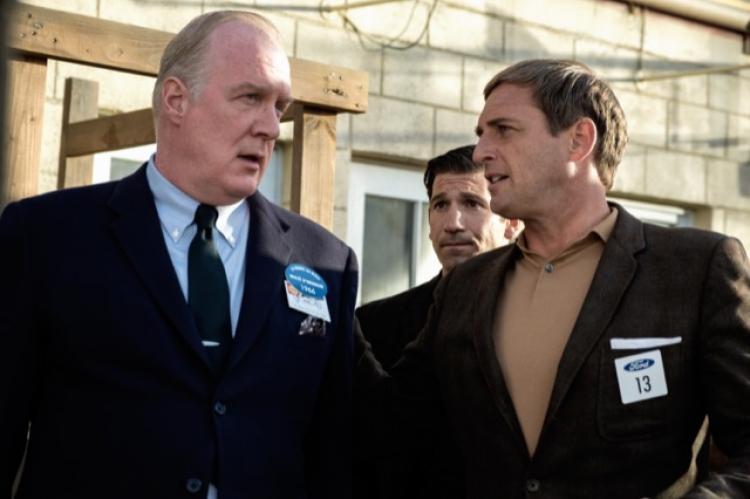 He said he found some YouTube videos and read a biography that was not very helpful. A noted playwright himself, he added "in a well-written piece, the dramaturgy is on the page. . . . It was all right there."
Asked to describe what it was like to work with Mr. Mangold, he replied "He's got a lot of energy. He's loud, he yells, he curses. Sometimes when people do that it's out of insecurity. It's not with Jim. He's very passionate and excited. . . . He's a great actor's director."
"Ford v Ferrari" will be screened again in Southampton at 7:30 p.m. on Sunday.