The Hamptons International Film Festival is off and running with its first full day of programs. Each year festival insiders and veterans offer some tips for those who are here for the first time as well as seasoned alumni. Here we share a few of the best of them.
Films that are sold out are most often accessible by the rush line. 
Because of the way the festival is structured, a significant number of seats are held back for pass holders. Once they and the ticket holders have been seated, a festival rep counts the remaining seats, and those in the rush line can then buy tickets for them. According to Anne Chaisson, the festival's executive director, there is a 97-percent success rate in the rush line, although admission is not guaranteed. The line typically forms 45 minutes before the scheduled showtime.
Those with passes and tickets need to be in line at least 30 minutes before the screening.
In order for the rush line tickets to be sold in time before the film starts, the volunteers and staff need to be able to count seats that are vacant. They give that information to those at the rush line so they know how many people to let in to buy tickets. Arrival within 30 minutes of showtime or after forfeits guaranteed admission.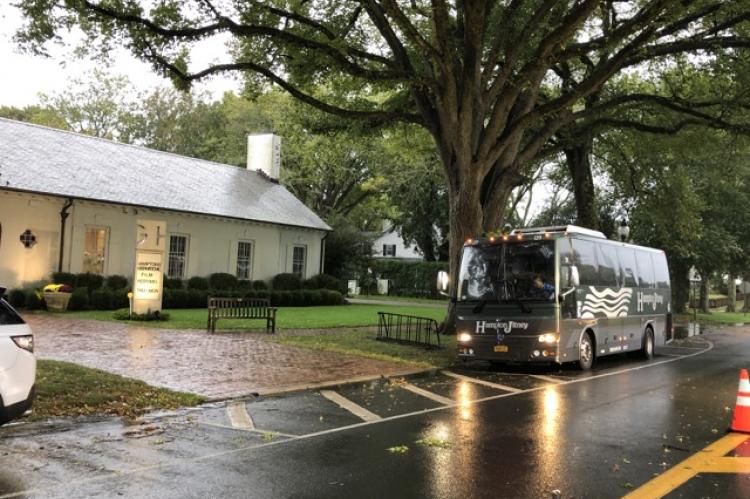 Use the Jitney.
Ticket and pass holders are eligible for free Hampton Jitney shuttle service, either in the dedicated East Hampton and Sag Harbor loops or on any regularly scheduled eastbound or westbound bus between Southampton and East Hampton, depending on seat availability.
Ask the audience or phone a friend. 
Some of the best films are the happy discoveries that come from unexpected sources. Ask the staff, volunteers, and fellow audience members for suggestions. Each year, we're asked, "What's good?" The answer is always, "What interests you?" With so many talented filmmakers here and in the world, the festival offers some really great experiences, often with the smallest of films. Instead of bragging rights to be first to see this year's probable Oscar contenders, which will be released in theaters in a matter of weeks, why not take a gamble on something that may never be screened as a major release, but is just as fulfilling? 
Dress for the elements. 
You will be standing outside in line a lot. In early October on the East End, that can mean rain, wind, and cold ocean air. You will not be let in until the staff and volunteers can seat you. Now may not be the best time to break out those Jimmy Choo stiletto ankle boots, no matter how cute. Save them for dinner or a party. And keep an eye on the forecast.