It was easy to walk into a film called "The Artist's Wife" with a number of assumptions and delightful to come out with each one of them negated. This might be expected from a film made outside the Hollywood narrative mainstream, but its defiance of convention is also a function of its maker, Tom Dolby, whose sensitivity to his characters and setting positions it well above even the typical independent offering.
One of the most distinguishing features of this Hamptons International Film Festival selection is its dedication to place. With a story set during winter primarily in East Hampton, the scenes that start outside Guild Hall (with The Star's offices in the background) continue in the real interior rather than a set or some other obviously different location. Driving sequences follow real linear streetscapes, not cut-up quilts of scenery, like greatest hits, jumping from village to village.
"We wanted that local authenticity," Mr. Dolby said last week from Los Angeles. "It was really important to me that you feel the specificity of place." He said he didn't want anyone who lived here to be distracted by a character walking into one store and out of another. "The geography of the Hamptons is so important and so specific. Amagansett and Bridgehampton are not the same thing."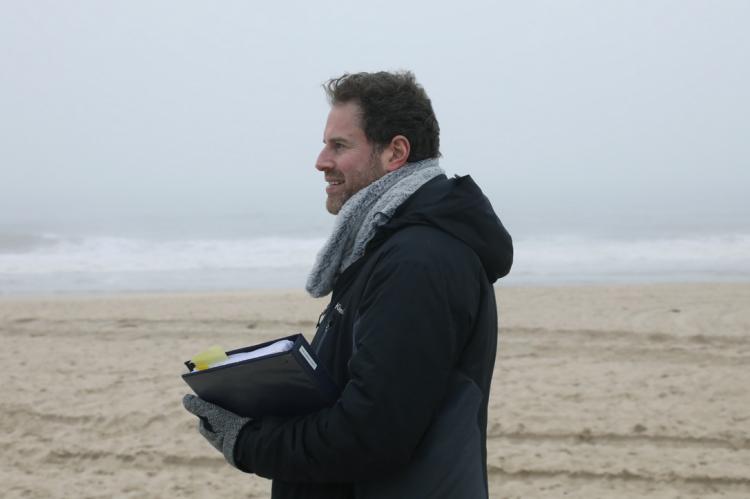 Mr. Dolby spends most of his time now on the West Coast but has a house in Wainscott, where he lived full time for several years. "I experienced a few winters. It got very bleak and very lonely at times."
His film stars Lena Olin as Claire, the titular character, and Bruce Dern as her husband, Richard. At the beginning, the couple comes into focus midinterview as Richard offers the kind of response a prominent man gives when the focus turns to his spouse. "Everything we do is up to Claire," he says as she gives an impenetrable look, subtly broadcasting the opposite.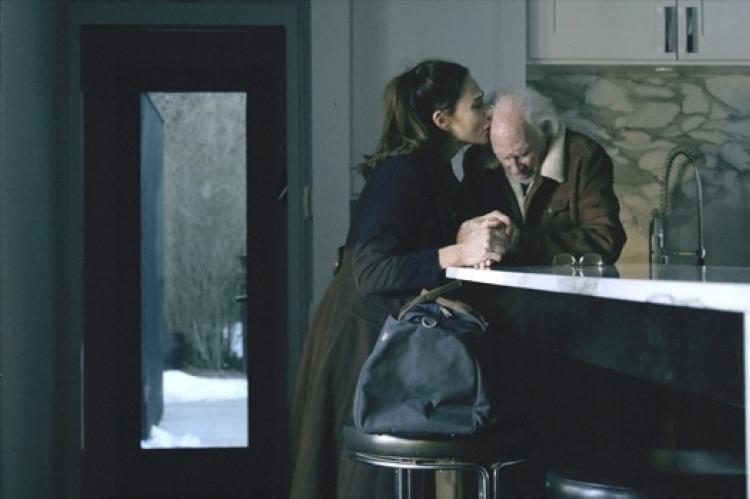 We quickly learn that Richard, a famous abstract painter who also teaches (at the real Stony Brook Southampton), has dementia and is already failing. Claire is the one who receives the news, and the film continues from her point of view.
"A lot of stories about dementia, as important as they are, are focused on the person who has it," Mr. Dolby said. "I wanted to focus on the spouse," something he decided while watching his mother cope with his father's own illness.
Although it terrifies her, the diagnosis gives her agency to act in ways that fulfill his comment at the beginning of the film. She makes decisions for both of them and pushes the limits of her authority by inserting herself into his daughter's life, attempting to forge a truce between them after a long estrangement. Similarly, a dormant artistic drive reignites, and she finds herself painting again after decades of self-exile.
A story about dementia's toll on the patient and family could be set anywhere under any circumstances, but Mr. Dolby said the story of an artist's wife had "been planted in my brain" years ago when he stayed in a TriBeCa loft right after his freshman year in college. The midcentury artistic community in East Hampton, where female artists tended to curb their own ambitions to serve as managers for their artist husbands, was another source of inspiration.
"I had this idea for 10 years. It developed over time," he explained. Originally conceived as a novel, he began to see the story visually after he finished his first film, "Last Weekend," in 2014.
Lee Krasner, who was chosen as this year's cover artist for the festival's film guide, was a particular inspiration. Although she continued to create throughout her marriage to Jackson Pollock, she put aside a lot of her work to serve as the manager of his career. Some of the paintings Claire makes were inspired by her work as well.
At its core, "The Artist's Wife" is a love story. "It shows the devastation of disease and the tragedy of the situation, but she loves that man and finds the value in that while going through those painful moments."
Ms. Olin seems younger as the film progresses, and her life force seems to strengthen. "With older people of either gender, there is that feeling of 'Oh, you have to succumb to your health issues or can only do certain things, like be part of a book group.' " At the age of 44, the director said he is inspired by new journeys. "It was very rewarding to explore that with this character."
Mr. Dolby has written several novels, but also has his own production company. An early investment in "Call Me by Your Name" earned him an executive producer credit. "I was the first outside person to put in money," he recalled. His company's contribution went to buying the book rights, and the producers have since told him it is what kept the project alive.
"I was really proud of that and seeing in the script this incredible story that stuck with me and the amazing filmmakers, actors, and producers that brought it to fruition."
"The Artist's Wife" will be screened tomorrow at 2:15 p.m. at Guild Hall and Saturday in Southampton at 11 a.m. Tickets are $28.