The producing partnership of Jane Rosenthal and Robert De Niro is as storied as it is long. Brought in to co-found and lead Tribeca Productions in 1989, Ms. Rosenthal has been key to expanding their empire to Tribeca Enterprises, Tribeca Institute, and the Tribeca Film Festival.
Through Tribeca, she has produced movies such as the "Meet the Parents" series, "Wag the Dog," "About a Boy," "Analyze This," "A Bronx Tale," and scores of others.
Now, their three-and-a-half-hour crime family epic "The Irishman," which was directed by Martin Scor­sese and premiered as the opening night film at the New York Film Festival, has received rave reviews and is predicted to garner major award nominations in every category. It will be shown at the Hamptons International Film Festival in two sold-out screenings tomorrow and Saturday. [A third screening was added on Monday at 2:15 at East Hampton Cinema after this article went to press. Tickets may be available at $28 each.]
Last week, Ms. Rosenthal, who spends her downtime in a house in Bridgehampton, said she is excited to share the film at HIFF and in one of her favorite places to be.
The movie has been years in the making. "We had been looking for a long time for the right project for Marty and Bob to do together," she said, noting that they had not worked together since 1995's "Casino."
Although the first book they planned to adapt was Don Winslow's "The Winter of Frankie Machine," which was about to get a green light from Paramount, those plans abruptly changed with a phone call. "We were on the phone with Brad Grey, Bob, Marty, and Bob mentioned he had been reading this book as research called 'I Heard You Paint Houses' " by Charles Brandt.
"The more we talked about 'I Heard You Paint Houses,' the more Bob and Marty really decided it had more of the elements of what they were looking for if they were going to go back into this world of the Mafia and these types of characters."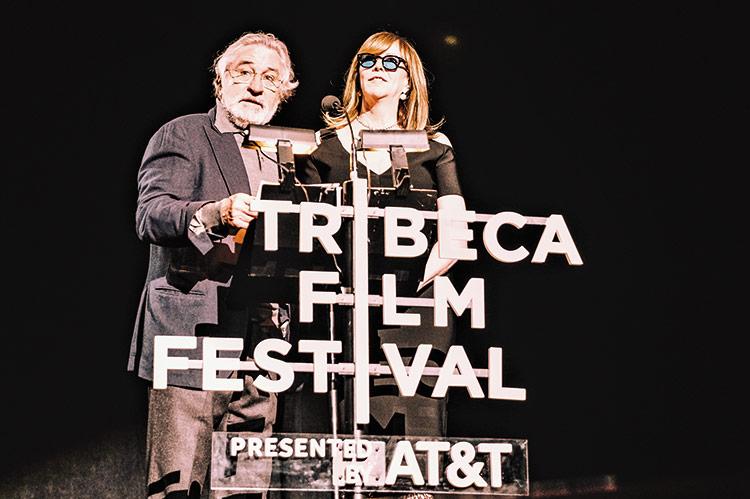 "The Irishman" has been described as sober and unsentimental, dark yet poignant, as it follows several decades in the life of a hit man associated with a Philadelphia crime family with a possible role in the death of the labor leader Jimmy Hoffa.
The film has received almost as much attention for its length as it has for its performances by Mr. De Niro, Joe Pesci, Al Pacino, Bobby Cannavale, and Ray Romano, among others. But Ms. Rosenthal finds the length largely irrelevant. "It's an epic story," she said. "You want to keep watching; you want it to keep going, because the story is so great."
Netflix, which signed on to the film after other studios balked at its duration, will release it in theaters on Nov. 1. It will begin streaming on Nov. 27.
The past month has brought affirmations of other projects, too. Ava DuVernay's "When They See Us" — a Netflix mini-series about the boys accused, convicted, and eventually exonerated for the rape of the Central Park jogger — was nominated for 16 Emmy Awards and won two on Sept. 22. Jharrel Jerome, who played Korey Wise, won lead actor in a limited series, and it won for casting. Once known as the Central Park Five but now referred to as the Exonerated Five, they were invited to attend the awards show with the cast and creators of the series.
Ms. Rosenthal said it was wonderful that the series and Mr. Jerome were recognized, "but very specifically, for the real men, the Exonerated Five, to have that moment was very special."
Ms. DuVernay and Ms. Rosenthal had worked previously on a documentary and a pilot for CBS before Ms. DuVernay got in touch with her about the project. Having considered it as a feature film, "We felt it was more of a limited series model that fit how she wanted to tell this story." The goal was to "humanize the boys, now men, who had been widely regarded as criminals."
They wanted audiences to re-examine the case, to "reinterrogate everyone, to look at and question everything — question what happened and question why when you see teens of color you assume something's wrong, but if they're white teens, they're just playing or 'boys will be boys.' "
After so many years and so many films, Ms. Rosenthal has gained a lot of fans in the industry. As a result, she has multiple projects going at any given time. For it to work, "You need to know how to support your filmmaker. I know when my time and energies are best needed," she said. "It varies from filmmaker to filmmaker, story to story, but the key is supporting the story so it can be the best it can be."
Her time in Bridgehampton is precious to her. "I come out to the East End to do absolutely nothing," she said. If she leaves the house at all, it is usually on a trek to the Babinski farm stand and the Seafood Shop in Wainscott for a locally sourced dinner.
Known for her political activism and fund-raising efforts, she has not yet chosen a candidate to support in 2020. Still, she said, "It's not a time to be silent or complacent with what's going on. I do what I can, and it's definitely time for all of us to use our voice, whether financially giving or canvassing."
Sensing a parallel, she noted, "Going back to 'Irishman,' which is based on true incidents, look at what happens when power is corrupted and what it means today." She said she sees connections between the inner workings and rivalries in the film and mainstream politics. "Looking at it gives you a lens to look at today's world."