Carissa's
221 Pantigo Road
East Hampton
631-527-5996
Wednesday through Sunday,
8 a.m.-5p.m.
Dinner
Friday through Sunday, 6 p.m.
Is it Carissa's the Bakery or Carissa's the restaurant or just Carissa's? I am talking about the newish establishment on Pantigo Road in East Hampton. No matter the name, it is an exquisite place, serving delicious food.
The first time I walked in, the space reminded me of a cross between Tartine Bakery in San Francisco and abcV in New York City. Tartine, because of the quality, menu, and somewhat open industrial kitchen atmosphere, and abcV because at the same time Carissa's is light and airy and delicate. AbcV is the vegetarian restaurant attached to ABC Kitchen, one of Jean-Georges Vongerichten's restaurants.
When you walk into Carissa's, there is a long blond wood communal dining table to the left. On the right you can see all of the ovens cranking out the now iconic breads such as salty soured pickled rye, stout, and sourdough. There are croissants and tarts and flower-petaled meringues under glass domes. A shelf holds a few tastefully curated items for sale: organic Greek olive oils and some Carissa's-made jams like beach plum and fig, along with pear butter and granola. Even the coffee condiment station is glamorous, with adorable glass Battenkill Creamery milk bottles, the requisite oat and nut milk situations, and some fresh feathery greenery. The next room has a few tables, a long green leather banquette and a marble bar.
The service system is a little confusing. We weren't sure if we were to seat ourselves and wait for a waiter or wait to be seated. So we sat and waited. And then got up. Then we were told that we order food at the counter and they bring it to you, with a nifty (and again, charming) method of matching playing cards in a glass placed on your table.
This place is still kind of new (four months old) and small, so I guess this method works best for the staff, but one must continually get up and pay again for each additional item like a glass of wine or dessert, for example. Maybe it would be helpful to have a manager on site directing people, or perhaps some signage by the counter. This was essentially the only blip of our experience.
We sampled the following dishes at lunch: smashed potatoes with harissa aioli, market salad, posole verde soup, a roasted eggplant sandwich, pork tacos, and a braised brisket sandwich.
The smashed potatoes are insanely good, five medium sized potatoes, perhaps Yukon Golds, just as described: lightly smashed, fried, and crispy golden, sprinkled with sea salt and served with a perfectly balanced hot, rich, and smoky aioli. The market salad had good flavor, however, the escarole leaves were super tough, even hard to cut with a knife. But the dressing was great — tart and mustardy with chopped smoked almonds tossed in.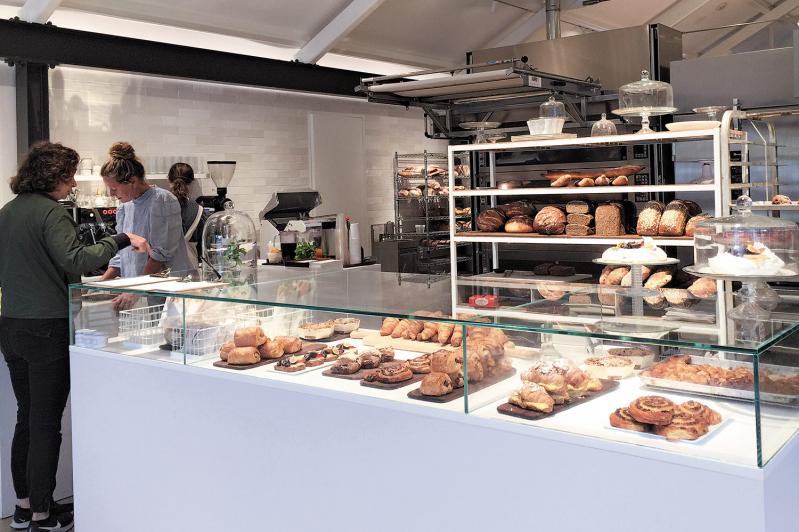 The posole soup was excellent. It was a tomatillo-based broth, just a wee bit spicy, with some chicken, hominy (posole), radish slices, avocado chunks, and tortilla strips. The roasted eggplant sandwich was very good. The thin slices of eggplant and arugula were sandwiched between griddled sourdough bread slices slathered with a really, really good romesco sauce.
The pork rib tacos were also very good. The two good-sized tacos had a layer of tomatillo salsa, fresh corn, and excellent, tender pork piled high on top. By far the best sandwich we tried was the smoked brisket on stout bread with beet slaw, arugula, and horseradish aioli. The balance of flavors was phenomenal, enhanced even more by the matchstick slices of puckery pickled beets served alongside. 
The prices at Carissa's are moderate, although some would say, and have said, they are expensive. I would argue that when you consider the quality of the breads made from locally grown and milled organic wheat, rye, oats, and more, the quality of produce and seasonality of the other elements, this place is moderate.
Prices are $5 to $22 for the morning menu, $7 to $32 for the lunch menu items, and, at dinner, $10 to $18 for salads and appetizers and $22 to $42 for entrees.
Let's talk about parking for a moment. Parking in front is a bummer. There are two to three spaces besides the handicapped space. Depending on the IQ of person parking, the number of parking spaces can shrink to one. There is another small parking area in the back, and even this can be filled at times. Not to worry! If you don't mind walking about a block's distance, there is plenty of parking off Pantigo Place at the East Hampton Healthcare Center lot behind Carissa's and the government offices across Pantigo Place. 
For dessert we tried a plum tart tatin, a scoop of coconut sorbet, and a scoop of pistachio ice cream, and took an assortment of croissants with us to sample later. The plum tart tatin, extravagantly adorned with a whole, split vanilla bean (!) was superb. The flaky bottom layer remained flaky and the tart plum slices were sweetened and buttery. Both the sorbet and ice cream were excellent and made in house and a mere $5 for two scoops. The croissants to go — plain, chocolate, and jambon-gruyere — were all as good as can be, flaky, not heavy, and excellent.
As my guests and I were sitting on the comfortable green banquettes admiring a tiny bamboo atrium and sipping lemon verbena-infused water, I blurted out, "I feel like I'm in a spa!" The atmosphere is that beautiful and soothing. The place eventually filled up, which was a nice thing to see on a weekday in October.
I met and wrote about Carissa Waechter six years ago when Carissa's Breads was four years old and she was overseeing the South Fork Kitchen and Amagansett Food Institute's facility at Stony Brook Southampton. Her brother was helping out (on his vacation!), and a friend from Quail Hill Farm was forming sourdough bread loaves with a big smile on his face. Carissa was branding her breads with a big hot poker in the shape of a C. I thought then — and I think now — that she is one of the nicest, most talented, hardest-working women I have ever met.
All of the twitterpation on Instagram means not a whit to this old baby boomer. What matters is the consistently high quality of her products, pastries, and breads, in spite of this new expansion. Her success is earned and deserved and we are pretty darned lucky to have such a gifted baker in our midst.