"No news is good news" is not a credo generally favored by journalists and the publishers of books they produce. But there is remarkable resonance in "A Private War: Marie Colvin and Other Tales of Heroes, Scoundrels, and Renegades" because Marie Brenner's collection of previously published magazine stories touches on so many subjects still demanding our attention.
Born in Queens, raised on Long Island, Ms. Colvin won fame as a deathdefying frontline correspondent for Britain's Sunday Times — sophisticated in London society, unlucky in love, sporting chic lingerie under her warzone gear, often stressed and alcoholic, above all obsessed with bearing witness to the human toll of war until she herself fell victim in 2012 to the unending conflict in Syria.
Stony Brook University has established the Marie Colvin Center for International Reporting, likely the last of her many honors and awards.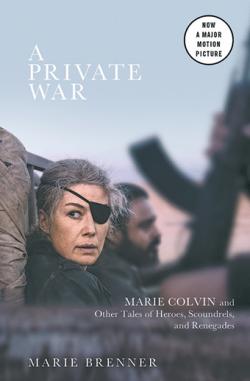 Ms. Brenner's account of Ms. Colvin's complicated, traumatized life and death is "Now a Major Motion Picture," as this tie-in paperback's cover declares, above a photo of its star, Rosamund Pike, wearing a black eye patch as Ms. Colvin always did after a grenade blast took half her sight while she was covering Tamil Tiger rebels in Sri Lanka.
Ms. Brenner's book also includes her early warning of a new antiSemitism, first in France, to which government officials, the media, and many Jewish leaders were turning a blind eye — a story touching on countervailing tides of Muslim migration and Islamophobia, Israeli policy and proPalestine sympathies, American led war in the Middle East, and seeds of rightwing resurgence now evident across Europe and, too often violently, in Donald Trump's America.
Of course, it contains her famous evisceration of the nearly bankrupt blowhard and tabloid darling of New York City real estate who poured wine on her in revenge — and who is now our president.
There as well: Ms. Brenner's pieces on Trump's demonic mentor and fierce fixer, the late lawyer Roy Cohn; on the nearly slain Malala Yousafzai, still fighting for young women's rights (and lives) in Pakistan and beyond, and on a U.S. lawyer, elected official, and federal judge, Constance Baker Motley, key figure in so many early legal battles against segregation and for black voting rights, still problematic in too many places.
Also Ms. Brenner on F.B.I. and media malpractice, specifically as regards Richard Jewell, an innocent suspect in the Atlanta Olympics bombing, and on the Big Tobacco whistleblower Jeffrey Wigand, which became the basis of an Oscar nominee for best picture in 1999, "The Insider."
One local connection to the tobacco scandal Ms. Brenner spotlighted was a destroy-the-accuser campaign against Mr. Wigand by a self-described "guerrilla PR" expert one of the giant tobacco firms hired, the late John Scanlon, for many years my friendly backyard neighbor in Sag Harbor before he bought his million-dollar mansion on Main Street.
For all the pictures and prose about shattered homes, blasted bodies, and starving babies — more widespread awareness of such tragedy than the world has ever known — violence continues in too many of the same war zones Marie Colvin covered and those she did not.
It was decades ago that a young Ms. Brenner, a San Antonio native relatively new to New York, was first introduced to me by a mutual friend. She was obviously bright, attractive, ambitious, and interested in journalism. But I could have no inkling of how far her own journalistic talents would take her — reporting at home and abroad for New York magazine, The New Yorker, Vanity Fair, and, even earlier, The Boston Herald, where she was the first woman columnist to cover the American League. MS. Brenner still cherishes the golden age of slick magazines and plentiful column inches — black town cars on command, unquestioned air travel, the best hotels and restaurants, five-figure expense accounts. So there is some irony in her surprise at finding that one of her literary idols, Graham Greene, made do with a one-bedroom flat and a card table to write on. "What else would I need?" he asked her.
This is Ms. Brenner's seventh book, and the articles in it clearly reveal the moral compass that her introduction says she inherited from her father. Milton Brenner ran the family's chain of Texas discount stores but was at least as known for furious letter to the editor denunciations of local corruption and hypocrisy.
 Writes Ms. Brenner of herself: "I don't like to see the innocent get railroaded or the perpetrators of evil get away with it. . . . I am also drawn to those who have been somehow caught in the vise of public events and have been shredded by overwhelming forces."
Much like Ms. Colvin, though not dangerously addicted to wartime terrors, Ms. Brenner here demonstrates her instinct for a good story, her tenacity at digging into it, her charm in getting critical and colorful details out of those involved, and her knack at crafting compelling yarns, with herself as reporter often part of the narrative.
But the Colvin story in particular raises some painful questions for contemporary journalism, most notably about the costs and benefits of "bearing witness" now — when daily, weekly, and monthly reporting is not only outpaced by TV and digital and social media, but so often overwhelmed by them.
For all the pictures and prose about shattered homes, blasted bodies, and starving babies — more widespread awareness of such tragedy than the world has ever known — violence continues in too many of the same war zones Ms. Colvin covered and those she did not. Information and outrage can hardly be counted on to produce peace, or merely decent humanitarian aid, as even Ms. Colvin discovered.
And Ms. Brenner addresses the conflict that colleagues felt about the danger they allowed Ms. Colvin to put herself and others in, though it is hard to imagine anyone stopping her very often.
"Of all the trips we had done together, this one was complete insanity," said her photographer, Paul Conroy, seriously injured on Ms. Colvin's final, fatal mission to the Syrian city of Homs, then being bombed by government forces. "I would like to have a saner life. I just don't know how," Ms. Colvin emailed a close friend not long before her death there at age 56.
 Also, to what avail the contact Ms. Brenner cultivated with Mr. Trump early on, and her artful warning about him as a man comfortable with broken promises, outrageous insults, outright lies, and shameless media manipulation?
 "The Music Man of real estate," she called him, "for his real skill has always been his ability to convince others of his possibilities. The line between a con man and an entrepreneur is often fuzzy."
Sadly it soon will become even more difficult to distinguish between real reporting and the kind of fake news Mr. Trump himself propagates as digital technology and artificial intelligence get better at creating video that convincingly puts one person's head on another's body and someone else's words in another's voice. Or will that make reporters we trust even more important?
Mr. Trump's most famous — or infamous — lawyer, before the current fixer/flipper Michael Cohen, was Roy Cohn, shadowed veteran of the McCarthy era and quickly Mr. Trump's link to the "politics of paranoia" that ran through the Nixon years to disciples like Roger Stone and Paul Manafort, back in the news once again.
Cohn was almost pitiful when Ms. Brenner met him in 1980, his townhouse a "fetid . . . shambles," his tongue darting snakelike in and out, unaware he was only four years away from a fatal AIDS diagnosis. His go-to tactics, which Trump easily adopted, included claims of victory whatever the truth, threats of baseless but costly court action, and character assassination.
"You knew when you were in Cohn's presence you were in the presence of pure evil," one liberal lawyer told Ms. Brenner. And Mr. Trump, trying to distance himself from Cohn, she thought, conceded to her: "All I can tell you is he's been vicious to others in his protection of me."
Another Trump lawyer told her: "Donald is a believer in the big-lie theory. If you say something again and again, people will believe you."
When she told Mr. Trump about that, his response was not unlike what we have heard more recently: "One of my lawyers said that? I'd like to know who it is, because I'd fire his ass. I'd like to find out who the scumbag is!"
Some things never change.
 Which is why so much of Ms. Brenner's past work here seems so pertinent still.
—
Marie Brenner, now a writer at large at Vanity Fair, has a house in East Hampton.
David M. Alpern ran the "Newsweek On Air" and "For Your Ears Only" radio shows for more than 30 years, hosted weekly podcasts for World Policy Journal, and now records news stories for the visually impaired at gatewave.org from his home in Sag Harbor.