For Catholics in Montauk, St. Therese of Lisieux Catholic Church is at the heart of their community, and since the spring of 2020, the church's two Passionist priests, the Rev. Robert Joerger and the Rev. Edward Beck, have been the heart of a parish that some say had otherwise had a revolving door of spiritual leadership.
That door appears to be opening once again.
Hundreds of parishioners gathered at the church on Monday to call on Bishop John O. Barres of the Diocese of Rockville Centre, which oversees the Catholic community on Long Island, to reverse the decision to end "residence and faculties" for Father Beck at St. Therese as of Aug. 31. That, in turn, has caused the Passionists to recall Father Joerger's assignment at the church. Without further action by the diocesan and the Passionist leadership, Father Joerger's last day in Montauk is expected to be Tuesday.
The news stunned the St. Therese community, which learned of the situation on Oct. 6. "On behalf of our parish, we call on Bishop Barres to engage in good faith discussions with the Passionist order, to engage in a respectful and open way with this parish, and to revise his unfortunate and unjust order," the church's board of trustees said in a statement.
Over 500 people signed a petition calling on the diocese to keep Father Joerger and Father Beck at St. Therese.
According to a press release issued by Father James O'Shea, provincial of the St. Paul of the Cross Province of the Congregation of the Passionists, Bishop Barres had visited St. Therese in May and "was highly complimentary of all that was occurring in Montauk." Father O'Shea also said that Bishop Barres has not given any reason for removing Father Beck, who had relocated to Montauk from Los Angeles to serve alongside Father Joerger.
"It had not been, nor was it ever, stated that Father Beck would be in Montauk for just a year," Father O'Shea wrote. "It was understood that this agreement would be renewable in order to continue a Passionist community presence in Montauk."
However, in a statement to The Star on Tuesday, Sean Dolan, a spokesman for the Diocese of Rockville Centre, said it was communicated in writing to St. Therese on Sept. 22, 2020, that Father Beck's term would end the following August.
"The decision of the Passionist community to remove Father Robert Joerger over one year prematurely from his office as Pastor of Saint Therese Church in Montauk is unfortunate, and we understand that it is causing disappointment among many parishioners who deeply appreciate his service to their parish, as does Bishop Barres and the diocese," Mr. Dolan said. "However, the Church of Saint Therese has historically been staffed by diocesan priests, and now the parish is returning to the care of diocesan priests. We are grateful that Father Joerger sought parish ministry and was able to offer coverage of the parish for a time."
On Thursday, the Diocese announced that the Rev. Liam McDonald has been appointed St. Therese's new pastor. Ordained in 2017, he is currently the chaplain at Holy Trinity Diocesan High School in Hicksville, N.Y. Mr. Dolan said he has "family ties on the East End," and said he is "noted for his humility and pastoral zeal."
"He looks forward to serving the Catholic faithful in Montauk," Mr. Dolan said.
The Passionist order is a recognized movement within the Catholic Church, rooted in seeing "beyond common divisions and beyond societal and cultural prejudices -- in order to build a world that reflects that vision of the Reign of God," according to its website. 
Father Beck is a well-known contributor to CNN whose "thoughtful and thoroughly canonical commentary is a matter of public record," the St. Therese trustees said in their statement. "We find no fault there. However, we are well aware of the politicized media environment and the many enemies that so-called 'mainstream media' has acquired over time."
The trustees also noted that "the Passionist order together with relatives of our pastor invested substantial sums in renovations of our rectory." They said that Father Joerger and Father Beck have had a "powerful spiritual impact."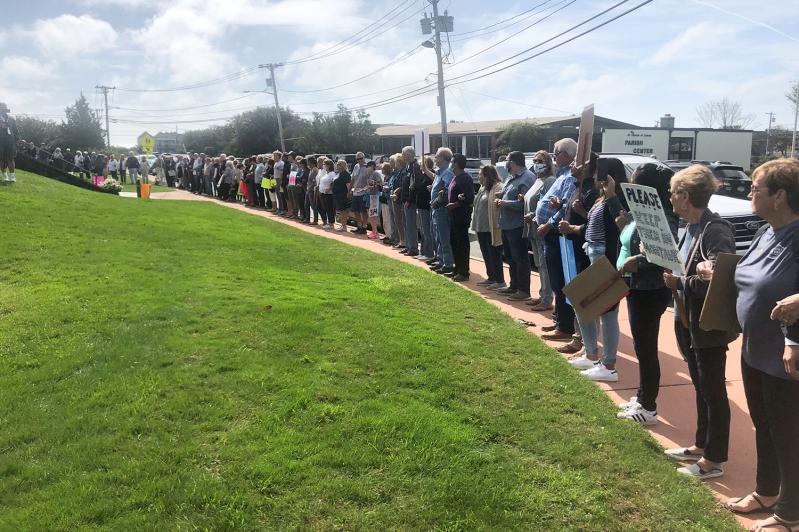 On Monday, speaker after speaker echoed the trustees' words -- "You have truly been a breath of fresh air." "We finally had the spiritual leadership that we don't want to let go of."
Their sentiments were matched by people holding signs saying, "We are hurting," "Stability please," and "Why, why, why?"
Vinicio Gutama of Springs addressed the crowd in Spanish, speaking of the priests' "amor y dedicacion" (love and dedication) toward their congregation.
Remarks were paused after an elderly parishioner collapsed. The crowd repeated three Hail Mary prayers as emergency medical technicians arrived to help her.
Soon after, people linked arms to form a circle around the church and pray silently.
Mary Ihle of Montauk, a longtime parishioner, pointed out that St. Therese has had more than 30 priests rotate in and out over the last two years. She also said that some people who left the church have actually returned since the priests' arrival.
They "were brought here to bring stability to the parish. They can't bring stability when their contract -- it's considered a sacred contract -- is terminated," Ms. Ihle said. "We love those two priests. . . . We want them to be able to stay. They are very charismatic and heartfelt."
After the rally, Father Beck and Father Joerger said they were inspired by the people coming together and that they have been blessed to be able to minister to the St. Therese community.
"This issue really is about the people," Father Beck said, citing Pope Francis's missive of "synodality."
"He says that every local community, every church community, needs to gather and hear the people . . . and that we have to pay attention to their voice and their perspective," Father Beck said. "What we see here is people making their voice heard. They are claiming this as their church, as their community and that is what is so important to me. They are accepting what Vatican II says. They are the people of God, and we have been so blessed to have been able to minister to them for the past year and couple of months."
"It's not a rally for us," Father Joerger later added. "I'm absolutely grateful for it, but it really is about who they are together, and it's always been inside them. Their faith is so strong."
This story has been updated since it was first published.