Friday was the 155th annual celebration of Juneteenth, a traditional but still unofficial national holiday marking the day the last enslaved black Americans were freed in Texas in 1865, but to the best of anyone's knowledge there had never been a formal ceremony in Southampton Village.
So, at the first one, on Friday morning at Agawam Park, the atmosphere was upbeat and serious at the same time. It was as if unity and freedom and hope were tangible things that could be held in one's arms. They were certainly heard through song and speech. They were conveyed through ritual and praise, and they were tasted in the soul food that was served.
"It's our Fourth of July celebration," said Larry Street of Riverhead, who is the lead board member of the Eastern Long Island Branch of the N.A.A.C.P. "It's an honor to be able to be here to celebrate this event. It's been a long time coming. From 400 years of slavery, there's still that shadow of racism that covers us. The struggle still continues."
Agawam Park was a fitting site for the celebration. It was where Pyrrhus Concer, who was born in 1814 and was sold into slavery, but who eventually became a well-known whaler and gained freedom, became the first person to operate a ferry across the lake. A blue roadside marker located across the street from the park was ready to share Concer's history in Southampton for all whose eyes were open enough to see it.
Juneteenth happened to fall this year in the midst of the tidal wave of new attention to the Black Lives Matter movement nationwide. It was lent even more significance by the killing of George Floyd, an unarmed black man in Minneapolis, by a white police officer on May 25. The momentum has not ebbed. Gov. Andrew M. Cuomo promised to put forth legislation to make Juneteenth a state holiday, and County Executive Steve Bellone did the same for Suffolk before saying, on Friday, that he would extend implicit bias training to all county employees. And protests continued Friday in Southampton and Montauk as communities of color continued to demand change.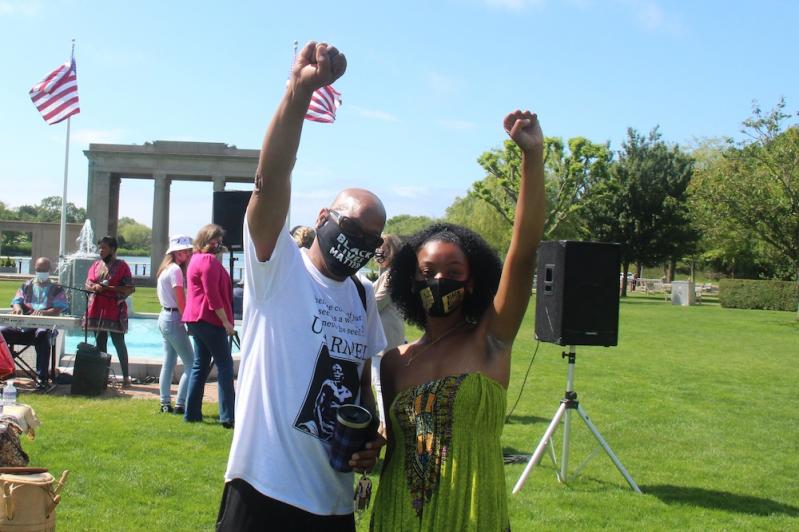 One of the leaders of those two protests was Trevon Jenkins, a 19-year-old college student from Southampton who is also one of the organizers of Long Island United Youth, a new advocacy group. He sat at the edge of the crowd on Friday until he was called to the podium to say a few words.
"We're no longer saying we're going to make the change," he said. "We're actually going to make the change."
Later, he stood solemnly in line with several other black teens and children when C.C. Highsmith, the M.C. of Friday's event, asked them to stand so she could address them.
"Our ancestors were not slaves. They were enslaved people," Ms. Highsmith, who is studying medicine at Villanova University, said. "I want you to never be discouraged to show your blackness. I want you to never be discouraged to show who you are and to speak for what you believe in, because you are all smart, and you are all talented, and you are all important, and you all matter. Your life matters."
After the Juneteenth celebration was over, a friend lent Mr. Jenkins a pair of megaphones. He excitedly tested out the horn on one of them, anxious to amplify his voice at the Southampton protest later that day. And he said he felt more inspired, saying that the effect of the Juneteenth celebration will be enduring.
"It's going to take a while to impact a lot of people who have opposing opinions on what is going on, but we are being impactful in many different ways," Mr. Jenkins said. "Don't give up, don't give up when you hear the opposing opinions. . . . Give hope, and be resilient, and fight for what you know is right in your heart."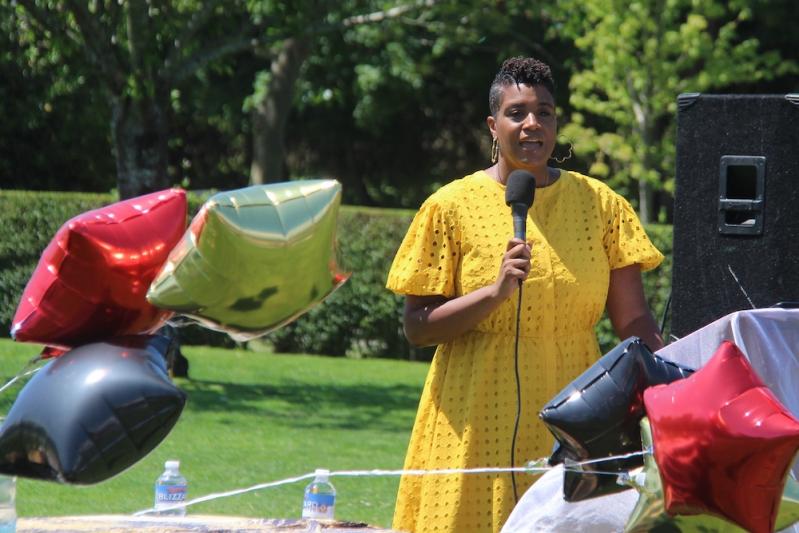 The Rev. Tisha Dixon Williams of the First Baptist Church in Bridgehampton delivered a rousing address that she described as "an interdenominational theological statement from the black churches."
"We . . . lift our voices to emphatically repudiate the evil beast of white racism, white supremacy, white superiority, and its concomitant and abiding anti-black violence," she said.
"In this contemporary moment, the black church will not stand silent in the face of social, moral, and political failure of the 45th administration of the United States . . . whose ignorance, gaslighting, dog whistles, and outright lies have fueled the flames of the anti-black sentiment that is carved into the very foundations of the American experiment and that has consistently simmered beneath the facade of this city on a hill," Ms. Williams continued.
At the start of the event, Southampton Village Mayor Jesse Warren read a newly inked proclamation that deems June 19 an official holiday in the village. "This is the first Juneteenth celebration here, and it will definitely not be the last one," he said.
Tanisha Highsmith sang a powerful rendition of "Lift Every Voice and Sing," known as the black national anthem. The crowd automatically rose to its feet — but after some of the white people sitting in the front did not stand, Denise Smith-Meacham, the chief organizer of the event, gently reminded them to do so.
Teddy Turpin, a local musician, played a soulful version of Bob Dylan's "Blowing in the Wind," to which people sang along. And during an inspiring praise dance, the sun glinted off Elaine Booker's long, flowing, gold-and-purple dress with each of her movements. She opened her hands out to her sides and threw her head back. She twirled and moved with fluidity to the lyrics, which go like this: "You're bigger than the problems I've faced. You're bigger than the disasters that I've seen. You're bigger, you're so much bigger, Jesus, than what this life may bring."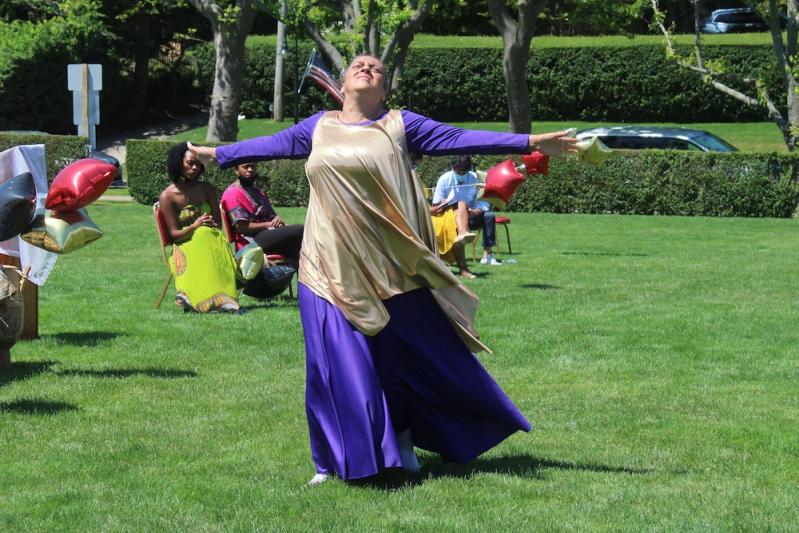 C.C. Highsmith read the Emancipation Proclamation to the crowd, reminding them of the words President Abraham Lincoln used when declaring enslaved people free beginning Jan. 1, 1863: ". . . the executive government of the United States, including the military and naval authority thereof, will recognize and maintain the freedom of such persons, and will do no act or acts to repress such persons, or any of them, in any efforts they may make for their actual freedom," Ms. Highsmith quoted.
The Rev. Leslie Duroseau, the outgoing pastor of the Hamptons United Methodist Church, performed a libation, a traditional African ceremony that honors one's ancestors. She blessed a vessel of water. Then, as she let it slowly trickle to the ground, she said, "We just pour out the libation for those who have gone on before us, those who have led the way, those who have suffered, those who have died, those who were tortured. But still, they kept going so that you and I could be here today."