When an out-of-town animal rescue group showed up to remove domestic ducks from the Nature Trail in East Hampton a few days before Christmas, local wildlife advocates and stewards of the trail reacted with outrage, accusing the group of "terrorizing" the resident waterfowl.     
Clad in waders and carrying big nets, volunteers with Long Island Orchestrating for Nature (LION) first visited the Nature Trail, affectionately called the Duck Pond, on Dec. 23 and then three more times last week to capture and remove domestic ducks that the group said were sick and injured and would not survive in the wild.     
"My organization rescued two domestic ducks who were left to die in East Hampton this week and will be returning for a third who is suffering from a severe limp," John Di Leonardo, the executive director of LION, wrote Saturday in a post on the Bonac Pets Facebook page asking for donations to help with the ducks' veterinary bills. "These are the last survivors of six who were abandoned in November." One of them was "being treated for fungal and bacterial infections and a badly swollen, broken foot," Mr. Di Leonardo wrote.     
While a few people weighed in to thank LION for its efforts, others were quick to criticize the organization for getting involved where it was not needed.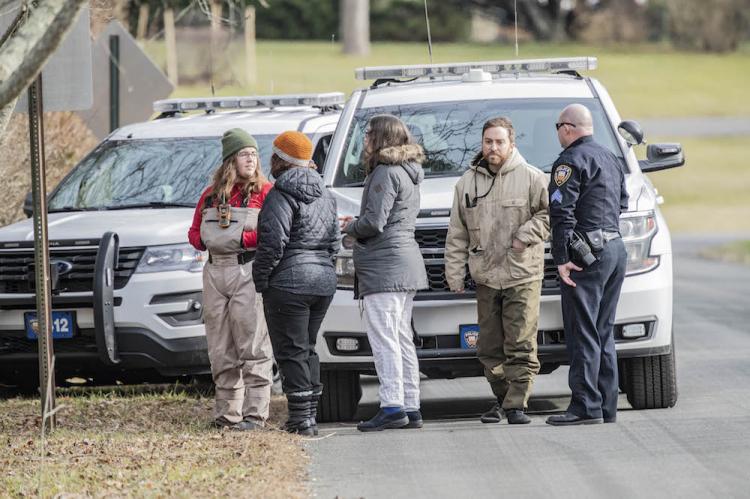 "We want to support our local wildlife rescuers — not poachers from UpIsland," Lys Marigold wrote. "Leave the East Hampton ducks alone," wrote Ellen W. Dioguardi, "they have been fine."     
The 24-acre Nature Trail, a haven of paths and streams traversed by footbridges, is owned by the village, whose Department of Public Works oversees its upkeep. The Ladies Village Improvement Society of East Hampton oversees the care and feeding of all the waterfowl and other animals within its boundaries. It is visited by thousands of people a year and is a popular spot for children, who delight in exploring the maze of paths and feeding the ducks and other waterfowl that call it home.     
"Why are outside groups coming to our peaceful Nature Trail when we do everything we can to protect and care for our ducks?" Dianne Benson, the head of the L.V.I.S.'s Nature Trail committee, asked last Thursday.     
When there are issues with any of the animals at the Duck Pond, Dell Cullum, a local wildlife rescuer, is the society's "go-to person," she said, adding that the L.V.I.S. and the village are grateful for his advice, guidance, and gentle care of the Nature Trail's creatures. In a letter to the editor in this week's Star, Ms. Benson said that Mr. Cullum had been watching out for the domestic ducks and tending to them.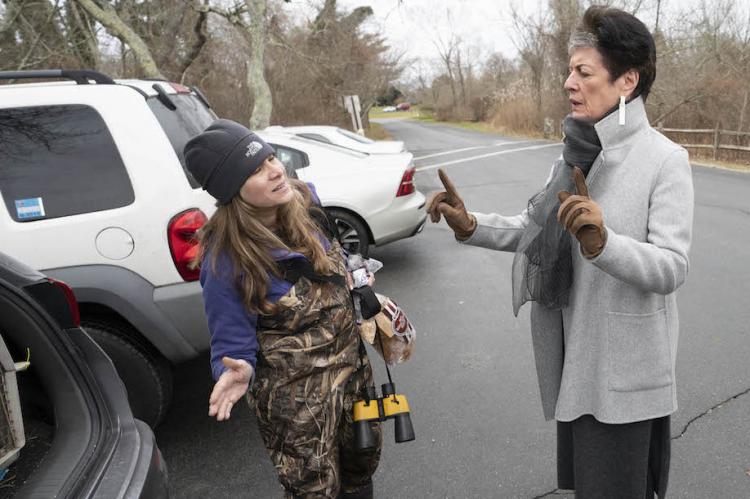 Why now "is the S.P.C.A., who called me earlier this month in an aggressive manner telling me that 'we are coming out there to educate you about domestic ducks' being so uncooperative with Dell and us?" Ms. Benson asked. "They act like they are the champions of the duck world."     Domestic ducks, some said in response to LION's intervention, have been part of the Duck Pond flock for as long as anyone could remember and have done just fine there.     
That's not how Meghan Bambrick saw it, though. When she first noticed domestic ducks alongside the wild ones in the fall, she was worried.  She "contacted friends that had sanctuaries,"  and reached out to LION for help when she saw "a Pekin duck that looked to have an obvious foot injury and was struggling," she said this week.     
As a social media storm brewed over the issue this week, some wondered why a more familiar East End group like the Evelyn Alexander Wildlife Rescue Center had not been called in for assistance.     
Mr. Di Leonardo explained on Facebook that while his volunteer-run nonprofit does work with wildlife rehabilitation centers, the ducks in question are not in fact wildlife, and that his organization is "the only group that works with domestic fowl." In addition to his volunteer efforts with LION, Mr. Di Leonardo works for PETA, People for the Ethical Treatment of Animals.     
"These domestic ducks can't fly, migrate, or forage for food. They are subject to predators," he said, and not only are more vulnerable in the wild, but they can also carry diseases "that can easily spread to wild populations and infect entire flocks."     
It may be common for pet ducks to be left to fend for themselves at the Nature Trail, but "it is a crime," East Hampton Village Police Chief Mike Tracey said this week.     
In advance of the LION volunteers' Dec. 23 visit, Ed Seltenrich, an officer with the Suffolk County Society for the Prevention of Cruelty to Animals, advised village police that a wildlife organization from outside the area would be at the Nature Trail for "domestic animal removal from the pond," according to a police report.     
Chief Tracey understands that "seeing anything out of place at the Nature Trail could cause concern to the public, and this could have been avoided by the group perhaps having some type of visible identification or name tags," he said, or by having an S.P.C.A. officer accompany the volunteers.     
In her letter to the editor, Ms. Benson described the LION volunteers' attitude as "aggressive, their behavior belligerent, and their motives questionable." Their visits, she said, had left the resident waterfowl traumatized.     
LION removed a female white Pekin duck that had a broken foot and a fungal infection of the lungs, a Cayuga duck that was set to go to the vet on Tuesday, and a Rouen duck that appears in decent health, Mr. Di Leonardo said. "Once the ducks have recovered from their injuries, they will be placed together in a private home or reputable, vegan sanctuary where they will be provided shelter and veterinary care and live out their days being loved without any fear of being eaten," he wrote on Facebook.     
"It turned into this huge drama that got out of hand, and became extremely surreal," Ms. Bambrick said. "The important part is that three ducks got the care that they needed when they needed it."     
However, Ms. Benson and others who have devoted much time to caring for the Nature Trail and its creatures seem to feel that the intervention of an outside group has not only shattered the peace of the Nature Trail, but violated a trust.