A North Haven osprey nest was the scene of a dramatic rescue last week after part of it collapsed, dashing two chicks to the ground.
The large nest near Artists Colony Road included an oddity: bamboo stalks two to three times the length of the mature osprey pictured alongside them. "A North Haven osprey found the perfect bamboo accent for its nest," read the Instagram post accompanying a photo by The Star's Durell Godfrey. "The only question is, how did it get there?"
Less than two weeks later, disaster struck. The tree on which the nest sat had grown brittle, and late last week Susan Dusenberry, who lives nearby, noticed that much of the nest was on the ground. On Friday morning, fearful for the chicks, she called the Evelyn Alexander Wildlife Rescue Center in East Quogue.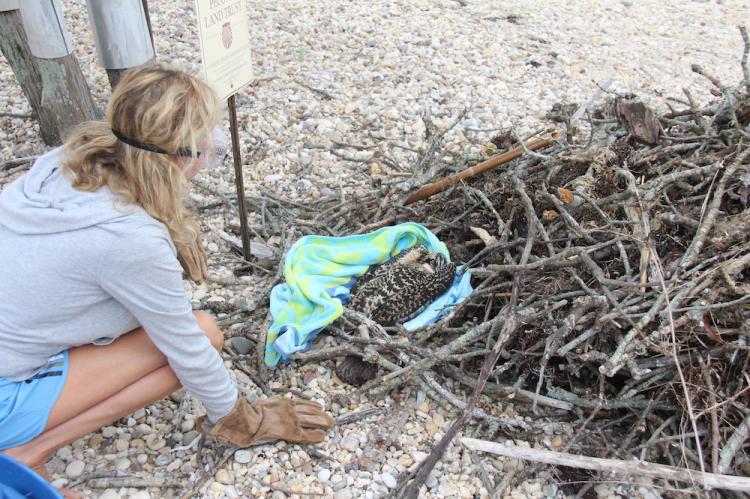 Missy Hargraves, who has been a volunteer for the center for more than 10 years, also lives nearby, and the center dispatched her to the scene. "The best way to explain it is that I'm like an ambulance driver, an E.M.T.," Ms. Hargraves, a writer and editor who also works with the Southampton Animal Shelter and as an ambassador for Veterinarians International, said on Monday. "I get a call, I go, I assess the situation. Hopefully there's nothing that needs to be done. That was not the case with the osprey."
Two-thirds of the nest had fallen to the ground. "It was on a very tall tree," she said.
The osprey, or fish hawk, is a large raptor with a wingspan that can reach six feet. Assessing the situation, Ms. Hargraves saw one juvenile, "and it was big." The bird had no apparent injuries, she said, "but it couldn't fly. I didn't know if it was because of its age, but it let me know it didn't want me around." At the same time, "mom and dad were dive-bombing me — they didn't want me around."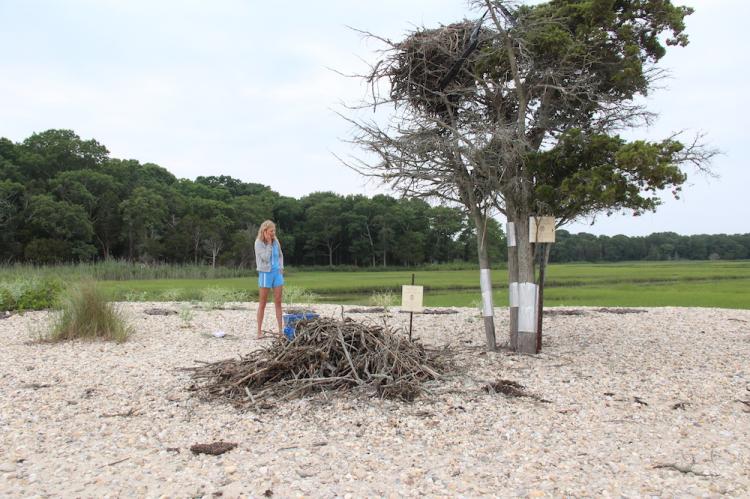 Another volunteer from the wildlife rescue center arrived with her two daughters and a ladder, which proved too short. Ms. Hargraves called Dell Cullum, the founder of Wildlife Rescue of East Hampton, an organization she has also assisted. "He's my go-to guy if I have a question," she said.
"She had everything under control," Mr. Cullum said Monday. "She just lacked a ladder." As it happened, another of Mr. Cullum's volunteers, Robin Conklin, lives in Sag Harbor. He arrived with a 28-foot aluminum ladder, and minutes later Joe Rocco, an Evelyn Alexander volunteer, arrived. They carried the ladder to the site.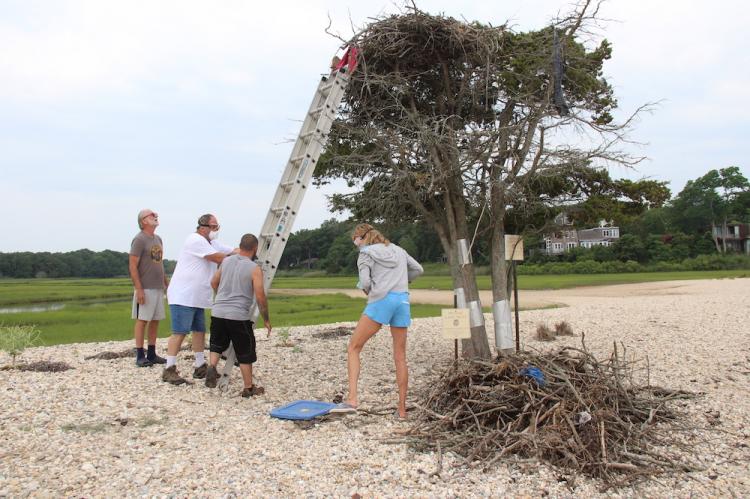 Ms. Hargraves, who is also a model and actress, is tall and agile. Cradling the osprey chick in a towel, she lifted it off the ground. "Luckily," she said, "I'm not afraid of heights, so I just climbed up the ladder, put it back in what was left of the nest, and climbed back down. I think they would have had trouble doing it," she said of the others, "and I couldn't have done it without them. It takes a village sometimes, and there were almost 10 of us."
Sadly, the chick's sibling was discovered in the rubble of the nest, killed in the collapse. "We lost a chick, but they saved one too," Mr. Cullum said. "It was good to see everybody come together."
"It was one of those happy, feel-good stories that really restores my faith in mankind," Ms. Hargraves said, "because right now it's trying times."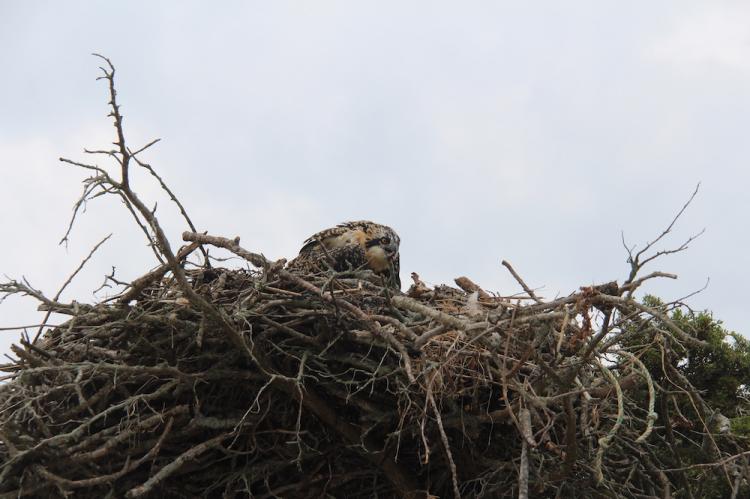 "As soon as we left," she said, "mom or dad came right back to the nest. Hopefully the chick will learn to fly and the parents will rebuild the nest."
On Tuesday, Ms. Dusenberry said in an email, the adult birds were doing just that: "As of now, birds have managed to salvage some of the best sticks from nest leftovers — even a couple of the bamboo ones! — to start rebuilding. I have gone down to check them out, and parents are still dutiful and baby seems okay." Ms. Hargraves and the other volunteers, she said, "came from far and wide to take part in this effort."
Osprey populations declined significantly in the 1950s and '60s, a consequence of insecticides, mostly DDT, which resulted in unnaturally thin-shelled eggs that broke easily. Since 1972, when the use of DDT was banned in the United States, the osprey has made a strong recovery.
Due to the coronavirus pandemic, the Evelyn Alexander Wildlife Rescue Center will not hold a fund-raiser this year. Both it and Wildlife Rescue of East Hampton rely on donations. "I think we as humans do have responsibility to try and care for nature," Ms. Hargraves said, "because we are the encroachers, we are the ones who are coming onto their territory. I just encourage people, when you see something, even if you think it's too late, call us. We will come 24/7, somebody will show up. We care."
"I'm so grateful whenever somebody calls," she said, "because you're giving that animal a chance."