While it is less than a 15-minute drive from the hustle and bustle of East Hampton's Main Street in July, Cedar Point County Park in East Hampton's Northwest Woods feels a world away, which makes it both special and surprising.
Such quiet places are the perfect antidote to the stresses of daily life, the turmoil of the news cycle, the troubles of the world. "I feel it's kind of magical when I show up. It's unbelievably calming," said Doug Biviano, who, as of this year, is running the glamping and park store concession at Cedar Point with his wife, Lee. "The problem we're facing right now is that people have forgotten about these wonderful parks, wonderful beaches, unbridled sunsets." But they are balm for the weary soul.
Glamping, for the uninitiated, offers visitors the benefits of camping -- quiet time in the outdoors, dark night skies, fireflies, and birdsong -- without some of its downsides. There's no need to wrestle with a tent in the dark after a long drive from who knows where, no need to cram sleeping pad, bedding, and camp chairs into the trunk, no sleeping on the ground, connected to Mother Earth but also sometimes to that misplaced rock beneath the tent.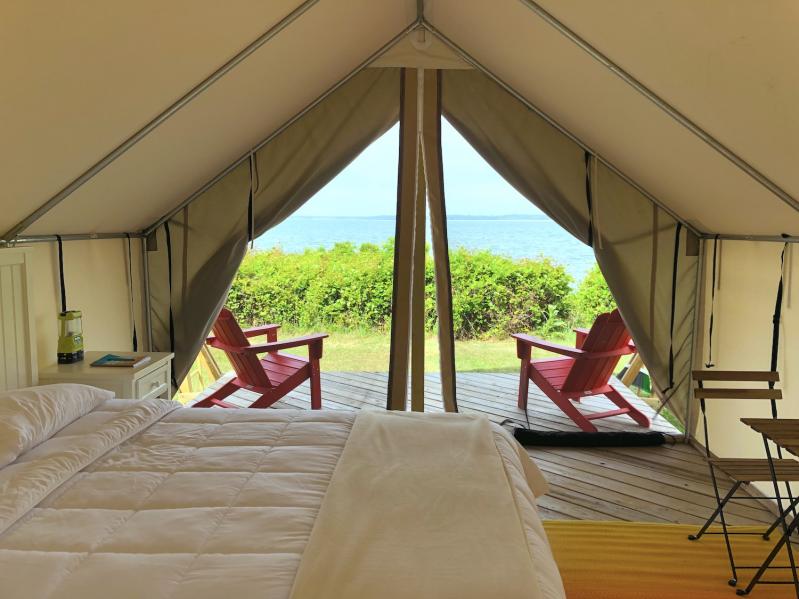 With glamping, you are welcomed to your destination by an already erected safari-style tent on a wooden platform. It's camping, yes, but cleaner, easier, and more "glam." At Cedar Point, the setup includes Adirondack chairs on a deck with a view of Northwest Harbor, a comfy queen-size bed made up with crisp cotton sheets and cozy bedding, a dresser, and a small table with chairs. There's no electricity, but on the nightstands are lanterns with USB ports to charge your phones and outside are solar-powered string lights that add a magical twinkle to the glamping enclave in the evenings. Each tent has a large rain fly that doubles as a covered porch and also shields the interior from the worst of the sun's heat.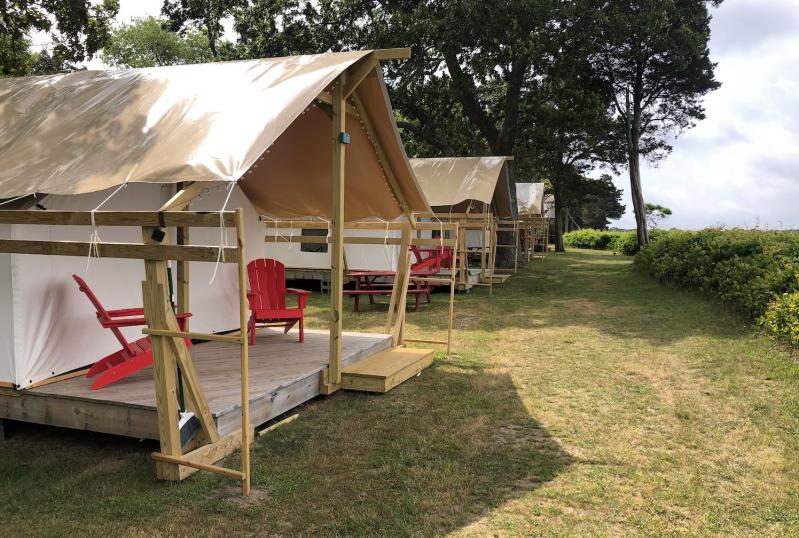 There are 10 single glamping tents that can sleep up to four with two cots added, and two doubles that can sleep up to six. 
The Bivianos' business LoveCedarPoint was awarded the concession at Cedar Point in 2021, but too late in the season to get everything up and running there, so 2022 is their first of many summers at the park. They have a 10-year contract to operate the glamping and camp store there, with an option for two five-year extensions. 
"We had known this was sitting dormant," Mr. Biviano said one morning last month at the store. It came up for bid a few years back, but the couple was so busy with their other concession, at Fire Island National Seashore, that they missed the window and the glamping concession went to someone else while the general store remained empty. 
On Fire Island -- a far more challenging destination than Cedar Point, since it is accessible only by passenger ferry or private boat -- the Bivianos' company LoveFINS oversees a marina, general store, and cafe at Sailors Haven, and a marina, general store, outdoor bar, food truck, family tent campground, and eight glamping tents at Watch Hill. Sailors Haven is accessible by ferry from Sayville; Watch Hill by ferry from Patchogue.
"It's on a remote island, and we take everything on and off," including the garbage. "I pulled off 10.5 thousand pounds of garbage in the last three days," Mr. Biviano said Tuesday. 
The Bivianos both grew up on Long Island; he in Bay Shore and she in Brentwood. "We ski-bummed for many years" in Colorado, Mr. Biviano said. There the couple worked for an engineering company involved in building ski resorts. 
In 1999, they traded the Rockies for the Caribbean, buying an old sailboat and heading to the Bahamas for 10 months. Upon their return to New York, Ms. Biviano was five months pregnant with their first child. Mr. Biviano got a job as a building superintendent in Brooklyn, where the couple raised their three children -- Serena, now 21, Jesse, 19, and Quinn, 15. She and the kids spent the better part of summer on the sailboat at Fire Island.
They had been thinking about buying land in the Greenport area to open a glamping spot when an old roommate from Telluride, Colo., who had become a national parks consultant, sent out an email to friends to see if anyone was interested in putting in a proposal for the Fire Island concession. 
"It was an opportunity that landed on our lap," Ms. Biviano said.
"He originally laughed at us for trying to take this on," her husband recalled. "There are only 135 concessions . . . that have land assignments inside a national park. It's not easy to get." The Bivianos' proposal won out, and they now employ 50 people and run five work boats to service the concession, which is open from a few weeks before Memorial Day through Columbus Day. "Life just kind of happens and evolves in unexpected ways," Ms. Biviano said. 
Cutchogue is now home base for the Bivianos, but with the demands of both concessions, they're on the move for seven or eight months of the year. 
"It's the hardest thing we've ever done," Mr. Biviano said. "From mid-April to the end of October we're running 24-7." 
"It's amazing how hard you have to work to not work 9 to 5," Ms. Biviano remarked. 
Fire Island is "where we cut our teeth on the concession." Cedar Point is a much less intense operation, and one the couple see themselves running until their retirement. 
The store hadn't been updated, let alone opened, in years, and they have big plans for it. For starters, they're now selling ice cream by the scoop and putting the griddle back into service. They've got an inflatable movie screen and will be showing outdoor movies on Saturday nights in the summer for campers, glampers, and anyone else willing to make the trip.
Next summer, they'll crank up a big outdoor pizza oven. They also plan to add a covered porch deck to the harbor side of the store, with the county's blessing, and are applying for a liquor license so they can serve adult libations while children play cornhole or roast marshmallows on the bonfire. 
Glamping tents at Cedar Point can be rented through ReserveAmerica and Airbnb. Next year all of the Cedar Point tents should be available through ReserveAmerica. The rates are $299 a night for a single on weekends, $219 Sunday through Thursday, and $329 or $239 for a double. Prices drop in the shoulder season.