A ferry captain, train conductor, sound engineer, architect, landscaper, and auto repair business owner walk into a bar. . . . They're celebrating Women's History Month. Well, why wouldn't they!
One great thing about hearing women talk about working in historically male-dominated professions is that it seems like the most natural thing in the world to them. 
Katie Iacono, 26, is one of three women captains for the South Ferry. One is Ms. Iacono's age and the second is soon retiring. "My stepdad has worked on South Ferry as a captain for 42, 43 years," she said, thinking back to how boating was a given most of her life. 
She reports that it is a fun, not-uncommon interaction when customers, "always older women, but men, too" take note of an all-female crew, especially if Captain Iacono is working with her other young captain colleague or a few younger deckhands.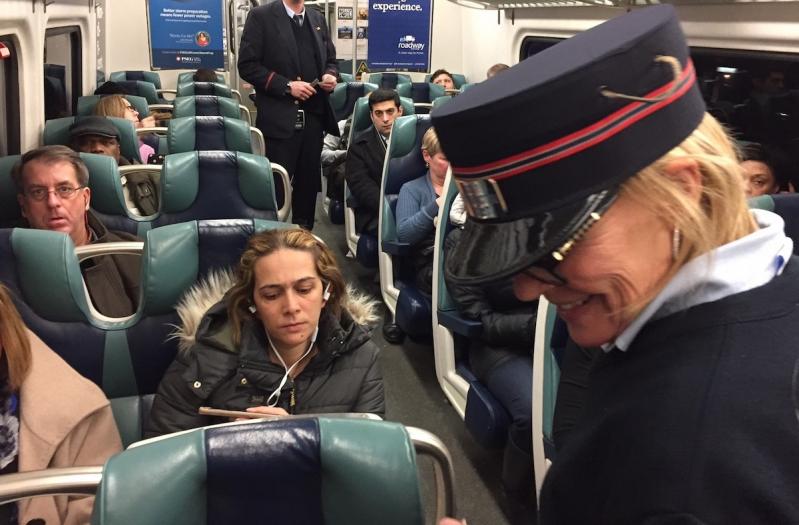 Out of Long Island Rail Road's 1,342 conductors and assistant conductors, Nora Fortune is part of the 22.8 percent who are women.
Ms. Fortune works the Speonk line and is pleased that after 22 years, this route keeps her closer to home in Sag Harbor than ever.
"I could tell you I came from a predominantly women-dominated job. I was going to be a nurse." Ms. Fortune explained that her plans changed when she was a single mother in nursing school and needed to make a financial move to support her child.
A "good job, fast" was the criterion, and Ms. Fortune's sister -- who, topically, works as a  detective -- encouraged her to apply for a job at the L.I.R.R. Ms. Fortune started as a cleaner on the cars and worked her way up. 
She felt taken under the wing of colleagues, and found herself having good rapport with passengers, and liking that she could stay active as opposed to sitting in an office.
"I like that I never thought about what I was going to wear to work. A woman in uniform! Not bad!" Her two sons have followed in her footsteps.
Ms. Fortune emphasized that she would have never fallen into the profession were it not for the encouragement of her sister.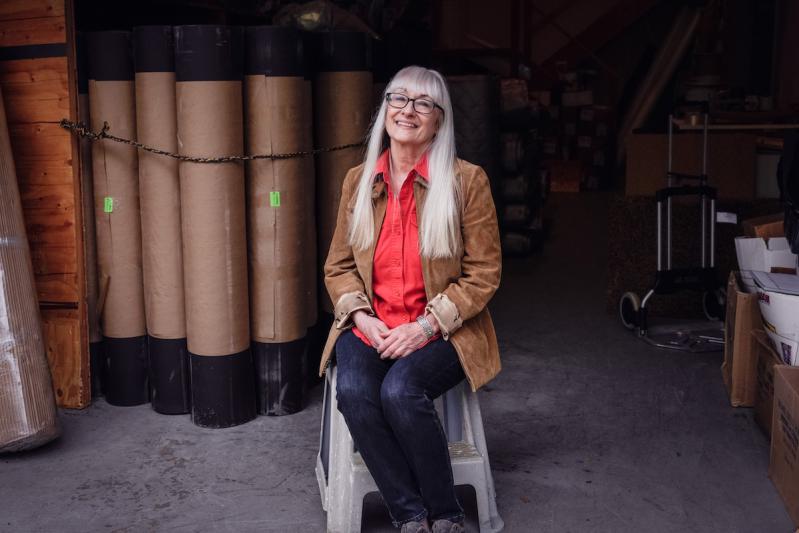 Encouragement and support, specifically from an individual -- "you only need one person who believes in you in your passion" -- is an idea championed by Bonnie Schnitta, the founder of SoundSense, an acoustical consulting and engineering company.
"I loved math and my father was a mathematician, engineer, and inventor," which encouraged her all the way to college, she said. Then she was a math major, but a math major in a course with a professor "who said, 'If you stay in this class, I'm going to fail you.' "
She told this to a beloved professor for whom she worked as an undergraduate research trainee. He said, "You stay in that class and you show him how great you are."
After graduating from Purdue and realizing all the "cool jobs were in engineering," Dr. Schnitta shifted gear and accelerated, too.
She found herself working on confidential projects, as well as ones that can be mentioned like installing phones underground in Russia to detect nuclear testing (yes, that was the nonconfidential one). 
Her more discreet work had her, literally, locked in vaults, which she estimated was perhaps not a work-life balance sympathetic to motherhood.
"It's good you didn't know the statistics, you didn't know you could start a company and fail," her grown child would later say to her about the company, now based in Wainscott and New York City, which she decided to start from scratch.
Generally, Dr. Schnitta models noise to tell clients where they should place a sound barrier to reduce unwanted sound moving through walls, coming from the road or a TV.
"I have about 15 patents. Actually, I was just notified of one that is reducing noise from someone snoring and disturbing someone." Most of her patents, which have to do with acoustics within a home living space, have become even better inventions in quarantine.
In a few months, Dr. Schnitta said she will launch a company for these patented products, including a fabric roller shade with a liner to reduce sound coming through the window or a special covering for a dog crate that muffles barks during important Zoom calls. 
She also gives a SoundSense Scholarship for Young Women each year to a graduating student at East Hampton High School who is passionate about science.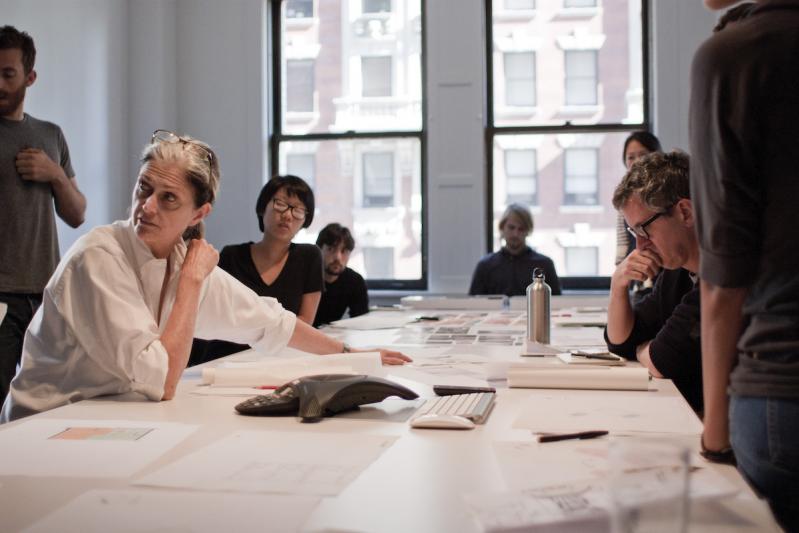 Deborah Berke of Deborah Berke Partners spoke to the locked vault of it all in architecture. "In the beginning, I was usually the only woman in the room, and I was almost always the only woman on a job site," she wrote in an email. "Many more women enter the profession now, but unfortunately too many of them do not end up building lifelong careers in architecture. The field has done a poor job accommodating the full experience of women's lives."
Ms. Berke explained that she feels being a woman is relevant to her work insofar as moments of inspiration. "The land, the site, the context -- they all inspire you, and with that inspiration, you apply your vision." Designing her home in East Hampton was, she noted, a welcome challenge "because my husband and my daughter (and our dogs) were my clients."
Kim Hren, the founder of Groundworks Landscaping in East Hampton, followed in her father's footsteps like Ms. Schnitta and is inspired by East End landscape like Ms. Berke. "I'm unique in that I grew up in this industry, which my grandfather and father and whole family were part of."
She attended college for environmental design at the State University at Cobleskill as one of six women in a class of 154, "before coming back here, which was just the perfect fit. I loved where I grew up."
Growing up in the industry and "driving machines around" her family's nursery property gave her a level of confidence and a level of recognition among her peers for her family background. She reckons it would have been more intimidating starting out without that leg up. 
Even though she was among the lucky few who find themselves in a family business situation and still with a definite choice that is theirs to make, she could not get enough. She reported coming back from college and talking plants with her father, both parties relishing the conversation more and more as she learned new things.
Elizabeth McCarron of Consumers Tire & Alignment in East Hampton bought the business with her husband four years ago.
"I wasn't planning to work at it," she said, chuckling, "you know, he was gonna do it." As a children's book illustrator under the name E. Smyth, Ms. McCarron found that office management did in fact fit her schedule quite well.  
"I can't say it's about being a woman, it's about helping people. That's what I find I can do here, which is any business, but this just happens to be tires and auto repair."
She credits her experience as a young girl assisting her father, a plumber, with the truism of "opening my eyes," but "I can't even plug a tire," she said in good humor. "Because I'm not a mechanic, someone will come in and say my car is making this kind of noise and just recently I've started saying, 'Oh that might be brakes' in my mind. And then I'll hear, 'Oh it was brakes,' and think, 'All right!' "
Ms. McCarron beamed at the fact that while she is, by chance, picking up these bits of knowledge by professional proxy, her 13-year-old daughter, Leah, when asked what she thought of all that stuff, recently informed her, "No, I do want to learn how to do everything. But just for my own personal use."