What you need to know as you drive toward the Great Smoky Mountains is that the land is a rain forest. The hills, valleys, gullies, cracks, and seams are filled with hickory, fir, sugar maple, wild cherry, birch, chestnut, pine, cedar, and tulip poplar -- a tree that rises straight up out of the ground and nine stories later pops open with large, white magnolia-looking flowers (okay, tulips). The vegetation is so abundant that it comes described as shingled, shagged, big-toothed, winged, slippery, sweet, bitter, chalked, and weeping. Because the Great Smokies are a temperate jungle, most of the activity takes place in the treetops.
    My wife, Jane, and I look toward the sky, continuously wondering what's happening up there. We have fled the city in late May and the birds wake us early. The mountains are smoky because of continuous clouds and fog streamers hanging in the valleys; following rainfall, the water drips off the leaves for hours -- an aftershower. Everything that exists below the tree line lives for this. Flora, fauna, and Merryweather. Rain makes the ground seep with ferns, fragile mosses, and green goods. There are frogs. Giant brown moths. Birds in indigo, scarlet, orange, yellow, and black, but not all at the same time. Peeking beneath the undergrowth of a rivulet seeping out of a mountainside we spot something small, red, and . . . wild strawberries. There may be drought in California and on the Western plains but the ecosystem here still functions, setting an example for ecosystems everywhere. We spot a Cecropia moth resting on the wooden deck swing. The moth is the size of your hand and colored various shades of bark brown with black spots that intentionally deceive. Instagram has it now.
    One of our favorite diversions is the rarest thing: a park dedicated to birds. Seven Islands State Birding Park, outside of Knoxville, has nearly 200 feathered species and visitors are greeted with an earload of trills, warbles, catcalls, and song. A quick hike up the side of a crest with Tika, our 5-month-old puppy, provides a panorama that includes the Blue Ridge Mountains and a twist of the French Broad River. The shallow waterway hosts trout, smallmouth bass, painted turtles, and blue herons. Small herds of deer pace through fields tottering with wildflowers. We visit the sanctuary two mornings in a row.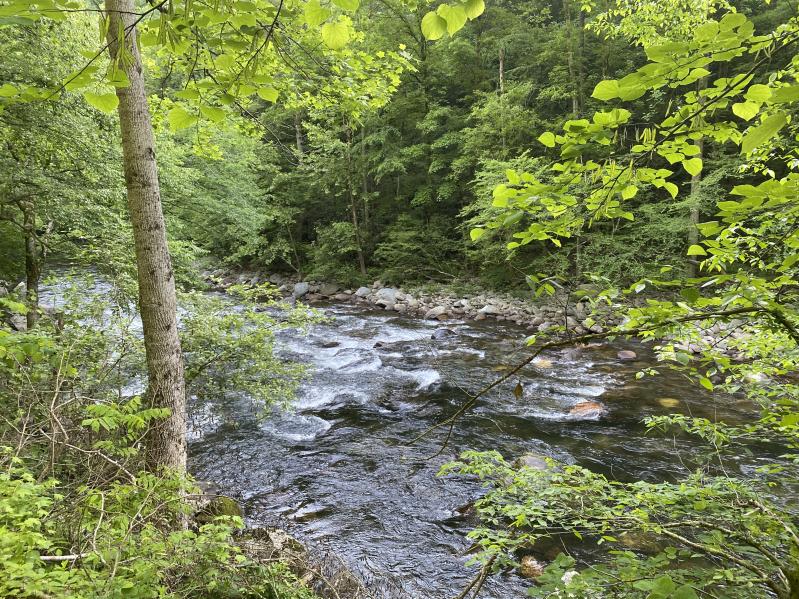 Visitors inside Smoky Mountains National Park are prompted to drive the loop through Cades Cove. Like Yellowstone, it is not unusual to spot black bears in the Cove (large, rounded, very big, very black, and very far away). After making an obligatory pass through Cades Cove, a marker announces that we are only 40 miles from North Carolina. It's a sign that launches us on a side trip to Cherokee, N.C. The route is only 40 miles but takes an hour and a half of spinning up a winding road that first leans into the sky and then plummets along a roiling riverbed. The road physics are as exciting as the visual horizon. These mountains are as rugged and unruffled by humankind as they were 400 years ago. We run through a tight valley and a family is suffering breakfast, crumpled together on the front porch in a pose that might have been arranged by Walker Evans. The town of Cherokee is along the Oconaluftee River, its road signs spelled out in the native language of the Cherokee -- the only Indigenous people with a written language. A native nation within a nation. The town is a two-lane strip of blacktop with a museum, gas station, and burger joint. We stop to watch the Oconaluftee riffle past.
    We are staying for three days at an Under Canvas glamp-ground, loving up a room-size tent with king-size bed, shower, camp stove, and ambient light. Under Canvas is not paying me to say this, so I can swear that the campsite and staff are extraordinary. Pets are preferred (Tika enjoys this). Food is served in the commissary tent, where canines and their people treat themselves to quinoa bowls, couches, and games morning to night. You can also trouble yourself to drive to one of the nearby towns (Cherokee has a tasty burger joint with riverside picnic tables; Knoxville has at least three kinds of barbecue and a beer labeled "Unpretentious"), but we found it easier to hike the trails and glamp. Post-Covid, we encountered beings rarely seen -- a.k.a. other people: retired couples from Florida, families traveling from Ohio and Kentucky, digital drifters, and 20-somethings from Midtown Manhattan who rented a car to escape through the night.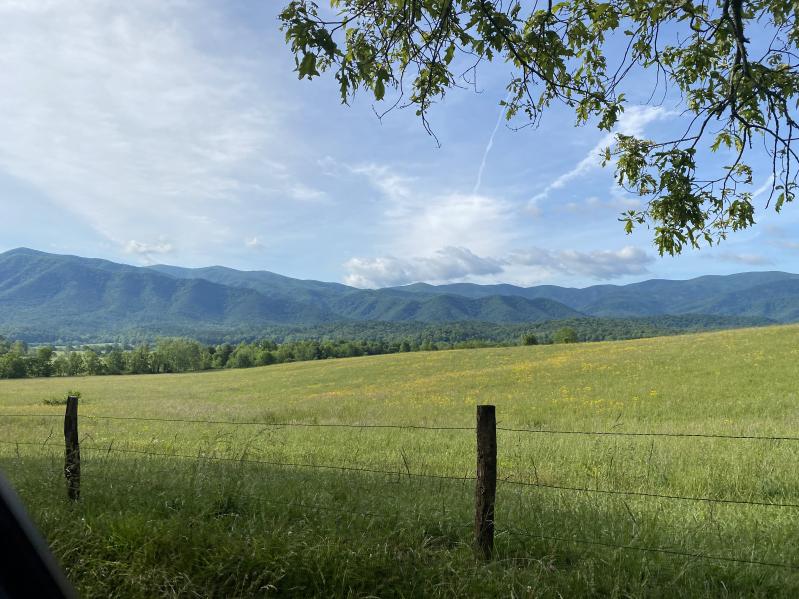 As we are about to leave, we receive a text from a cohort in the Hamptons asking why have you driven so far and exactly where have you gone? We live in a time where the strange has become commonplace. Still, we will not reveal the flea market selling homegrown weed, the upside-down house leaning tipsy-turvy along Route 321 in Pigeon Forge, let alone the Alpine Coaster over 4,000 miles from the Alps. To be off the grid is to be far from the gridlock of orderly minds. We are far enough away to ignore the text. And isn't that the point? We woke one night to a thunderous rainstorm that was like sleeping under a waterfall, ecstatic that the tent waterproofing held fast. Fun. Fearless. There will be banjos.