On New Year's Eve, Wayne Sapiane was a guest at the Maureen's Haven Homeless Outreach Program, where he was known as a friendly presence who always had his guitar in tow, ready to play for friends. Two days later, he was assaulted and found in downtown Riverhead with a serious head injury. He died Sunday evening, prompting a homicide investigation. 
His brother, Gary Sapiane, a well-known radio personality for WLNG in Sag Harbor, said he got a call from Peconic Bay Medical Center in Riverhead on Jan. 2 around 4:30 p.m. His brother, who was 65, had suffered catastrophic brain damage as the result of the assault, which he believes happened around noon that day. "The doctors didn't think they would be able to save him."
Wayne Sapiane was airlifted to Southside Hospital in Bay Shore, a higher-level trauma center, where he underwent an operation to relieve the swelling on his brain around 10 that night. Surgeons removed part of his skull to allow the swelling to subside. He never regained consciousness, and doctors told his family the outlook was grim. By Saturday evening, his family decided to take him off life support. A priest was brought in to give last rites, and the breathing tube was removed. He died 24 hours later. 
Mr. Sapiane said his brother was a "great musician" who struggled with drinking and lived with friends in the Riverhead area. "No matter what, he didn't deserve that. That was brutal," Mr. Sapiane said Friday morning. "This person — we have to find out who it is. The whole family, we want justice for him."
Suffolk County homicide detectives are investigating the death. According to a police statement, Mr. Sapiane reported to police that he had been struck on the head by an unknown white male in the area of West Main Street in Riverhead on Jan. 2 around noon. He was found nearby, near Grangabel Park, not far from the town line separating Riverhead and Riverside, which is part of Southampton Town, and police departments from both towns responded. 
Mr. Sapiane had been at the McDonald's on Flanders Road in Riverside before the incident, according to a friend who saw him there. It is still unclear exactly where the assault happened, and it is possible that it took place in one location, perhaps near the bus stop at McDonald's, and that he then walked to the park. The area is known to have problems with crime. A woman was robbed at knifepoint in the parking lot of the Chase Bank in the area on the evening of Jan. 3.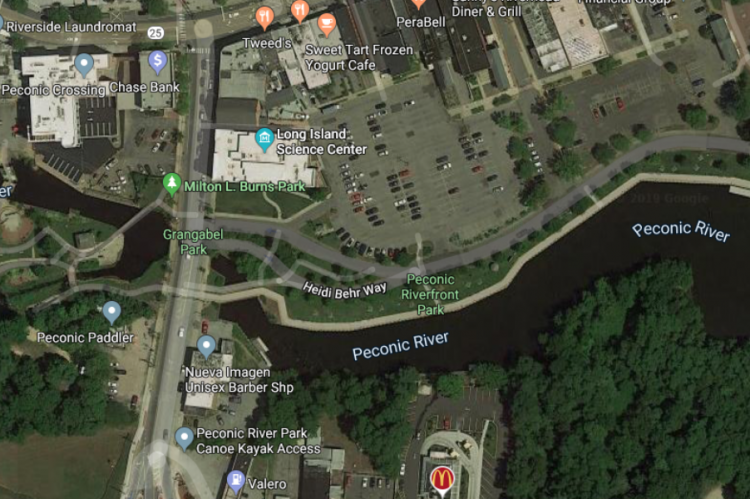 An autopsy is being completed, and the Suffolk County medical examiner will determine the cause of death. As of Friday, Gary Sapiane said, his brother's body had not yet been released. A service is being planned for the spring, near the water, as Wayne Sapiane enjoyed surfing. He is survived by two adult children.
"We loved Wayne," said Christian Kilminster, the client coordinator and case manager at Maureen's Haven, which offers shelter in the evenings from November through April at various houses of worship across the East End. He had been a guest for the last six to eight weeks. 
"He was friendly, got along with everybody. He was very grateful for how we helped him. He always expressed that every morning."
Mr. Kilminster said news of Mr. Sapiane's assault and death were devastating to everyone at Maureen's Haven. 
Karylynn (Kat) Longley said she spent a beautiful morning with him on New Year's Day in Greenport after they left St. Agnes Catholic Church, Maureen's Haven's New Year's Eve location. They stopped by the antique carousel at Mitchell Park and she snapped photographs of him; he posed and made funny faces. "He never saw it!" she said. While they did not ride the carousel, he had offered to pay if she wanted to.  
Ms. Longley, who had known Mr. Sapiane for 10 years but had spent the last month or so around him at Maureen's Haven, said he was good friend and a selfless man. 
She said she hopes police will get to the bottom of what happened. "I have no doubt it will be solved," she said. "We're a small community." 
Anyone with information has been asked to call Suffolk County homicide detectives at 631-852-6392 or Crime Stoppers at 800-220-TIPS.