The year 2020 is one that we all will certainly remember. The pandemic has altered our lives to varying degrees and it looks pretty certain that we will continue to deal with its repercussions for a good bit longer.
Along the waterfront, the year has also brought about its share of issues and concerns. Algae blooms, like the rust tide, have reared their ugly heads once again in the bays, threatening the survival of the bay scallop season slated to open in November. Commercial fishermen have had to struggle with lower prices for their catch because of diminished demand as a result of the virus. Shark sightings have been frequent along the ocean beaches this summer, while the discovery of killer seaweed has also made the rounds in various news outlets.
In addition, lion's mane jellyfish, which have thankfully been absent from our local waters for several years, have suddenly appeared, making that pleasurable swim a little more tenuous and potentially painful. And not to be undone, there's another headliner in the form of an influx of cownose rays.
Cownose rays? Sounds like a fictional Hollywood B-movie monster manufactured in the mind of a very creative screenwriter. But the reality is that these large-winged creatures, like many people, have found the Hamptons to be quite pleasurable during the summer months.
So, what's the problem with a kite-shape ray that has an indented snout that looks eerily similar to the nose of a cow? In short, it loves to eat all types of shellfish. A lot of them too. As the old saying goes, the hits just keep on coming.
With very few natural predators, the rays, which can weigh up to 40 pounds and which travel en masse, have an enormous appetite for oysters, crabs, hard and soft clams, bay scallops, and other invertebrates. Their increased numbers in the Chesapeake Bay system have many concerned about the impact on the oyster population. In Virginia, there's even a marketing slogan -- "Save the Bay, Eat a Ray" -- urging local residents to eat cownose rays. It's way too early to speculate how much of an effect the newly introduced rays are having in our local marine ecosystem.
Of late, the rays have been sighted frequently in and around Accabonac Harbor, as well as Three Mile Harbor. Their presence has also been detected as far west as Peconic Bay.
"One of my customers was swimming in Accabonac Harbor the other week and suddenly he saw about 40 or 50 fins along the surface of the water," recalled Ken Morse, the owner of Tight Lines Tackle in Sag Harbor. "He kind of freaked out and got out of the water and he saw all of these cownose rays swarming everywhere. I've also had reports of fishermen catching and seeing them in Noyac Bay and other areas, so there certainly seem to be more of them around."
"The rays have infiltrated Three Mile Harbor over the past week," observed Sebastian Gorgone at Mrs. Sam's Bait and Tackle in East Hampton. "At first people thought they were sharks, but it was a very large group of cownose rays. They seemed to have arrived with the warm water, but hopefully they will leave soon. They are pretty destructive of shellfish and other things."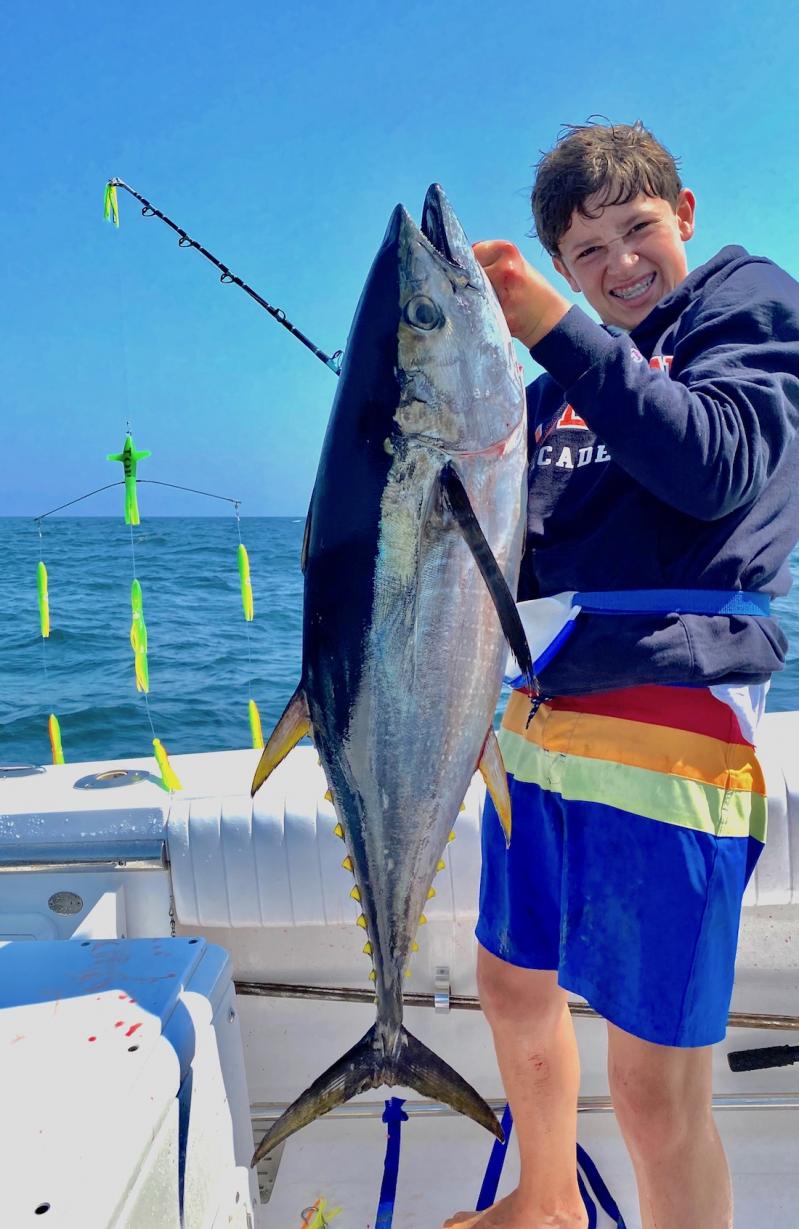 ---
I'm not sure what Mother Nature has up her sleeve to surprise us next, but it will be hard to top what we've already experienced this year.
Take heart, though, the news isn't all bad. Fishing for a number of species remains strong. The fluke bite has been building out of Montauk, where fish over 10 pounds have been landed in recent days, mixed in with some nice sea bass and porgies.
There is a new leader in the hotly contested Montauk Youth Fluke Tournament. Hayden Elliot tops the list with a whopper-size flattie coming in at 8.6 pounds. Catherine Zhang Larson is in second place with her 4-pound fluke, while Trevor Meehan has a hold on third with his 3.8-pound fish. Finn O'Rourke is close behind in both fourth and fifth place.
Proceeds raised will once again go to the Tyler Project, which was established several years ago in Montauk after the passing of Tyler Valcich to increase awareness and improve the coordination and delivery of mental health services for students, young adults, and families on the East End. Local businesses have already raised $3,800 to aid this very worthy cause.
Farther offshore, the action remains strong, with a multitude of different fish being landed. The Viking Fivestar recently returned from an offshore excursion with a full load that included yellowfin and albacore tuna, mahimahi, a mako shark, and two swordfish, the largest of which tipped the scales at a hefty 228 pounds.
Closer to home, Harvey Bennett at the Tackle Shop in Amagansett, said that the fishing scene has held up quite well. "The snappers and blue-claw crabs are keeping kids happy, while fluke fishing is still holding up near Napeague," he said. "Porgies, triggerfish, Spanish mackerel, blowfish, and kingfish are still in good supply, and there are plenty of small stripers in the ocean wash."
Bennett added that Gardiner's Bay has also been loaded with snapper blues, that is bluefish in the one-to-two-pound range that are taking a wide variety of lures.
"Lots of bluefish are coming in from Cedar Point," said Gorgone from behind his counter on Monday morning. "There were massive schools of hickory shad in the ocean, but they have begun to thin out. And there are plenty of blue-claws, porgies, and snappers around too."