New York is known for a lot of things, but until the other day, I did not realize that the striped bass is the official saltwater fish of the Empire State. 
There is a proliferation of such monikers, some rather dubious. Did you know that our state insect is the nine-spotted ladybug or that the red-spotted white or purple admiral is our official butterfly? Corn, by the way, is the state vegetable, while yogurt is the state snack. Yogurt? Not in our house. 
Going back to striped bass, the fish is also the state fish of Maryland, Rhode Island, and South Carolina, as well as the saltwater fish of Virginia, New Hampshire, and New Jersey. Clearly, this is a highly exalted finfish that has many admirers, and is known not only for its mild white meat and medium texture but for being eagerly sought by recreational and commercial interests up and down the Eastern Seaboard. The striped bass is clearly king.  
Because stripers are so popular and so heavily pursued, the stocks of the linesider have gone through some rather severe ups and downs over the past few decades. Most seem to agree that the current fishery is in a rather precarious position. 
As such, New York this year implemented a slot-size restriction, whereby anglers may retain only one fish between 28 and 35 inches per day. Fish above and below that mark need to be safely returned. The theory is that bass longer than 35 inches, in most cases females laden with eggs, will have a better chance to help repopulate the stocks. Only time will tell. 
Efforts to help conserve striped bass are also rather extensive. Everyone from grassroots organizations up to the federal level seems to be involved, but regular recreational anglers can also assist. In New York, anglers who pursue bass and who want to help in conservation efforts should consider joining the Striped Bass Cooperative Angler program. The program provides volunteer anglers with logbooks to record fishing trip information, envelopes to take scale samples from striped bass, and instructions on how to properly collect required data. It's a pretty cool initiative. 
In addition, when catching and releasing stripers, it's important to practice safe and ethical fish handling to help release the fish unharmed. With the current warm summer water temperatures, fighting a fish in such conditions can cause greater stress, and the fish will exhaust itself more quickly. As such, anglers should use tackle appropriate to the size of the fish being targeted to avoid long fight times.
Fishermen should also avoid the use of treble hooks, barbs, and gaffs. Crushing or filing off the barbs on hooks helps reduce de-hooking time and damage to the fish. Instead of a gaff, use a knotless landing net. And use circle hooks when fishing with bait. Circle hooks are designed to hook the corner of a fish's mouth, which makes it easier to release the fish. If a fish is gut-hooked, cut the leader as closely as possible to the hook and leave the hook in place. It will rust out after a short time. 
It's also important to keep fish in the water at all times or as much as possible. If you must handle a bass, avoid the use of dry rags. Make sure your hands are wet and never hold a fish by its eyes or gills. When releasing a striper, try to orient it headfirst into the current, then gently move the fish in a side-to-side pattern so that water flows through the mouth and over the gills. Do not release it until it is able to swim strongly out of your grasp. 
"It's so important to properly handle them," said Capt. David Blinken, of North Flats Guiding in East Hampton, a light tackle and fly-fishing specialist, who focuses on casting flies to visible striped bass on shallow bay flats. "I rarely ever allow a bass to be brought into the boat. I want them to remain in the water to ensure the best chance for survival. I wish more people took the time to properly care for the fish they release."
Striped bass are a beautiful fish. They deserve proper respect.
Back on the current fishing scene, Blinken said that despite the brush with Tropical Storm Fay, the fishing in the shallows remained consistent, however, "last year was not great and it's been worse this season," he observed.
Blinken is not a fan of the new slot size, and was disappointed that a moratorium was not put in place to help rebuild the stocks of striped bass. "I'm seeing less bass," he added. "There is a good amount of very small fish around at times, but I believe a two or three-year moratorium would have gone a long way to rebuild the stocks."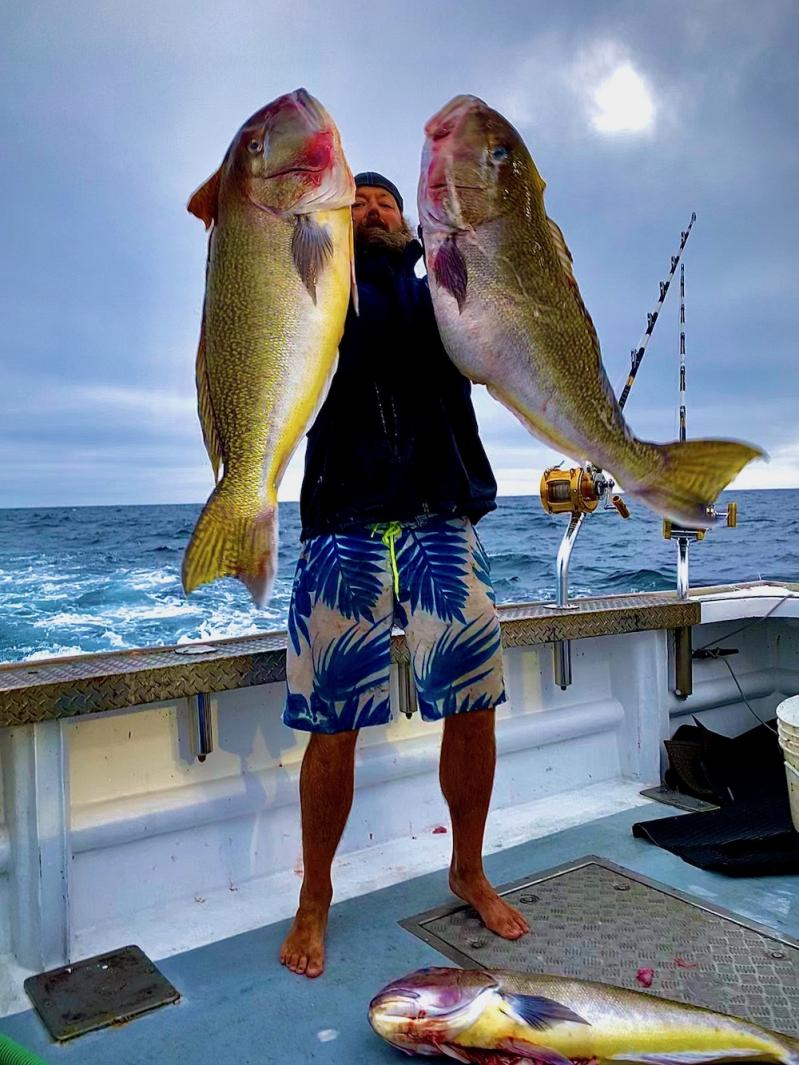 "Blowfish are hot at Maidstone Park," said Harvey Bennett at the Tackle Shop in Amagansett. "The place is loaded with them. Mixed in are some kingfish too." Bennett, who is now in his 40th year of business, advised that fluke and sea bass can be found on the east side of Gardiner's Island, as well as at Napeague and Accabonac, and that plenty of big striped bass remain in residence in the rips off Montauk. 
"Porgies are pretty much everywhere too," he added. "And the action on the ocean beaches for stripers, in particular at White Sands and Main Beach, has been really good as well."
"The better fishing has moved off to the east," observed Ken Morse, the owner of Tight Lines Tackle in Sag Harbor, noting that nearby water temperatures have approached the upper 70s. "There are still porgies and weakfish around, but the cooler waters out near Gardiner's Island are seeing better action on fluke, stripers, porgies, blues, and sea bass."