"I'll tell you, if you came and took a look, you wouldn't need me to talk about it," said Loren Skeist, whose Bridgehampton house opens onto six acres of gardens interspersed with seven koi ponds adjacent to about 20 more acres of agricultural reserve. When he and Marlene Marko, his wife, bought the land, it had zero koi ponds.
So did Lori Schultz's East Hampton property when she bought it 25 years ago. Soon, however, it had one: an 18-by-16-foot pond she built herself with a friend. Last summer, she lost her butterfly koi, named Pimp, who had been the 15-inch jewel of the pond all those years.
In different hamlets, these two ponds are connected by the aesthetic joys they bring their owners. They are also connected by way of finned family. How? First, the ponds got cleaned. Ed Drohan of Alter Ecosystems Ponds and Waterfalls does this for both Mr. Skeist and Ms. Schultz. Fish are removed and kept in tanks, water is drained, and the pond's inside is power-washed, usually once a year.
"I don't normally take fish out of other people's ponds and give them to other people," Mr. Drohan noted, but Ms. Schultz had just lost her special one. And he had just done a big culling at Mr. Skeist's property in the two main ponds, both six feet deep, one 100 feet across, the other 70 feet. "Fish multiply like crazy. There were a thousand fish or so in those two ponds."
As summer beckons, Ms. Schultz looks forward to having dinner in the garden. "I love the sound of them coming to feed. . . . There are water lilies and bees. It's all very relaxing."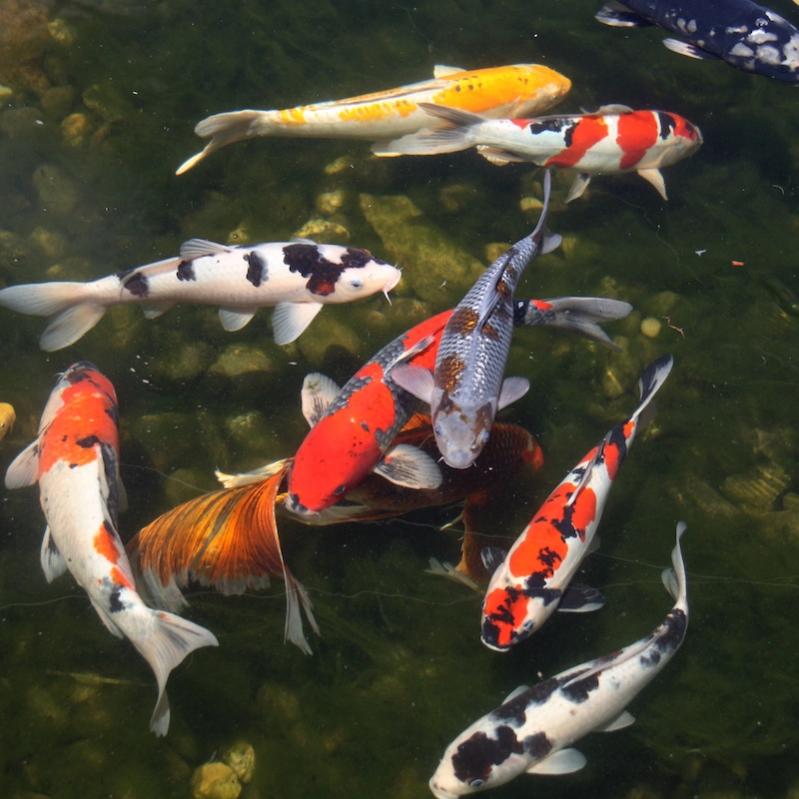 Along with the benefits and challenges of keeping koi comes their symbolism of strength and perseverance. As legend goes, the first koi swam up the Yellow River in China, against the current, until they got to a waterfall that proved more challenging. The victorious koi that finally made it up the waterfall was turned into a golden dragon by the gods, the story continues. Their colors are thought to represent positive attributes: gold for prosperity and success in industry, red for strength and power, and blue for tranquillity, just to name a few.
Mr. Drohan has heard the tales of prosperity. "A peasant, when they would bring the king, let's say, a prized beautiful koi fish, and they'd offer it up to him, they would have a meal over it and then the king would usually take that peasant out of peasant status."
Simply hearing the water from the living room is a delight, Ms. Schultz said, though the pond was frozen over for some of winter. To prevent it from freezing entirely, it has to be a certain depth, three feet in her case, "but also you have an aerator going down there, so there is one bit of fresh water that bubbles and you can see them moving underneath the ice."
Ms. Schultz said the koi do not get fed once the temperature is below 50 degrees. At that point, they eat algae. Warmer weather will bring them back to the surface where they can be fed things like koi sticks, which enhance their color, and which the fish can learn to eat from people's hands.
"That's great for the grandchildren," said Mr. Skeist, whose grandson has taken to naming the fish.
But before there were either grandchildren or koi, Mr. Skeist and Ms. Marko had a garden to build. Strangers to koi, all they knew was that they wanted "a naturalized garden area, not necessarily native -- we're not that disciplined -- we just wanted to make it beautiful and interesting," Mr. Skeist said.
The six acres took shape: a naturalized pond, hallmarks of a Japanese stroll garden, and notes of the English garden with contouring and combining of lush areas and paths.
The initial two ponds on the property struggled. They were not appropriately filtered, but Mr. Skeist and Ms. Marko did not want a lot of artificial filtering. Mr. Drohan, they said, "approaches it naturally and filters it through gravel and then a wetland area, and eventually it becomes a balanced environment that doesn't require a whole lot of maintenance, except we fell in love with koi and as we added koi, we had to make the ponds deeper."
Problems with ponds or illness in fish have become manageable. A big tree dies and a new hole in the ground presents itself as the site of a new pond in which to quarantine sick fish or house new fish and babies.
Mr. Drohan explained why such caution might be necessary: Some of the koi on the property cost $10,000 to $25,000 each. Factored into this ecosystem are pedigree papers, a special fish veterinarian, and direct flights from a Hawaiian specialty fish farm, Kodama Koi, to the house, thus avoiding unhealthy quarantine time for the fish at the airport. He said having the fish vet and the precautions they take have meant that their clients have never lost an expensive fish right after buying it.
Mr. Drohan added that koi normally live from 10 to 40 years.  The oldest fish on record is more than 100 years old, in a pond by itself to control the environment. "Someone on Long Island also has a third-generation fish, passed from his grandfather to father to him, and that koi is roughly 80 to 90 years old," he said.
Annual cleaning at the Skeist-Marko ponds means draining 75,000 gallons of water from one and 150,000 gallons from the other main pond, taking a few hundred fish out, and for Mr. Skeist and Ms. Marko to sort painstakingly through to determine the ones they wish to keep and the ones they want to give away. Fish await their fate in giant tanks on the lawn. 
"For me, to put dollar amounts on fish, I never set out to do that," said Mr. Drohan, who explained he does not have the facilities or employees to sell the overflow, so he will just charge for the time it takes to transfer and disperse the fish efficiently.
And so, a few champion fish were ferried to Ms. Schultz, who has bamboo set up around the pond, outfitted with wind chimes and a solar lantern.
Mr. Skeist has developed defensive structures vertically and webbing across the water's surface to keep out egrets, king fishers, hawks, heron, and osprey. "One of the challenges of this is we're not the only living creatures around here that find koi irresistible," he said.
Such interconnectedness, as the ecosystem is wont to have, only compounded the joy for Mr. Skeist.
"The more you pay attention, if you can keep egrets and heron from walking to the edge, and with enough lines going across the surface to make it challenging for osprey to fly in and fly out -- that was kind of fun to develop," said Mr. Skeist, who, unbeknownst to the egret, is winning this chess match thanks to a wildlife camera that allows him to watch his opponents' moves and strengthen his defense accordingly.