If treehouses are the stuff that childhood dreams are made of, then David Stiles and Jeanie Stiles are surely the builders of dreams.
The East Hampton couple has written the book -- 27 books, actually -- on sophisticated treehouses and other outdoor retreats like micro-barns and tea houses.
"Historically, treehouses have been the setting for adventurous, magical escapes," they said. "Treehouses are also a timeless American tradition, an escape for 'kids' of all ages. Jimmy Carter even built a treehouse for his daughter on the White House lawn."
Think about watching the seasons change up close and listening to birds — perhaps with a good pair of binoculars handy — in such a retreat. "Leave the phone indoors," Ms. Stiles says.
Cultural Context
The concept of a treehouse dates back centuries. The Medicis of Renaissance-era Italy were said to have set trends by building them above their gardens, but they were hardly the first or the last to do so. Treehouses pop up in literature and film, like the iconic story of the Swiss Family Robinson, the Lost Boys' high-up hideout in the tales of Peter Pan, and an entire series of children's books called "Magic Treehouse" by Mary Pope Osborne.
The Stiles's style is more grown-up than what many may think of as a treehouse: simple, boxy structures erected in backyard trees by generations of handy parents.
"Most of the things we design are so you can enjoy nature but be protected from the elements," Ms. Stiles said in an interview. "They have skylights and lots of windows and air moving through them."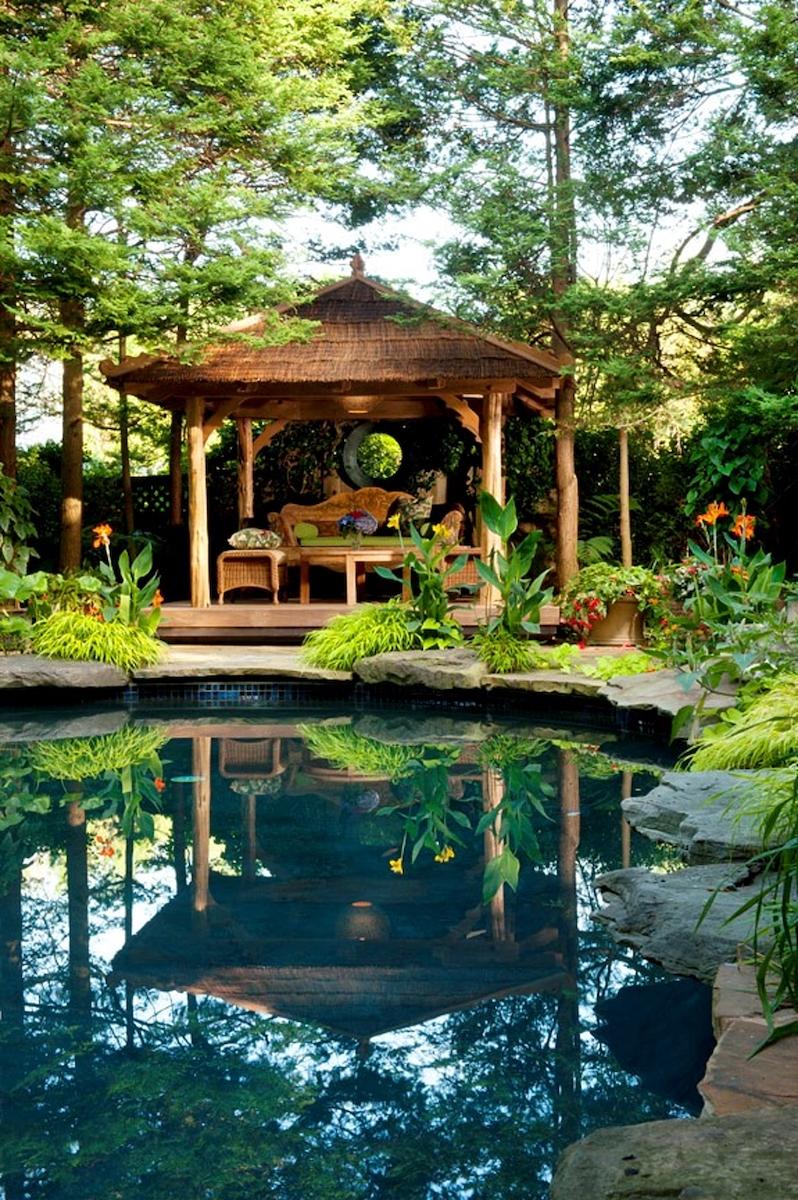 They've Been Busy
"There's a big resurgence" in these types of structures, Ms. Stiles said, with interest in the couple's work coming from all over New York State and Connecticut.
"The kids can be at home, but also be a little bit apart from their parents," she said. "Some grown-ups even want their own treehouse to escape to."
She and Mr. Stiles said the latter has been particularly true during the Covid-19 pandemic, when families found themselves quarantining together.
"The theme that we've found recurring is that it's great in one way because families are reconnecting," Ms. Stiles said. "They're cooking and gardening, but they have to find a quiet place to work. They're finding they have to be able to escape from each other while they're at home."
Mr. Stiles pointed out that many people have been doing projects around the house during the pandemic. From interior freshening up to outdoor improvements like sheds and micro-barns, people are keeping busy. Many are do-it-yourselfers — "Imagine the pride in that. That will last forever!" he says — but there's nothing wrong with calling in the pros.
In October, the Powell (Wyo.) Tribune featured an elaborate treehouse connecting two apple trees, complete with a slide, that an 8-year-old helped his father build in the afternoons after his remote lessons were finished. Mr. Stiles built his own first treehouse when he was a teenager.
"It's essential," he said, for homeowners to find that perfect spring or summer project.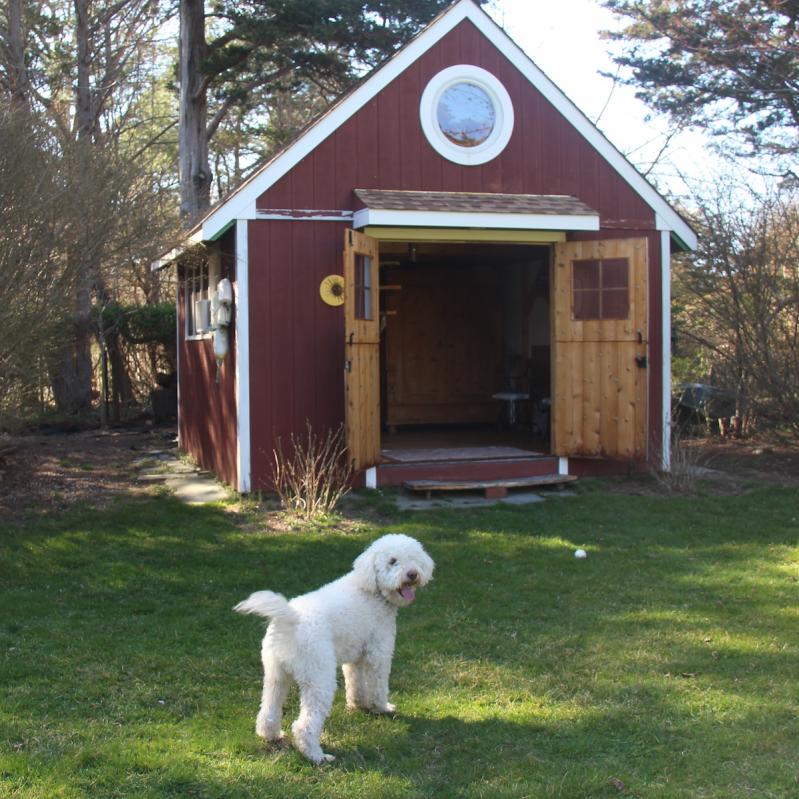 Or, Maybe . . .
If it isn't a treehouse you desire, maybe it's a micro-barn. Chris O'Brien of Southampton heartily endorses this idea. He hired the Stiles team to design such a backyard hangout for him in 2013 after having seen their post-and-beam showhouse of sorts in Amagansett. Mr. Stiles and Ms. Stiles engineered the design and materials based on a rough sketch their client did, and Mr. O'Brien held an old-fashioned barn-raising party that September.
The 120-square-foot structure, with a loft and Dutch doors framed by hydrangeas, is instantly charming. Everything in it is recycled, reclaimed, or gifted — nothing bought new, so the feel is familial and as close to zero waste as it can get. There's electricity, insulation, and air-conditioning, but no indoor plumbing.
"I study, I write, I draw in here. It's the coziest space I've ever slept in," he said. "Everyone responds very positively to it. It maybe takes them back to a simpler time. . . . It's a lot of fun."
It all started when Mr. O'Brien ordered one of Mr. Stiles's books online. It turned out that their New York City apartments were four blocks away from each other, so Mr. Stiles hand-delivered it. Then they realized their apartment buildings had been designed by the same architect, Arthur Weiser. That connection evolved into a partnership. Mr. O'Brien liked his micro-barn so much that he left his job as a program director with Boeing to join Mr. Stiles and Ms. Stiles in their dream-building business.
"Now, more than ever, people want to have ways to be outside and engage with nature while being at home," he said.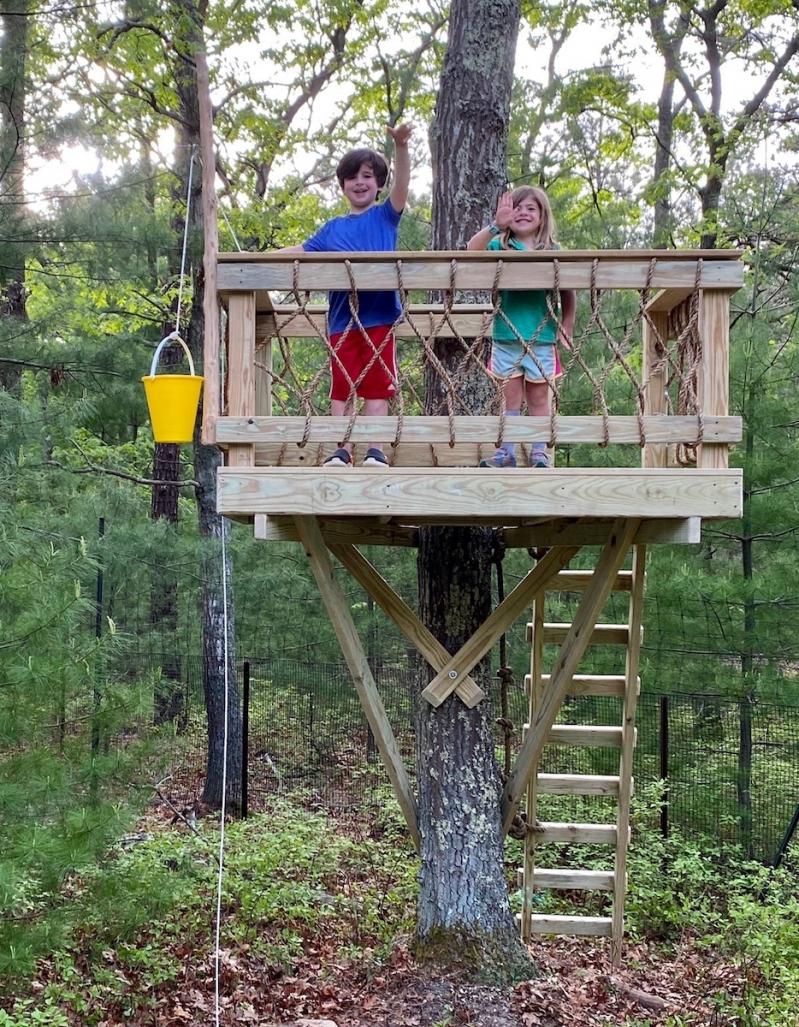 What's Next?
The growing popularity and appeal of tiny-house living cannot be understated. "We've been experimenting with the 'sugar cube house,' a concept that can be put together very inexpensively," Mr. O'Brien said.
Such spots are perfect for young adults who can't afford to rent or buy an entire house or apartment. They have composting toilets, running water, and electricity, and they can be taken apart, picked up, and moved to a new location.
The Stiles's new book, "Backyard Playgrounds," which covers obstacle courses, ninja-warrior-style playgrounds, and, of course, treehouses, is due out in June from Skyhorse Publishing, and outdoor events may again be on the horizon as Covid-19 restrictions continue to be relaxed. The couple can be contacted through their website, stilesdesigns.com.
In one of their previous books, Mr. Stiles puts it this way: "There's no better place to be than way up high in a tree."