From movie quotes to history lessons to Taylor Swift lyrics, Saturday's Pierson High School commencement ceremony contained no shortage of sage life advice for the 61 seniors graduating in the traditional fashion on Sag Harbor's Pierson Hill.
Griffin Greene, the class salutatorian, referenced the quick passage of time — faster even, he said, than his classmate Meredith Spolarich's race results as a varsity track-team star. "All the time we thought we had as freshmen to enjoy life and be productive in growing was gone in an instant," he said, urging his peers, the underclassmen, and the audience to "start now" on important tasks, projects, goals, and fun — not tomorrow.
"What the last four years have shown is that before you know it, that tomorrow is a whole year later. . . . To quote another film, 'Little Miss Sunshine,' high school is 'your prime suffering years,' so you don't want to let that go too quickly," Griffin said.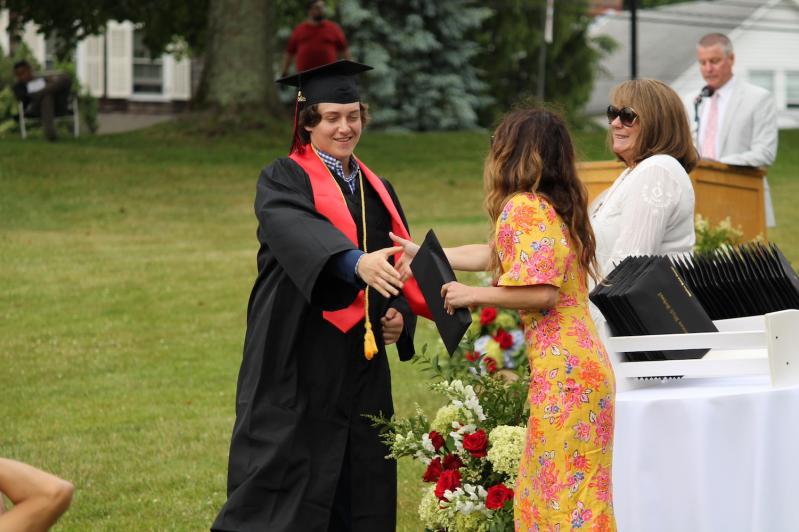 Emily Squires, the valedictorian, recalled highlights like eating lunch in the library with Jaime Mott, the librarian, and their school principal, Brittany Carriero, dancing alongside students at the prom. She spoke of the challenges of Covid-19 and the closeness of the class.
"I genuinely have so much love for all of you and I'm beyond grateful for the memories and laughs this tiny little class has brought me, despite only having one real year of high school," she said. "I'm beyond excited to see where all of you go and all of the amazing things that you do. We're a unit, the class of 2023, united by the ups and downs the world put us through. . . . The universe teaches us who we are through the simple trials and tribulations of life."
Ms. Carriero presented the Principal's Award to Ashley Weatherwax for demonstrating "resilience, determination, and leadership while overcoming adversity." Ashley will attend the State University at Binghamton in the fall.
John Avlon, a journalist, author, historian, and CNN political analyst and anchor who lives in Sag Harbor, was this year's distinguished keynote speaker. He stressed the importance of "confidence, kindness, and community."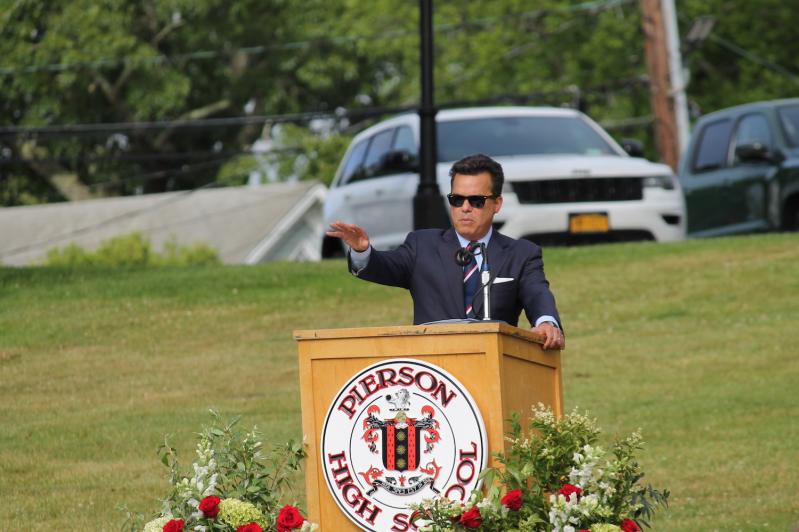 "I think those words really are touchstones, they're talismans that remind us of real, true values in a world that sometimes seems to be moving in a different direction," he said.
"When you let your inner light shine, you give permission for people to let their own lights shine and carry forward ripples of hope," he continued. "Look, you've got to be different if you want to make a difference, and that takes confidence. But it's a risk that will be rewarded, especially if you're being driven by true goals that resonate with your heart."
After the ceremonial cap toss atop Pierson Hill, the new graduates lingered to celebrate with family members, teachers, and friends. A few of them even sneaked triumphal puffs of cigars.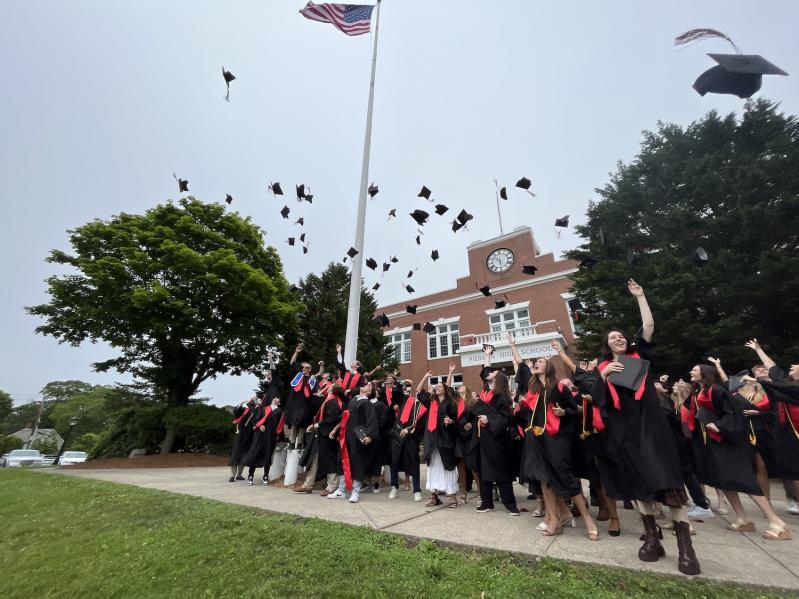 Elizabeth Hallock, the youngest of four Hallock sisters to have attended Sag Harbor schools, is headed to Providence College to study physics and education with the goal of becoming a high school physics teacher. Just a few minutes after the ceremony ended, she said graduating "doesn't feel real."
"It's exciting, though. It's a new time, a new chapter," she added.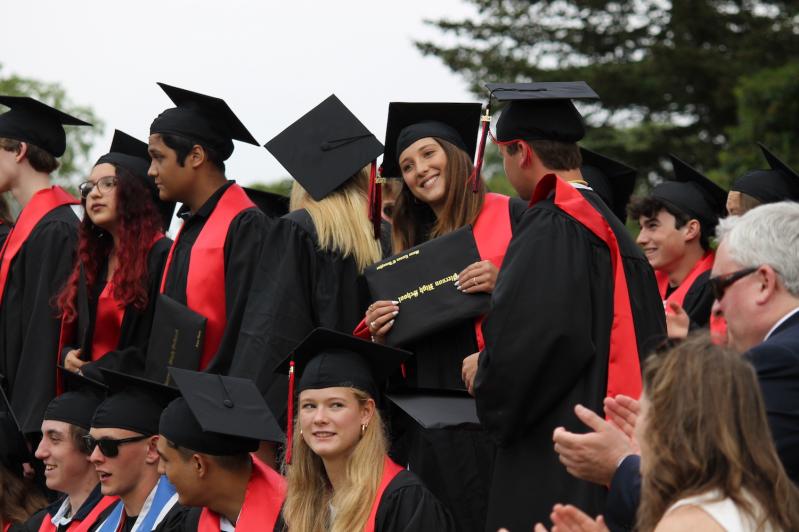 David Giraldo's friends hoisted him up onto their shoulders as he celebrated his graduation. He gave a shout-out to Margaret Motto, a Pierson guidance counselor, and George Kneeland, his fifth-grade teacher, for helping him find his way in school, and now he'll be entering the work force as an HVAC technician.
"It was amazing, kind of unreal," David said. "This community is great."