A 2020 report by the American Association of University Women quantified what many in the fields of engineering, mathematics, technology, and the sciences already knew from decades and decades of demographical data. Women, who make up just 28 percent of those pursuing careers in those fields, are often steered away from those studies for various reasons.
The report found, among other things, that STEM careers are often still regarded as masculine jobs that aren't hospitable to women, and there are fewer women to serve as role models for younger generations of girls pursuing scientific studies.
A recently revived club at East Hampton High School is trying to change all that.
"For all the time I've been teaching, there's usually an underrepresented group — girls — in the engineering or coding classes. When I came here, I said let's try to get more girls involved," said Urban Reininger, a teacher who started the AWSEM Club a few years before the Covid-19 pandemic.
At East Hampton, AWSEM stands for Advocates for Women in Science, Engineering, Math (and Coding). Clubs came to a screeching halt early in 2020, but this one became a priority when kids could mingle after school once again.
"In the club, there is a big sense of community," said Alyse Chapman, a senior. "You're also learning. If something goes wrong, this is how we're going to fix it — you go more into problem solving . . . and you make some really great friends along the way. I love being able to come up with ideas that can turn into something real."
The members are becoming proficient coders, designers, scientific thinkers, problem solvers, and collaborators.
"The collaborative aspect is a big part of it for me," said Magdalena Michel, also a senior. "I already had knowledge of coding but being able to use it to work on a project together with people is really nice."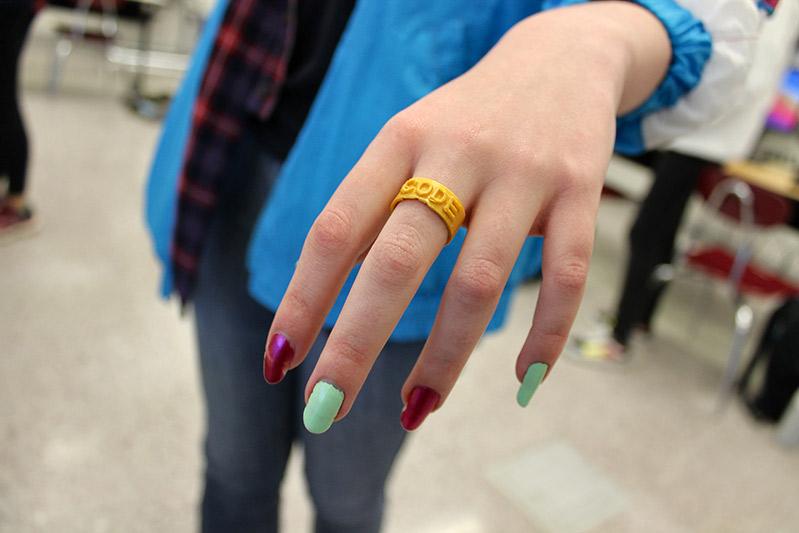 In December, for the school's first-ever walk-through holiday light show, the club members designed and produced light-up, foldable Christmas trees using a 3-D printer. They designed and printed cookie cutters for the school's Hospitality Club (which happened to be baking cookies for one of the Fashion Club's shows). They've honed their skills in various programming languages and worked with tiny robots — although the club's official description expressly states there will be no robot wars taking place.
Keshi Mayer, a sophomore, recalled being the only female student in a coding class recently. "The contrast is pretty different. I didn't really socialize — I was new and it was all boys. They want to think about fighting robots," she said.
"To be fair," Emily Ryan, a junior, interjected, "that stuff sounds great and fun."
But speaking of "great and fun," at one point, she jumped up to show a visitor the mash-up she'd made using a scanning camera and 3-D printer. "Bunnily," she proclaimed, holding it in two hands. It was her own face with rabbit ears on top of a rabbit's body.
Keshi drew attention to another class with a girl-boy imbalance: child development psychology. "It's naturally dominated by girls. There was one boy," she said. "I think at one point we were talking about how women are in traditional gender roles and there's a lack of feminism. The boy had a hard time answering a question about the idea of femininity. It's backwards, usually, in science, and that's why this club exists."
Computers, however, "don't care about what's in your pants," Emily said. The girls get into this club and "do great."
It's not a "no-men" club, she continued. "If men are dominating the tech industry, then it's not just women who need to be uplifted. It's everything. The club is for anybody who is underrepresented."
The club's 10-member roster also includes Leah Fromm, Dylan Cashin, Ivy Zambrano, Oceanna Zeledon, and Natalie Reininger — all sophomores, suggesting a bright future ahead for the club.
The irony of a male teacher leading a club meant to bring out the scientific best in female students is not lost on the club members and their adviser. Mr. Reininger said he hopes to recruit a female STEM teacher to share the responsibilities, or even that "one day, one of you will take over the club," he said to the students.
More informally, "we call it nerd club," Leah said. "People say 'you're a nerd' like it's an insult. None of us are afraid to be nerdy and be who we are, which is awesome."