The theme of last weekend's high school graduation celebrations was pomp and strange circumstances, as the senior class of 2020 again did what it has had to do for the last four months — adapt.
Because of Covid-19 they all had to cover their faces, and many had to cover their heads from pouring rain. Traditions felt a little bit different, but then there were things that didn't change, like the decoration of graduation caps and the receipt of diplomas.
"Graduation was just crazy," said Haley Ferraris, a Pierson High School graduate who is headed to Bentley University in Massachusetts in the fall. "It was perfectly imperfect, and I wouldn't have had it any other way, the rain and all. It was so great to see everyone for that last time and everyone was so happy."
Pierson's graduates sat in the rain on Saturday, separated by six feet to get as close to the traditional seating arrangement on Sag Harbor's Pierson Hill as they possibly could. In Bridgehampton, 14 "pods" were set up under individual tents, where each student sat with his or her family on Saturday. East Hampton High School held a drive-through ceremony under a blazing sun on Friday. Students were in their families' cars, which were lined up separated by hamlet, so they could all celebrate with parades in their respective communities later on.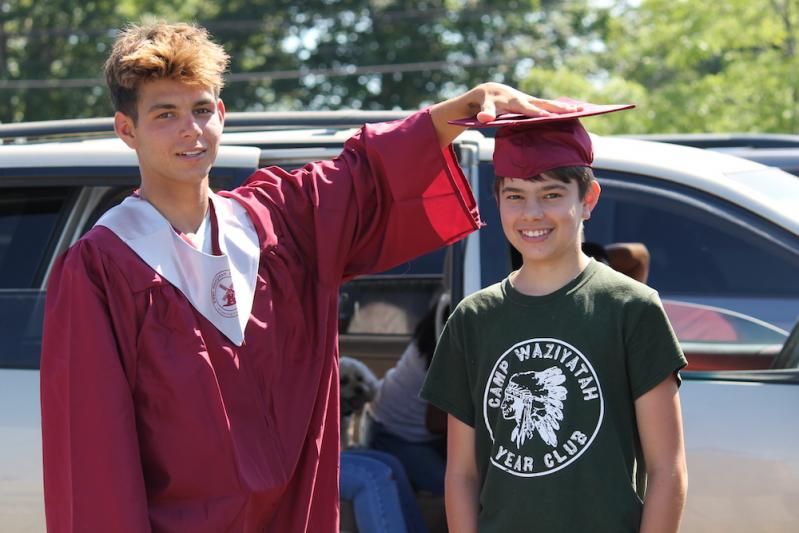 Wells Woolcott, the East Hampton salutatorian, told his peers to think of their graduation day as "special, rather than worse."
"We're the grade that won the T-shirt design contest sophomore year with the colors green and purple, when they said only the Hulk could pull it off," he said. "We're the grade that survived the entirety of Cardi B's career during our tenure at East Hampton High School. Most importantly, we're the grade that gave up the end of our senior year to protect people from coronavirus."
Jacqueline Pillco, an East Hampton graduate who will study early childhood education at Suffolk Community College, said she will miss "seeing friends and the whole experience of high school. . . . I'm looking forward to experiencing new things. It'll be different from what we knew here."
"I'm really glad we're here today and that we have a celebration," Lucas Del Favero, an East Hampton graduate who is headed to Rhode Island's Roger Williams University next year to study architecture, said. "It's way different than I thought it would be."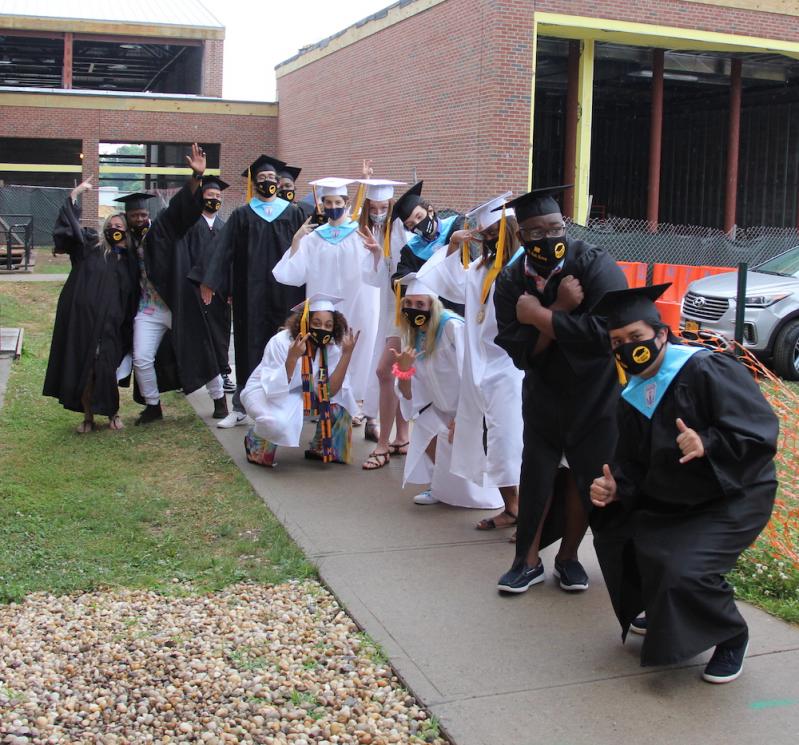 That seemed to be the case across the region. "The one thing we wanted was to be together rather than be separated by family," said Ruby Yassen, Pierson's U.C.L.A.-bound valedictorian. "Even though it was super weird, it was nice to see everyone, and it made it more meaningful. It's super weird because we've been out of school for three months already, but it's nice to have closure. It felt like a real ceremony."
In Bridgehampton, all 14 graduates had a chance to reflect on their high school careers. William Walker said that during distance learning, "I've learned time management and I've also learned to value the time with my family. I've learned new skills that'll serve me in the future. I did things I never thought I'd do in the past, but yet I did it. I made it through!"
Beatrice DeGroot said she will always remember and cherish the time spent in the Bridgehampton School greenhouse with her brother. "Throughout distance learning and school being closed, I have learned that sometimes you just have to suck it up and do things you don't want to," she said.
Madeline Grabb, the Bridgehampton valedictorian, told her peers that "though this is not a typical year or graduation, that in no way diminishes your amazing accomplishments. You are a wonderful group of human beings with the power and potential to make a difference, and I have no doubt you will."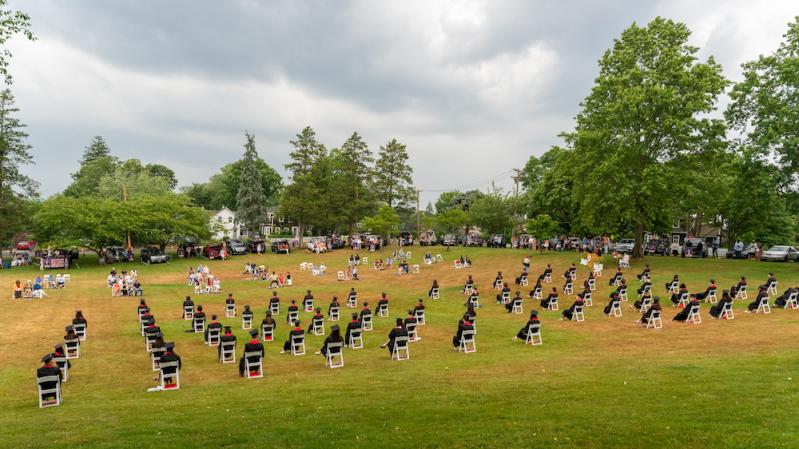 A pair of famous guys named Jimmy -- Jimmy Buffett and Jimmy Fallon -- offered well-wishes to the seniors of East Hampton and Bridgehampton, respectively.
"Try and do something every day that really you don't want to do, especially for somebody else," Mr. Buffett said in a recorded message. "Remember, the world is your oyster, but it's up to you to find your own pearls. Good luck, class of 2020. Fins up, be safe out there."
Mr. Fallon called the Bridgehampton graduates "legends," saying on Facebook: "The class of 2020 will be remembered forever, so congratulations. . . . Own that energy -- who knows what you're going to accomplish? I can't wait to see."
East Hampton's principal, Adam Fine, also "graduated." Students surprised him with a cap and gown matching their own because, after 10 years as principal, he will become assistant superintendent of the district.
Yesterday, 39 eighth graders graduated from the Montauk School. "Their sacrifices this year were not only for them but for so many others. They may have saved lives -- maybe their parents' or grandparents' or mine!" said Jack Perna, the district superintendent.
And last Thursday, 95 eighth graders graduated from the Springs School, one of the largest classes in recent history. Debra Winter, the superintendent, praised "one of the nicest groups of students. They truly cared for each other. . . . They have some of the biggest hearts I've ever experienced in my career in education."