There's a lot of forward momentum in the Shinnecock Indian Nation these days, and women are playing a significant part in that direction. From educational and economic advancement to legal advocacy and language restoration, here's just a sampling of the ways that Shinnecock women are leading the way.
THE PRESENT
Dyashwa Sylvester, director, Boys and Girls Club of the Shinnecock Nation
In 2020, just as the Covid-19 pandemic was starting to disrupt life as everyone knew it, Dyashwa Sylvester was tasked with finding ways to serve Shinnecock youth. Not only did she develop a program that covers Shinnecock history, food growing, language, dance and drums, and regalia making — and job skills like résumé-writing and interviewing for teens — but she also led a renovation of an older community facility into the current clubhouse. There are field trips to go fishing and clam- ming; visits to museums, powwows, and other tribal lands, and outings to fun places like Six Flags Great Adventure, all so that "they can grow and go into the world as secure, happy individuals and successful adults," Sylvester said.
She studied business management and finance at Stony Brook University as one of its first Native American Peoples Scholarship recipients. "In the back of my mind, I've always wanted to give back to my community. I know what was needed," she said. "The stars lined up, and I was able to make it happen for the kids, and I do it with a lot of passion. For future growth, the sky's the limit when it comes to this program, because there's so much we still need."
Sylvester is pictured wearing beaded jewelry made by a Shinnecock artist and a ribbon skirt that "modernizes our traditional look," she said. She's standing in front of a mural at the Boys and Girls Clubhouse that was painted by the Shinnecock artist Wendy Arrindell. "The mural is beautiful in and of itself, but it has so many different aspects of who we are that it was important for me to stand in front of it," Sylvester said. "It tells you about our history and who we are. The foundation of our program is our culture — this puts it in the forefront."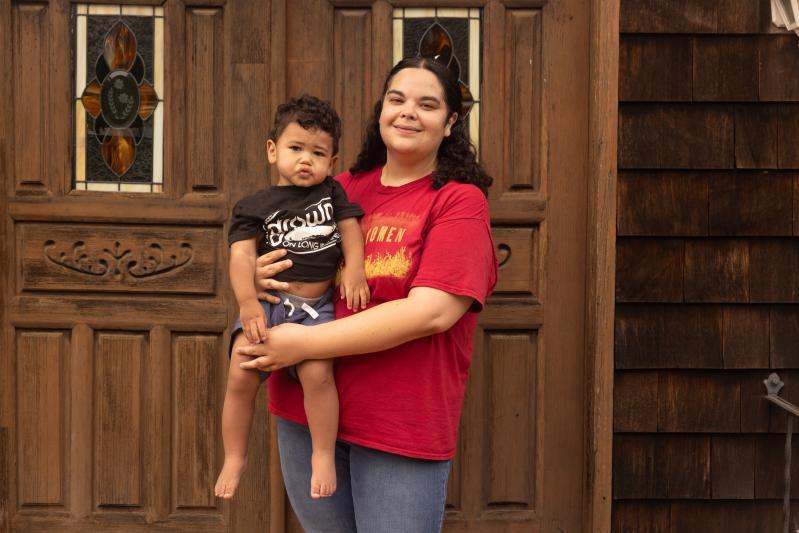 Tela Troge, attorney and activist
"We have to educate folks on what sovereignty means, what it looks like, and I think that's really critical," said Troge, who has dedicated her time and energy to this endeavor. In 2020, drivers passing through Shinnecock territory on Route 27 may have noticed the sovereignty camp she organized near the tribe's tall, electronic billboard monuments to "raise awareness of New York State's economic warfare against Shinnecock."
She has advocated for the passage of New York's unmarked-burial-sites legislation and now sits as the Shinnecock representative on a state committee dedicated to burial-site protection. Troge is also a founder, with six other women, of the Shinnecock Kelp Farmers.
And she's a mom to Benjamin, 16 months old, who has already taken part in dance classes and other cultural programs. "The hope and resilience that I have is connected to wanting to make the world a better place for my son, and for his children, and so on," Troge said. She was photographed at the Shinnecock Presbyterian Church, one of the oldest congregations of praying Indians in the United States. "It was the only way that Native people were able to survive genocide and land theft," she said. "Our relationship to the church is so significant and critical and interesting."
Having just come from a protest of overdevelopment along the Shinnecock Canal, Troge is wearing her red Warrior Women T-shirt, a gift from her aunt that represents "matriarchal Indigenous women who are resisting and forging new paths of change."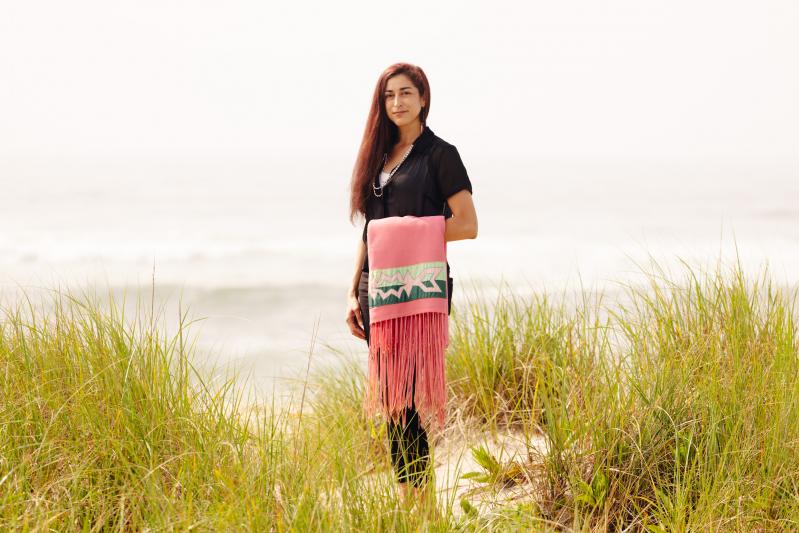 Wunetu Wequai Tarrant, educator and Ph.D. candidate in linguistics at the University of Arizona
A born-and-raised member of Shinnecock's Thunder- bird Clan, Tarrant started her career as a teacher at the Hayground School, of which her grandmother Elizabeth (Chee Chee) Thunderbird Haile was a founder.
Also inspired by the language restoration work being done by her own mother, Christina Tarrant, Wunetu Tarrant resigned from what she called "my lovely job at Hayground" to pursue linguistics. With a collaborator, Christian Scheider, she is currently wrapping up the first year of a two-year state grant called Creatives Rebuild New York, for which she is developing ways to preserve and teach the language through virtual reality programs, interactive elements, and an archive of stories from Shinnecock elders complete with translations. She is working on rebuilding and restoring the teaching of the Shinnecock language with help from a group of women known as Ayímkutoowonk. It's important, Tarrant said, because the language "really establishes that our history doesn't start at colonial contact. It starts well before then."
"We're racing against time to preserve all that we possibly can," she said.
Tarrant was photographed at an ocean-beach access pathway, of disputed ownership, off Meadow Lane in Southampton, which is full of beach plums and native grasses. She's holding her grandmother's shawl and wearing wampum, which is "spiritually significant and very beautiful."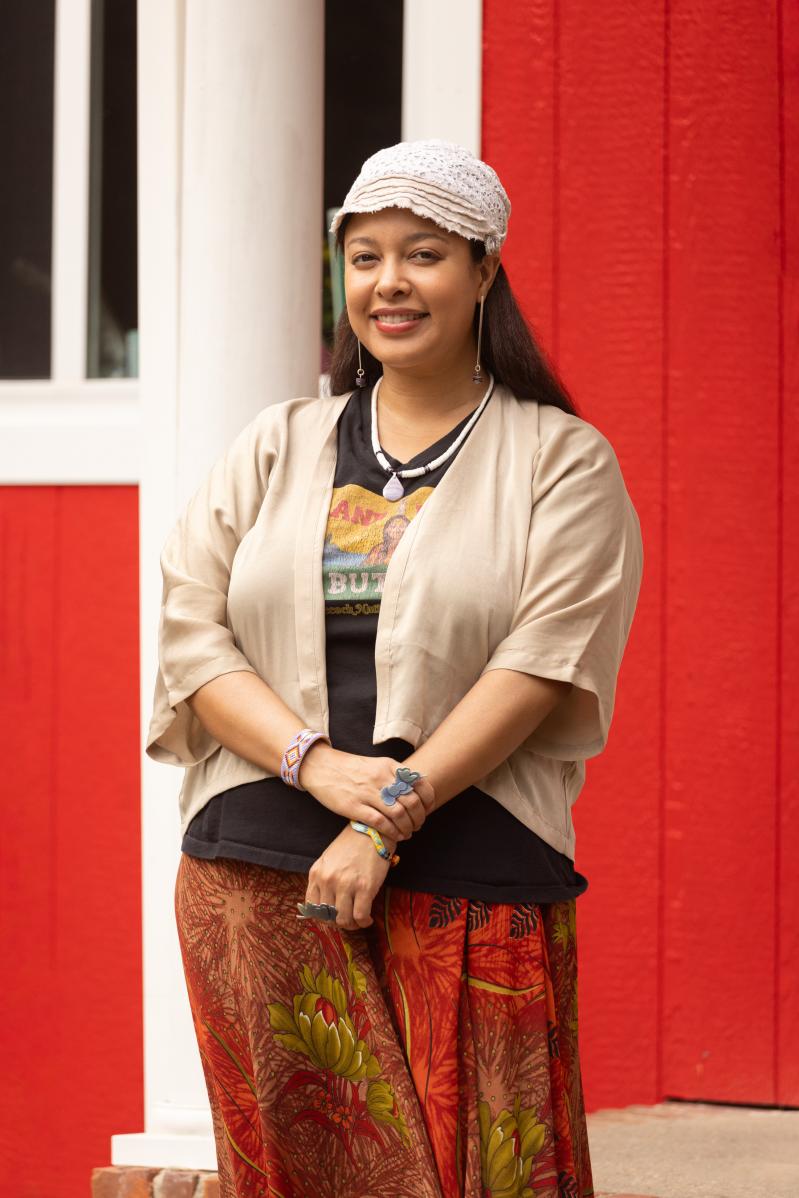 Kelly Dennis, partnership strategist, Native Americans in Philanthropy
Kelly Dennis is an attorney and passion- ate advocate for not only the Shinnecock Nation, but also for Indigenous peoples across colonized lands. For two years she served as an elected member of the Shinnecock Tribal Council, and was later appointed to the Secretary of the U.S. Department of the Interior's first-ever Tribal Advisory Committee. Now, as a partnership strategist with Native Americans in Philanthropy who splits her time between Washington, D.C., and her home on ancestral Shinnecock lands, Dennis is making a difference by bringing together public and private-sector entities to improve conservation and co-stewardship of the land, economic development, climate resilience and adaptation, and educational initiatives. "It's rewarding because it's helping tribes navigate a different way to leverage federal funding for self-sufficiency to retain our inherent sovereignty," she said.
With an up-close look at the work being done to improve relationships between Indigenous communities and governments with colonial origins, Dennis has a cautiously optimistic outlook. "As long as we're willing to really assess opportunities that are available, whether it's a partnership, any kind of federal grant, or working with a state agency to build trust and understanding, then yes, we can be hopeful that we can strengthen our self-sufficiency and sustainability."
She is pictured at Ma's House, the house of her late grandmother, Loretta A. Silva, also known as Princess Silva Arrow, which is now a museum and arts center; Dennis is a board member of the organization, which is helmed by her brother Jeremy. In addition to her Land Back T-shirt, which sends a powerful message, she is wearing wampum jewelry. "I feel like if I'm not wearing it, a part of me is missing," she said.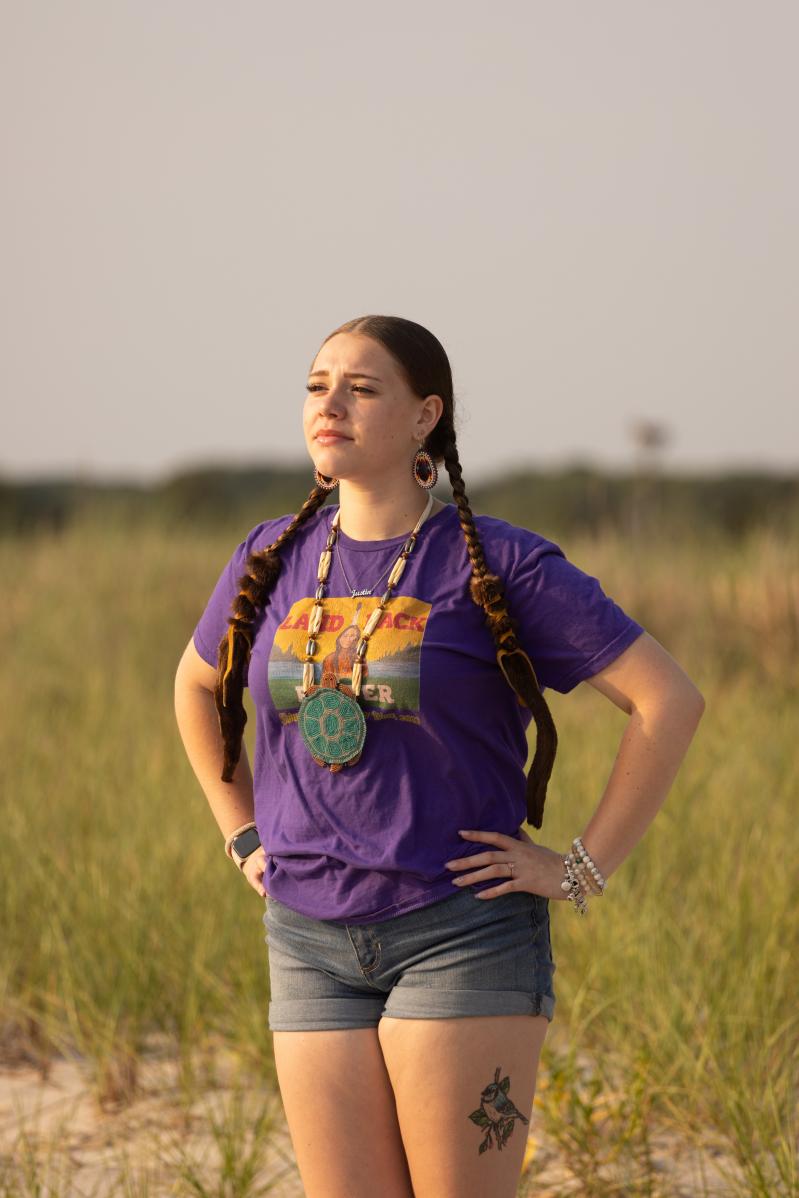 THE FUTURE
Jaycee Newcomb, freshman at Johnson & Wales University
Newcomb, who graduated in January, a full semester early, from Southampton High School, has been passionate about writing for as long as she can remember. More recently, journalism has become her focus, and she's majoring in political science and communications at Johnson & Wales. At Southampton, she was the school newspaper's Shinnecock correspondent, sharing information about cultural teachings and activism within the Indigenous community. She has tackled topics such as the traumatic his- tory of Indigenous boarding schools, which stripped people of their heritage and cultural identity; missing or murdered Indigenous women; and myths and misconceptions about Native Americans.
"Indigenous people are seen as 'less than' others. It's unfair. Everyone should just be seen as a human being," New- comb said.
She is pictured wearing Shinnecock wampum earrings, a traditional braided hairstyle with otter and leather wraps, and a Land Back T-shirt designed by the artist Denise Silva-Dennis (who also happens to have a painting hanging in the office of New York State Attorney General Letitia James).
She is standing at Cuffee's Beach, "a place where we go to think and reflect. It makes us feel closer to our ancestors. It's a very spiritual place."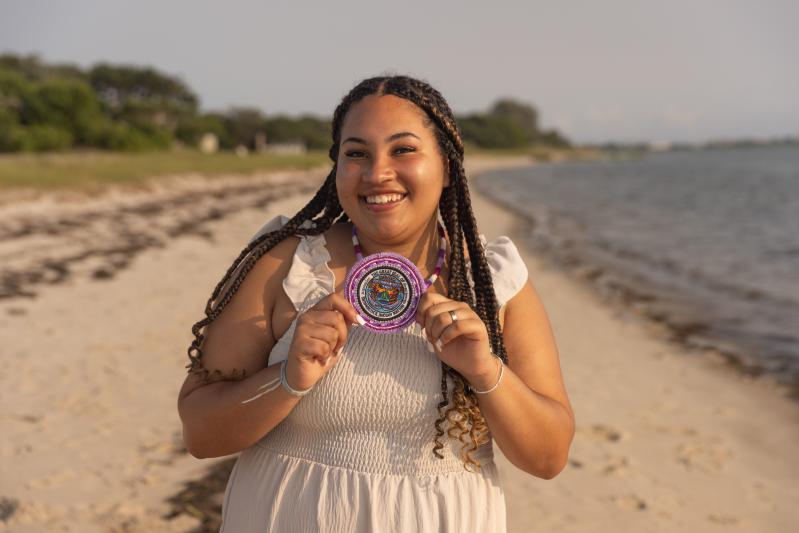 Sa'Naya Morris, senior at Southampton High School
As a member of the Southampton Town Youth Court, an officer of the Black Girl Magic Club, and a member of her school's Diversity, Equity, and Inclusion Committee, Sa'Naya has big plans to study criminal justice in college and become an attorney to fight for her community.
She has participated in the National African-American Read-In Day activities and helped plan a multi-state tour of 10 colleges for 24 minority students at her school. "A lot of kids in school are falling
behind, not doing well, so we took the initiative. We wanted people to see what opportunities there are in the real world," said Sa'Naya, who also plays lacrosse and field hockey for Southampton, and took her field hockey teammates to the Shinnecock Powwow last year.
She has learned a lot from her mother, Linee Matthews, who was a single mom for many years. "I admire her hard work, and how she's managed to stay strong throughout everything she's been through," Sa'Naya said.
Pictured at Cuffee's Beach, a place that "feels like home," she is wearing a long, flowing dress and Shinnecock medallion that make her feel herself.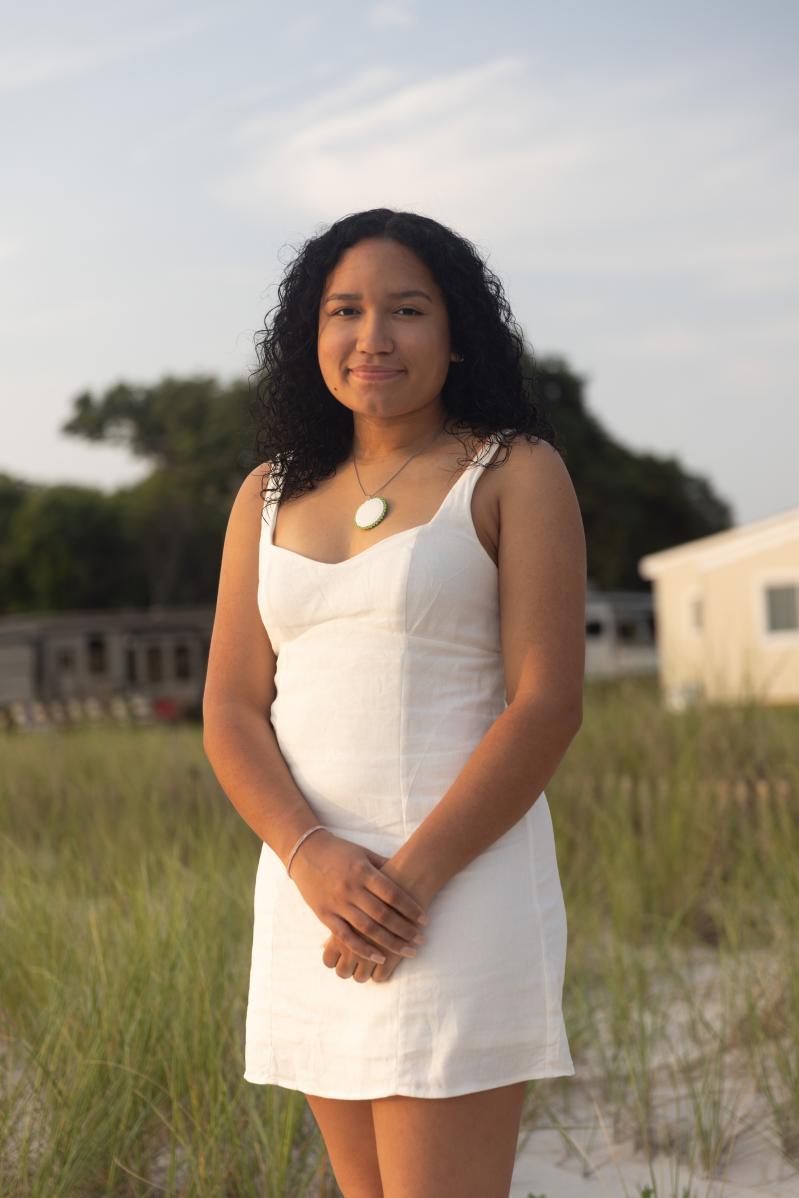 London Bess, senior at Southampton High School
A few years ago, London noticed a lack of connection and self-esteem among Indigenous and Black youth at her school, and decided to do something about it. She had the idea to start the Black Girl Magic Club, which allows its members to honor their Afro-Indigenous culture and heritage while giving back to the community around them. Among its planned activities are an Indigenous People's Week lineup of cultural celebrations in the fall and a classroom-door decorating contest for Black History Month in February — plus more to come.
"I wanted to create a community for girls to unite and talk about this experience," she said.
London, who is also a member of her school's Diversity, Equity, and Inclusion Committee, has a role model in her grandmother, Terri Wisdom, the founder of the Harlem News Network. "She taught me to advocate for equality and justice and fight for my beliefs and ambitions," said London, who plans to attend Howard University, one of the original historically Black colleges, and follow in Wisdom's footsteps with a major in business.
She is pictured at the home of her other grandmother, Diane Smith, on the Shinnecock Reservation, which was a big part of childhood memories of swimming, crabbing, clamming, "and fostering love and memories that can never be forgotten." Her white dress, she said, symbolizes peace and optimism.
THE PAST