Oh, algorithms, take me away.
"Sure! Where would you like to go?"
ChatGPT, the artificial-intelligence chatbot developed by OpenAI, proved to be a perky, polite, exclamation-mark-loving travel planner in a quest to find the best places to visit for stunning autumnal views.
There were three categories in my inquiry. The first, suggestions in the East Hampton vicinity. Then, a destination slightly farther afield, reached by some combination of car, train, and ferry. And finally, someplace far away that required a plane ride, but which would be worth the journey.
HERE
"East Hampton is a beautiful place to visit in the fall!" the chatbot said. It — and, yes, it specified that "it" was the most appropriate pronoun — recommended places including Montauk State Park, East Hampton Main Beach, and the Wölffer Estate Vineyard.
Nice, but not terribly impressive. Take a hike, chatbot!
"I apologize if my previous response didn't meet your expectations. Here's an off-the-beaten-path recommendation for a place to visit near East Hampton in the fall: Shelter Island is just a short ferry ride away from East Hampton. Mashomack Preserve, a nature preserve located on the eastern end of the island, features over 2,000 acres of protected land. It's a great place to hike and take in the fall foliage. Mashomack Point is a secluded beach and offers stunning views of the surrounding water and wildlife."
Aren't we lucky that we don't need to travel very far to go crunching over a carpet of leafy confetti, while swooning over the warm oranges and reds that fill the trees?
"Many people consider living in East Hampton, New York, a fortunate and desirable choice due to its natural charm, cultural offerings, and overall high quality of life."
Technology so feared and potentially cataclysmic, yet so boring.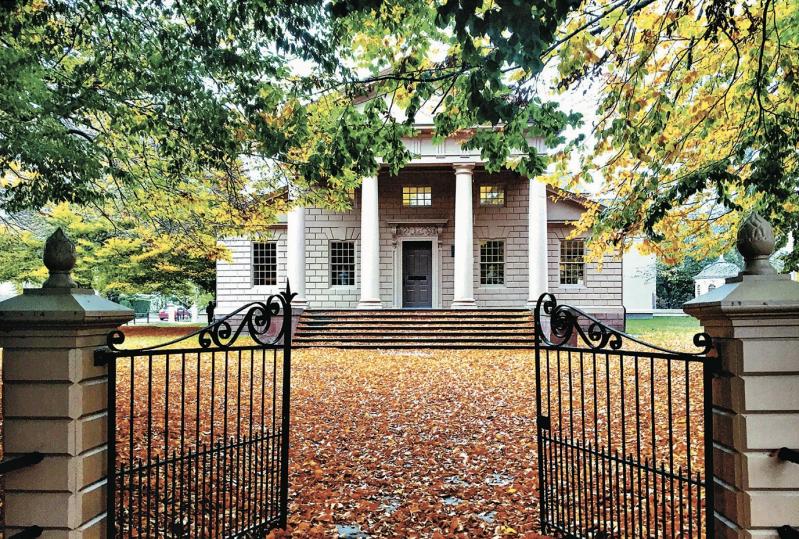 THERE
For a destination within a 300-mile radius, ChatGPT suggested Newport, Rhode Island. "This historic coastal town is known for its Gilded Age mansions, scenic beaches, and lively harbor. Take a tour of the famous Breakers mansion or explore the town's many shops and restaurants," it said.
The world has no grander seaside mansions than those of Newport; they make East Hampton's look like doll-houses. The most gargantuan of all is The Breakers, built by Cornelius Vanderbilt II in the 1890s for only one reason: Impress with excess. Many of Newport's mansions were featured in the HBO high-soap hit series The Gilded Age, but walking through one is when you feel as though you're trapped inside an ingot of gold.
Blinging out on riches might be too East Hampton for some, so A.I. had a few other suggestions in Newport: "Explore the Cliff Walk, a scenic path along the shoreline that offers a combination of crashing waves, rugged coastline, and vibrant autumn colors. Other notable places to visit are the International Tennis Hall of Fame, Newport Art Museum, and the Newport Historical Society. In a city with a rich maritime heritage and a renowned sailing culture, Newport's Sailing Museum showcases a collection of beautifully restored classic yachts, including historic sailboats, motorboats, and other maritime artifacts."
It seems fitting that in this town, one of the best places to stay is the Vanderbilt, a luxurious 33-room hotel housed in a stately brick mansion built in 1909, supposedly as a summer rendezvous spot for a Vanderbilt mistress. (ChatGPT refused to corroborate this: "I don't have access to real-time information or the ability to browse the internet. As of my knowledge cutoff in September 2021, there is no widely known historical information indicating that the mansion, now known as the Vanderbilt, was originally built specifically for Alfred Gwynne Vanderbilt's mistress.")
The rooms are sumptuous, the garden lush, and the signature martini, prepared tableside in the dining room, did inspire haiku from the A.I.:
Crystal elixir,
Vanderbilt's martini dance,
Timeless elegance.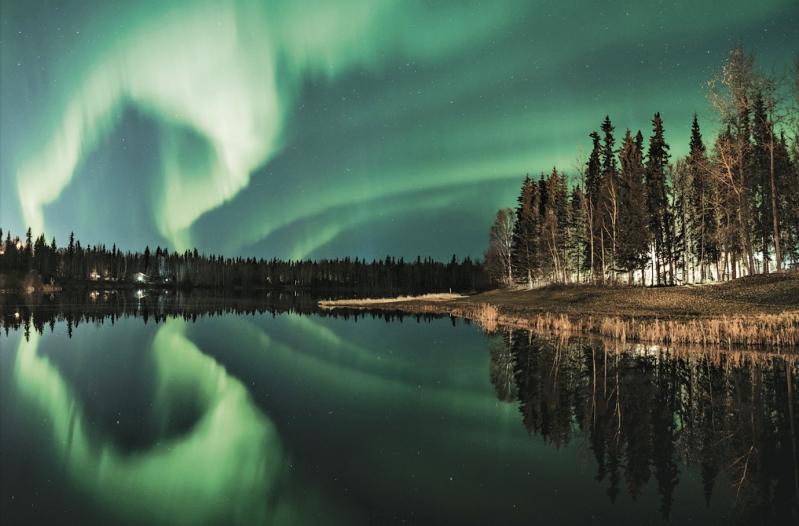 AND EVERYWHERE
"The Northern Lights, also known as the Aurora Borealis, are a significant and breathtaking natural phenomenon in Alaska during the fall season. The dancing lights in the night sky, with their vibrant colors and swirling patterns, are a remarkable sight to behold!" said the chatbot, when pressed for a destination that offers views beyond the usual fall foliage.
"To maximize your chances of seeing the Northern Lights, it's advisable to visit Alaska during the months of September to April, when the nights are longer."
Traveling to Alaska from the East Coast is not for the impatient but when Mother Nature cooperates, watching the aurora dance across the sky is so magical that it's worth the trek. Many Alaskan spots rank high on best-aurora-viewing lists, like Chena Hot Springs Resort, a rustic, woodsy, cabin-filled place with a geothermal hot springs and an aurorarium, from where the light show can be seen.
But it's the Lodge at Black Rapids, about a two-hour drive from Fairbanks, that stands out. A true Alaskan wilderness lodge in the heart of the unspoiled Alaska Range, it offers eight delightful bedrooms, glacial treks, and wildlife spotting. It also has Annie Hopper, the proprietor who built the establishment over 10 years, with plenty of stories to share. The complete remoteness of the lodge, untainted by even the faintest amount of light pollution, makes it perfect for the views of the aurora as it streaks across the sky. Agree, A.I.?
"Yes! While I can't physically join you on your travels, I'm always here to help with any travel-related questions you may have! Safe travels!"