Boating would be far more agreeable if it didn't involve dumping motor oil into the sea. I'm betting that's why God invented affordable electric boats.
Mine is forest-green. It seats 10. It has a stowable table, five drink holders, marine speakers, navigation lights. A gleaming helm. Six lithium batteries. These are whisper quiet, last for five hours, and can be charged with a regular plug at a regular old 110-volt household outlet.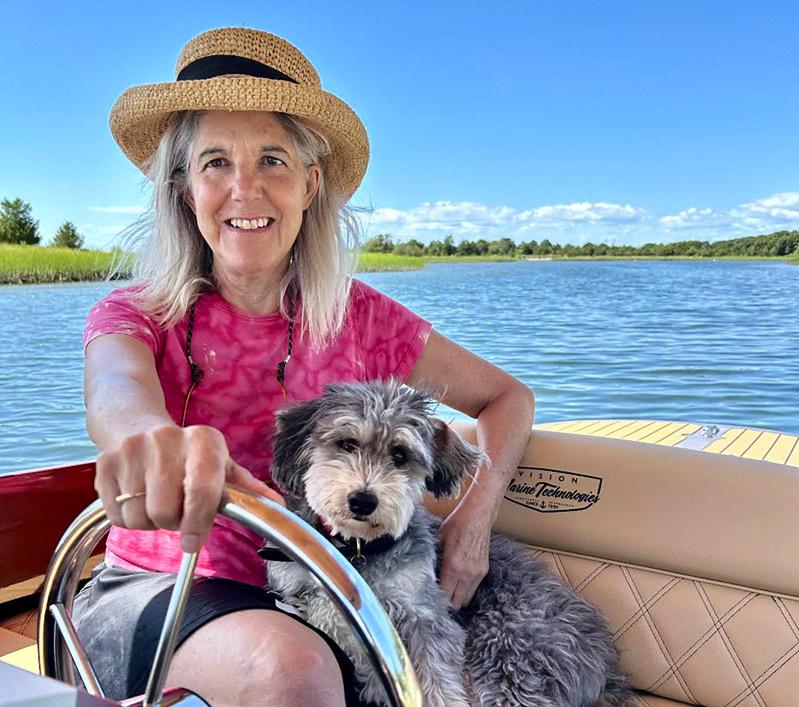 Personally, I don't care much for motor-related specifics, but you might, so here are the basics: Fully charged, my boat, the S.S. Aqua Scout, a Vision Marine Fantail 217, is 21' long, has a 20" draft, a 48-volt electric motor, five horsepower motor, and a maximum thrust of 36 amps per hour.
Motorboaters wave as I pass their gas-guzzling crafts on the seas. "Tesla of the Sea," I say, as I cruise by. They nod appreciatively or give me a thumbs-up.
"Ever seen one of these?" Jennifer Brittan asks a co-worker at the Ship Store at the Sag Harbor Yacht Yard where I go to get life jackets and state-required safety equipment. Her cohort says, yes, he's seen one, once. Here's a mystery: Why, in an affluent community full of marinas and environmentally minded people, are electric boats so few and far between?
"Everyone here cares about the environment. They talk about it a lot, anyway. Then they install another 500-horse-power motor," says Fernando Banhara, who runs the service department at the Three Mile Harbor Marina in East Hampton. (Fernando suggests I install solar panels on top of my boat. "That would be cool," he says.)
Maybe it's a speed thing. Despite its 36-amp thrust, mine is not a fast boat. Its top speed is five knots. Sometimes I think of it as a kind of paddle boat that you don't have to paddle. It's definitely not ideal if you need to get somewhere in a hurry. But, if you're looking to float along with swans and cygnets and float lazily past shores where herons nest, it is just the ticket.
You can get an electric boat that can keep pace with the fastest fleets. But it will cost you. And you may have to wait.
Increased interest in climate change and its consequences has promoted renewed interest in electric boats. Now valued at $5.6 billion, the industry is expected to reach $15.1 billion by 2031, and everyone from G.M. to Sean "Diddy" Combs is in the game.
But the electric pontoon boat that is the fruit of G.M.'s $150-million investment is only available for preorder. The ARC One boat designed by former Space X engineers — and financed, in part, by Combs and Will Smith — can clock 34 knots, but it isn't available for delivery yet, either. When it is, it will cost about 300 grand. (If you're looking to spend that kind of money, you can get a Candela, a Swedish-made electric boat, that's equipped with hydrofoils that lift most of the boat out of the water!) Vision Marine Technologies, a Canadian company that plans to disrupt the industry by providing electric alternatives to gas-burning boats, rocked the Ozarks — and the boating world — when its V32 flew across the Lake of the Ozarks at 94 knots (around 109 miles per hour) last summer, becoming the world's fastest electric boat. Sorry, but you can't buy one. "The V32 is essentially a prototype," Vision Marine's Bruce Nurse tells me, and it is not available for purchase.
Back to the possible. Googling for lower-cost, zero emission boats — back when owning an electric boat was just a twinkle in my eye — I came across an article about a five-seater electric boat from China that only cost $1,000. But the price didn't include costly tariffs, customs brokers, warehousing fees, battery costs, and other expensive headaches you'd want to avoid. I read, too, about an Avator 7.5e for $12,000 that was expected to be available at the end of the year. But it looked more like a surfboard than a boat and had just an hour's range. The other available two-seaters under $50,000 looked teensy, unable to accommodate an extra friend, a dog, or even a drink, should I wish to stow one of these aboard. And I did.
For pleasure boating with friends and other benefits, Google produced just two choices under $100,000.
"We do 5 m.p.h. better than anyone else." That's what the Duffy Boat Company said on its website. (Duffy has a good track record. Having made electric boats since 1968, it has certainly been doing it longer than anyone else.) Their Snug Harbor 18, starting at $61,000, seated nine, ran for 7.5 hours, and had a top speed of just over 5 knots. Available in a range of colors, it also had a built-in ice chest.
Vision Marine offered a competing choice: The company's Fantail 217 seated 10, ran for eight hours at 5.2 knots, had a built-in sound system, navigation lights, came in pleasing colors, and was designed to be maintenance-free. It started at $39,995. It didn't have a built-in ice chest, but as Robert Butler at Connecticut Boat (which handles both Duffy and Marine Vision boats) said, the Fantail is "sleeker, sexier-looking, than the Duffy Snug Harbor."
Deal clinched!
My Fantail arrived on a sunny morning in June, gleaming, green, and ready for action. Butler and his wife, Angie, brought it from Connecticut and assembled the surrey, affixed the fenders, and otherwise readied the boat in just a few moments. Angie and I watched from the dock as Robert floated from a nearby launch and picked us up for a maiden cruise.
"Maneuverable!" I exclaimed when I took the helm and steered Fantail 217 into Three Mile Harbor. "Just like the catalog says!"
No Wake read the sign in the channel. No problem, at 5 knots, the Fantail made but a gentle ripple.
My friend Diana says a boat is just another place to do housework. But, so far, it really hasn't been so burdensome to keep my boat in good stead. I hose it down to keep it clean, charge the batteries — that's pretty much it. Oh, and you have to bottom-paint boats every year to keep the salt from eating it. 
Though Fernando at the Marina tells me B.O.A.T. stands for Bust Out Another Thousand dollars, my expenses have been minimal, so far. Sponges, boat soap, a couple of lines. Ship-to-shore radio and other safety equipment. I'm pleased to discover that winter storage isn't a problem: Butler will pick up, shrink-wrap (like a bologna sandwich), store my boat, and return it in the spring.
In the sweltering sunshine of the hottest summer on record, the Aqua Scout is a kind of floating air-conditioner; it is at least 10 degrees cooler on the water. Friends, as many as eight at once, have enjoyed the open sea on board my boat and don't seem bothered by its meandering pace. It's even a giant pleasure to simply sit on board at the dock, without going anywhere. Rocking back and forth with the tide, you hear birds sing, breathe salt air, and are reminded of the slow, simple joy of unspoiled waterways.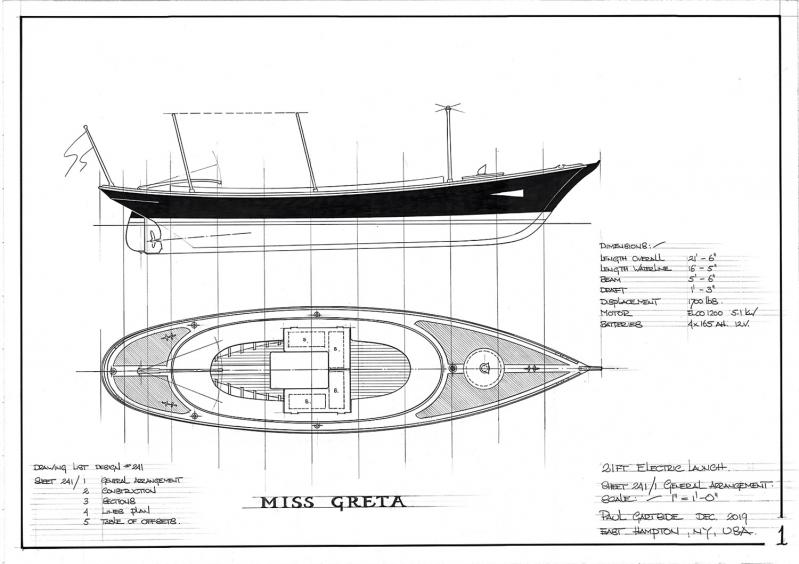 E-BOATS FOR ALL: MORE WAYS TO GET INTO THE E-ACTION
Those curious about the smooth ride of an electric boat — but not ready for ownership — will surely enjoy a harbor cruise out of Greenport aboard a pretty, old-fashioned-looking tour boat called the Glory, a 30-foot, non-polluting, zero-emissions vessel that can carry 14 passengers. The plea- sure cruises last 45 minutes and run through the end of October; before Labor Day, the trips are daily on Fridays, Saturdays, and Sundays, and after Labor Day, Saturdays and Sundays only. The cost is $35 for adults and $25 for kids 12 and under. More information is available at 631-477-2515 or greenportlaunch.com.
Wooden-boat enthusiasts of the home-construction stripe, whether dreamers who never get further than perusing plans by the fireside or hardy, hammer-in-hand builders, will want to check out the e-boats designed by Paul Gartside, a naval architect from Cornwall and Canada now living in Springs. He offers plans for a few different electric-powered launches via his website, gartsideboats.com. Search on the website for Miss Greta (seen above) and for a 16-foot, shoal-draft electric launch that is a reworking of William Atkins's "Twinkle."