When one lives in the Hamptons, it is a smart thing to get a few folks in your corner — the person who will plow your driveway in a snowstorm, the person who can crank up the chain saw when a tree limb comes down across your driveway, and the best local butcher, who can steer you to the most amazing meals. My favorite is Ray Samot, who reigns as the greatest local butcher around. He can be found at Cromer's Market in Noyac.
Ray's face lit up when I asked him about the possibility of his helping me write about Prime meats. That's "Prime" with a capital "P": Prime is the U.S.D.A. label for the best of the best; only 2 per- cent of meat in the United States receives this grade. Young cattle that are grain fed yield beautifully marbled meat that is rich in flavor, tender, and juicy. Ray was, and always is, happy to advise and suggest, making meal-planning effortless when you are hankering for that perfect steak on the grill.
Ray has been a butcher for many years, starting his career at Dreesen's Excelsior Market in East Hampton (which closed its doors in 2004 after 84 years on Newtown Lane) and coming to Cromer's about 15 years ago. "I have been doing this for a long time, and it is something that I still enjoy," he said.
Cromer's is busier than ever, supplying many of the top South Fork restaurants, as well as families and visitors. Customers bought more than 400 pounds of New York strip steaks over Father's Day weekend, and again over the Fourth of July! Ray and his team of butchers are in demand, indeed.
I must confess that right now I am unable to enjoy a grilled steak, as I am one of those people who have the Alpha-Gal allergy (it's a tick-borne illness that leaves you unable to eat beef, pork, lamb, or any other mammal — increasingly and unfortunately common around here!). But I do love meat, and my family loves meat, and I love recipe-writing, so I happily took this assignment and ran with it. A few lucky friends won the lottery and ate the gorgeous steak we cooked. I was jealous of every single bite. God, it looked so good.
So what makes a great steak on the grill? Is it the cut, the thickness, the marinade? Is it a charcoal or gas grill, or reverse-searing in an iron skillet? How can you be sure you will hit it out of the park?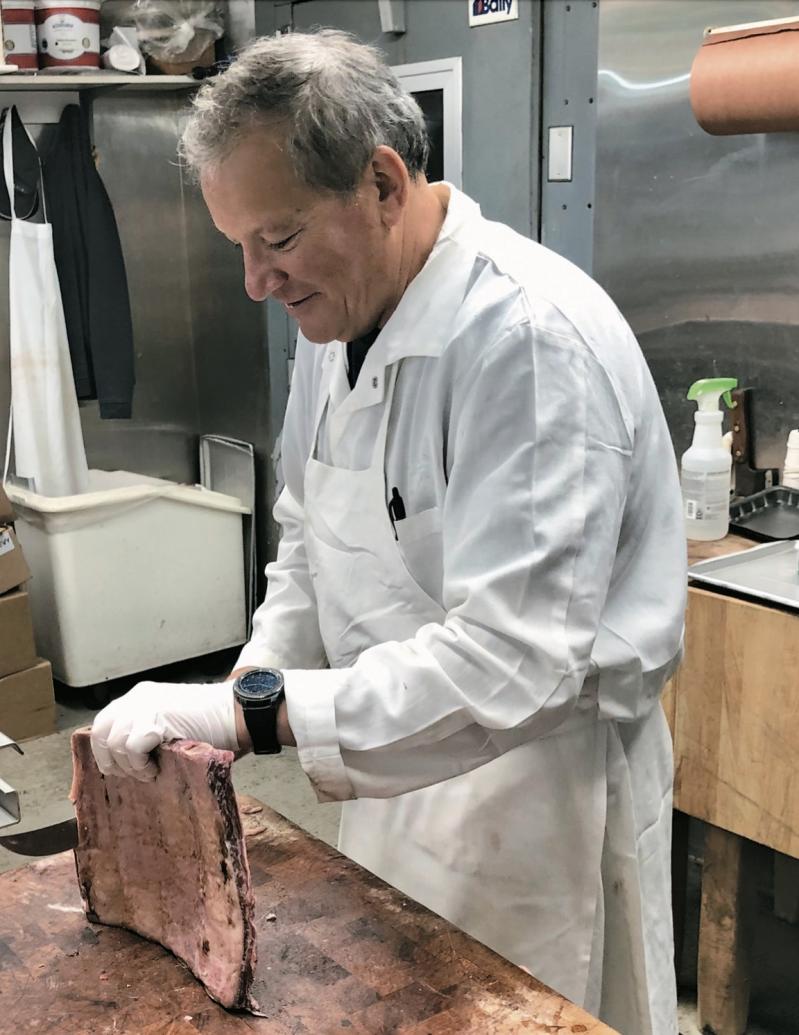 It all starts with the cut of beef. Prime meats, the elite 2 percent, are beautifully marbled throughout. This is not to be con- fused with the layer of fat you see on the outside of some steaks. The fat throughout the meat makes it tender and juicy, and provides the flavor. So whether it be a porterhouse, a New York strip, or filet, look for the marbleization. Also shoot for a cut that is at least an inch and a half thick.
If you are going to be serious about cooking steak, you must invest in a good meat thermometer. It can make all the difference, allowing you to achieve that perfect inside doneness and avoid a dry and overcooked slab of expensive beef.
Before cooking, allow the meat to come up to room temperature. If you put a cold steak on a hot grill, you run the risk of a charred outside and a raw inside. You are looking for even cooking. Seasoning the steak 30 minutes before you cook it helps the flavor get into the meat. Be liberal with salt and pepper, and pat the steak dry before applying the seasoning. Moisture will cause the steak to steam, which you don't want; you want a charred and seasoned crust to lock in the juices.
If using charcoal, bank one side with coals so it is hot, and have the other side cooler to finish your steak. If using a gas grill, get it up to 450 degrees, and don't go higher than 500. Only use oil with a high smoke point to lightly oil the grates. Canola or peanut oil are good. Warning! This isn't the moment for fine olive oil. Olive oil will burn and taste nasty.
You should know what doneness you are aiming for before that steak hits the hot grill. Rare steak and well-done steak are many degrees apart. Always have that meat thermometer handy to help. Remember to pull that steak off the grill when its interior temperature is five degrees below the target temperature, and loosely tent it with foil. It will continue to cook after it is plated. You must resist the urge to slice it right away! The juices will be flowing on your plate if you do, and will not stay in the meat. Let them redistribute with a rest under that foil tent.
Some cuts of meat, such as skirt steak or flank steak, can be marinated ahead of time, and the marinade will tenderize the meat. Prime meats are pretty tender to begin with, and really benefit from a dry rub or simple salt-and-pepper seasoning.
"Rubs are really good, especially if done overnight," Ray says. "But a good prime steak doesn't need help, whatsoever."
After cooking, additional favors can be added. We adore a gorgeous, herby chimichurri sauce. I also love to serve a gorgeous slice of compound butter on top of my steak. This chef trick is common, as the butter makes the steak taste better. Restaurants almost always bathe their steak in butter, as it helps to moisten the outside. I make many flavors of compound butters, and any can be used on steak. Think about what other dishes you are serving, and decide how you want to finish your grilled masterpiece!
Questions, questions. So what would Ray say is the best cut of Prime meat? As a butcher who has worked at his craft for more than 30 years, he must have some great secrets. And does he ever get sick of a great steak? If Ray could take any piece of meat home from his butcher case, which one would he choose and what would he do with it?
"I would take the Delmonico end of a rib of beef — which is the first cut. I would bring it to room temperature, and season it with kosher salt and black pepper. I would grill it at 450 degrees for 12 minutes, until the internal temperature was 125 degrees. And I would let it rest."
You heard it here, folks.
As for seasonings, we all know that the Cromer's dry seasoning is amazing, sold at the butcher counter, and even applied for you when you buy your meat. Ray also recommends Lawry's Seasoning Salt, one of his favorites.
Things have changed over the years, and the butcher shop is not immune from food trends. "Veal and lamb were popular, but now beef is more so. People know about the cuts — skirt steak, hanger steak, filet, and porterhouse. My secret cut? The Teres Major, shaped like a filet of beef, but much smaller. You can do many things with this cut," says Ray. The Teres Major has the major flavor that beef-lovers crave, and it's very worth a tryout on the grill, if you can find it.
Now it's time for you to jump in the car, and take a trip to Cromer's in Noyac. Ray will be behind that counter, with his big smile, ready to help.
THE BUTCHER'S TRICKS
A meat thermometer is the best way to achieve perfect steak. Insert the thermometer in the side of the steak, and away from the bone. Remove the steak from the grill five degrees before the desired doneness-temperature, plate it, and loosely tent with foil. Be patient and let it rest.
Here are the temperature guidelines:
Rare: 3 minutes per side, cook until 120 degrees inside
Medium rare: 4 minutes per side, 135 degrees inside
Medium: 5 minutes per side, 140 degrees inside
Medium well: 6 minutes per side, 150 degrees inside
Compound Butters
Add some favorite flavors to room-temperature butter, and mix well. Roll the compound butter up in parchment paper, making a log, and chill, then cut slices to place on top of hot, grilled steak. Here are some favorite combinations: 
• French green peppercorns and flake salt
• Shallots and fresh tarragon
• Roasted garlic
• Charred scallions and lime zest
Chimichurri Sauce
A fresh, uncooked sauce used to drizzle over grilled steak (or any proteins you prepare). Bright flavors really pop, and you will be hooked. I like to hand-chop all of the ingredients, so that the sauce has a real texture.
1/3 C. red wine vinegar
3 garlic cloves, minced
1 jalapeño, minced
1 large shallot, minced
1/4 C. extra virgin olive oil
1/2 C. of chopped cilantro
1/3 C. chopped parsley
1/8 C. chopped oregano
Generous pinch of salt and fresh ground pepper
Whisk the ingredients together and use as a marinade or a sauce to top your picture-perfect steak.