Who doesn't love a lively pickle? Picklers are getting really creative these days, adding palate-pleasing touches from everything-bagel seasoning to honey mustard and jalapeños to satisfy the foodie in all of us. But to create an even playing field, we focused on classic dills, and set out plates of samples with no labels attached, for a truly blind taste test. Ratings were from one to five stars.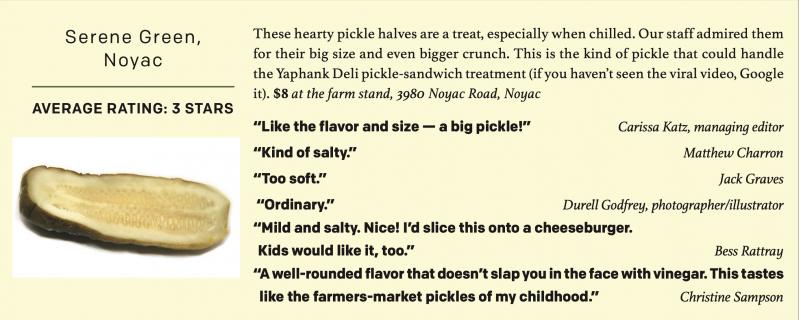 BEYOND BASIC DILL
A few less-than-usual pickles we blind-taste-tested for good measure
Backyard Brine
Everything Bagel Pickles
Average rating: 3.4 stars
A creative take that incorporates an iconic New York bagel flavor into mouthwatering pickle chips. $7.99, Schiavoni's IGA, 48 Main Street, Sag Harbor
"Does anyone care if I take these back to my desk and finish them? No? Okay, good." Christine Sampson
"Very sweet." Robin Rea
"Good for burger topping, less for eating on its own." Carissa Katz
"Sweet taste is yummy. I am sure this would be great on a burger or sandwich." Matthew Charron
Perfect Pickle
Honey Mustard Pickles
Average rating: 4.8 stars
With its bright yellow color and thick-ish sauce, this one surprised a lot of people with how good it is. $7.50, East Hampton Farmers Market at Herrick Park, Newtown Lane
"Mustardy, a touch sweet. Great for a burger." Carissa Katz, managing editor
"The perfect accompaniment to a big, indulgent VEGGIE burger." Christopher Walsh, senior writer
"The saucy look scared me at first, but the honey mustard taste was lovely — and a nice crunch." Matthew Charron, graphic designer
"Mustardy and sweet. Special!" Bess Rattray, co-editor
"Something different that I can't identify, but am drawn to." Christopher Gangemi, reporter
"Unusual but pleasing. I'm definitely going to bring these to a party." Christine Sampson, co-editor
Townline BBQ 
Spicy Bread and Butter Pickles
Average rating: 3.9 stars
A fun add-on to dinner at Townline, these check all the boxes that bread-and-butter pickles are supposed to. They just cross the border of "not spicy" into the "spicy" realm and feature tasty bits of pickled onions and jalapeños to boot. $10, 3593 Montauk Highway, Sagaponack
"Pretty good. I didn't think I would like spicy." Robin Rea
"Now that's a pickle! The spice is a fine accompaniment. Almost makes me want a hamburger." Christopher Walsh
"Delicious complex flavor! Great spice. A favorite." Bess Rattray
"Just enough spice. Fun flavor! I like the pickled veggies that come with it." Christine Sampson
FAR-FLUNG BRINY FUN
Finally, if you can't get enough of your pickles, we have a hot tip: It's a bit of a drive, but for dedicated fans, the annual Long Island Pickle Festival is happening Sept. 16 from 10 a.m. to 4 p.m. in Huntington. The festival, hosted by the Greenlawn/Centerport Historical Society and Gardiner's Farm, will feature many varieties from local pickle makers, of course, plus food, craft vendors, a corn maze, and other fall-oriented family fun. The location is the John Gardiner Farm, 900 Park Avenue in Huntington. Admission is $5 per person.