In this age, when luxury commerce seems to be the very definition of life in the Hamptons, it's easy to forget that the South Fork once was a picturesque, if obscure, haven for artists, writers, and other bohemians. Sag Harbor, in particular, has seen more than its share of notable writers over the centuries, and we revel in remembering when its bars and sidewalks were peopled by Steinbeck, et al. Here, then, is a literary-centric walking tour of the little whaling village that launched a thousand novels.
Leave your car in the lot on West Water Street, near Steinbeck Waterfront Park, and make your way to the first stop, at the corner of Main Street and Long Island Avenue. The walk will take a good hour and a half — and leave you standing at the far end of town, near the Steinbeck house, gazing out over Upper Sag Harbor Cove. You might want to Uber back to your starting point, or, if walking back, budget another half-hour to your high-minded and scenic literary stroll.
James Fenimore Cooper was part-owner of the whale ship Union, which sailed out of Sag Harbor. Before penning "Last of the Mohicans," he set his first novel, "Precaution," at Duke Fordham's Inn, which stood at this intersection (where Tutto Il Giorno is today, approximately). One of Fenimore Cooper's most famous characters, Natty Bumppo, is said to be based on a Revolutionary War hero from Sag Harbor, Capt. David Hand. Fenimore Cooper's novel "Sea Lions" also features a vivid description of the whaling port.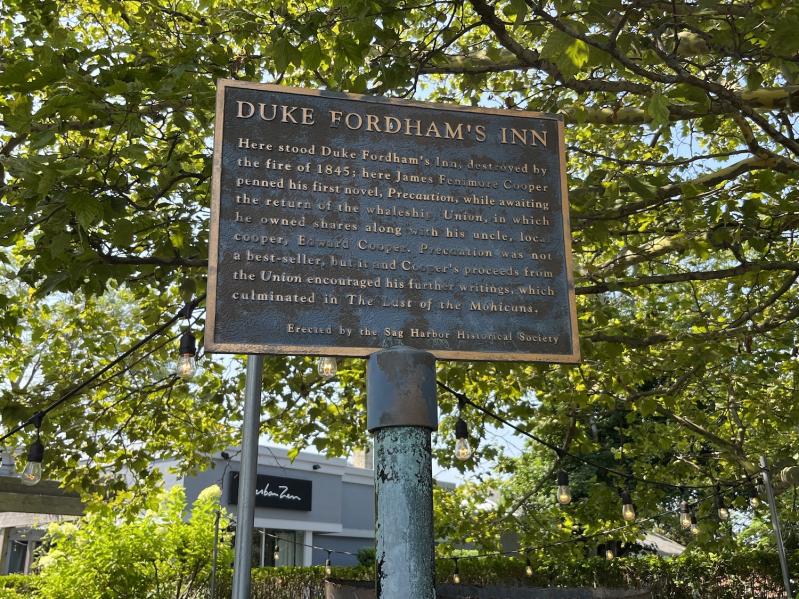 Move across Bay Street via the crosswalk, and step onto Long Wharf, by the big, shingled windmill.
Herman Melville likely walked on this wharf. He mentioned Sag Harbor several times in "Moby-Dick." Ishmael describes Queequeg's journey and how he "at last arrived in old Sag Harbor" — stepping ashore here. Melville dedicated "Moby-Dick" to Nathaniel Hawthorne ("The Scarlet Letter"), who visited his son, Julian Hawthorne, an author in his own right, at Julian's Sag Harbor home (no longer standing, and mentioned below) at the distant end of Main Street.
In front of you, at the corner of Bay Street and the land-side end of the wharf, is our next stop, Bay Street Theater.
Joe Pintauro, the prolific playwright, photographer, and fiction writer, adapted Peter Matthiessen's "Men's Lives" — documenting the disappearing maritime culture of South Fork baymen — for the inaugural Bay Street Theater season in 1991. A leading light of Sag Harbor's artistic life, Pintauro lived with his husband, Greg Therriault, on John Street; he had grown up in Queens and first visited Sag Harbor with his family as a kid. Terrence McNally, playwright of "Love! Valor! Compassion!" and "Kiss of the Spider Woman," lived in Water Mill but had several plays produced at Bay Street Theater, too. He wrote the book for a stage adaptation of E. L. Doctorow's novel "Ragtime," which was revived there last year.
Continue on Bay Street for one block, past the Corner Bar, and cross at the crosswalk near Provisions natural food store. Stroll up Division Street for a short block before you come to the office of the venerable Sag Harbor Express (founded in 1859, Melville's day).
William Patrick Mulvihill is the only native son (or daughter) of Sag Harbor on this tour. A graduate of Pierson High, he is best remembered outside of town for his novel "The Sands of Kalahari," which was made into a 1965 film with Susannah York. In town, he is best remembered as the founder of Brickiln Press — which, among other things, published South Fork Place Names — and for being, like not a few locals, an anti-development, pro-preservation fanatic. "I don't like to see farm land or forest land destroyed," he said. "I'm in anguish every time I see a new house being built." Mulvihill grew up on Glover Street, and as an adult lived across the bridge in Noyac. However, in small-town literary fashion, he also contributed to the column of The Sag Harbor Express, and here we make our stop.
Just a few steps and you turn the corner, on the right, into an alley that takes you back to Main Street. Here is the American Hotel.
Thomas Harris, author of Silence of the Lambs and creator of Hannibal Lecter, is sometimes spotted eating — just regular food, nothing to do with fava beans or a "nice chianti" — at the prettiest hotel in the harbor. He wrote his most famous book in the apartment above what was then Marty's Barber Shop, at 66 Main Street (in view diagonally across the street), and still summers in the village. Robert Caro, the Pulitzer-winning author of, among other things, "The Power Broker" — a hugely influential biography of Robert Moses, the urban planner — has a house in the village, and has been known to frequent the American Hotel for dinner or drinks, too.
Now we're going to move away from the business district and visit some of the author-clogged residential streets of Sag Harbor. The next hop will take about eight minutes. Continue walking away from the water on Main and turn left on Washington Street, by Chase Bank. Another slight left on Burke, and after a minute or two, a right onto Rysam. Continue south on Rysam Street until you hit High Street.
Eulogized by The Times as a "wittily satirical man of letters who drew upon his Anglo-American background to write bittersweet essays, criticism, memoirs, and fiction about cultural life on both sides of the Atlantic," Wilfrid Sheed settled in the 1970s in Sag Harbor with his wife, Miriam Ungerer, a cookbook author (and food writer for The East Hampton Star). The couple lived in a three-story, late-Victorian house here, at the corner of High and Rysam Streets.
Backtrack a block and then turn left onto East Union Street. Keep going on Union, past the Egyptian-revival pile that is the Old Whalers Church, and cross Madison. 
Jason Epstein, publishing-world titan and co-founder of The New York Review of Books, lived at 12 Union Street. He shared a fence with Lady Caroline Blackwood, the British author who lived in the Greek Revival house once known as President Chester Arthur's Summer White House (at 20 Union).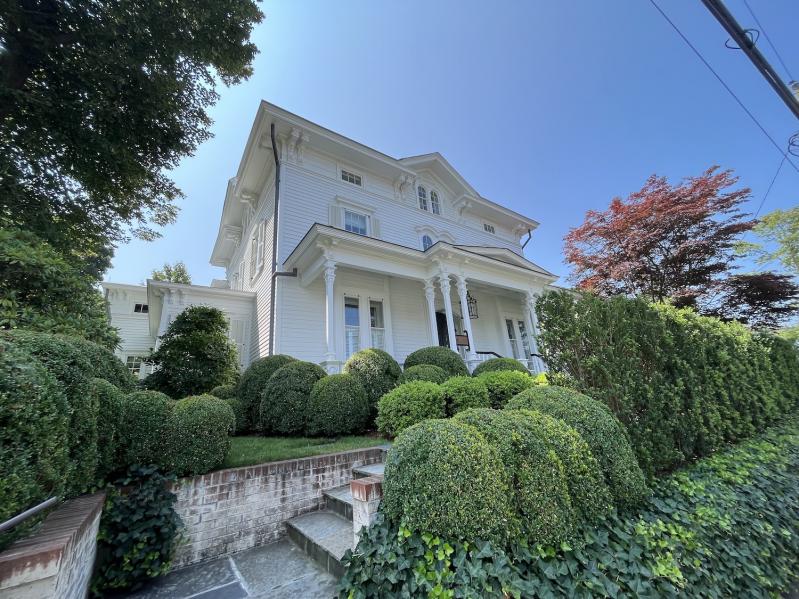 Again, backtrack a few paces, and turn right this time onto Madison Street, where swiftly you will come to our next stop.
Madison Street, number 74, was for several years home to Spalding Gray, the celebrated performance artist, writer, and monologist (see: "Swimming to Cambodia," a stage monologue he adapted for a film by Jonathan Demme in which he also starred). His "Morning, Noon and Night" recorded his time as a parent on Madison, where there is now a plaque commemorating him.
Continue in the same direction on Madison for one block, and turn right on Amity Street. Walk along Amity until you hit Suffolk Street — less than three minutes' walk — and make a left on Suffolk.
The Pulitzer and Tony Award-winning playwright Lanford Wilson ("Burn This" and "Fifth of July") lived in another Egyptian Revival pile, at 23 Suffolk Street. His play "Virgil is Still the Frogboy" was commissioned by Bay Street Theater; its title was borrowed from a locally famous graffito that could be seen in the 1980s and 1990s on the railway trestle on the East Hampton end of Route 114.
Turn around and walk back the way you came on Suffolk, making a left on Jefferson (the next street past Amity). Enjoy peeping at the pretty historical houses, and when you hit Main Street again, turn left.
Lyman Beecher — East Hampton's famous Presbyterian minister and the father of Harriet Beecher Stowe ("Uncle Tom's Cabin") lived at 221 Main Street when he was preaching in Sag Harbor, between 1799 and 1809. 
Keep going south on Main. At 237 Main Street, think again of Nathaniel Haw- thorne and his son, Julian, who owned a house here, now long gone. Keep going south on Main and, in two blocks, make a right onto Glover Street.
Betty Friedan ("The Feminine Mystique") lived in the house at 31 Glover Street. Although a household name throughout much of the Western world for her trailblazing feminist writings, Friedan said that the public event that made her most nervous, in her entire life, was giving the graduation address at Sag Harbor's Pierson High School in 1984.
A little farther up Glover, at 53, is the big, gray house behind a white picket fence that was William Mulvihill's childhood home.
Backtrack to Main Street, take a right, and immediately find yourself standing in front of Canio's Books. Canio's, a landmark business on the South Fork, was founded by Canio Pavone and is now owned and run by Maryann Calendrille and Kathryn Szoka. Canio's hosts an annual "Moby-Dick" read-a-thon among its many literary events, and is the undisputed hub of literary Sag Harbor.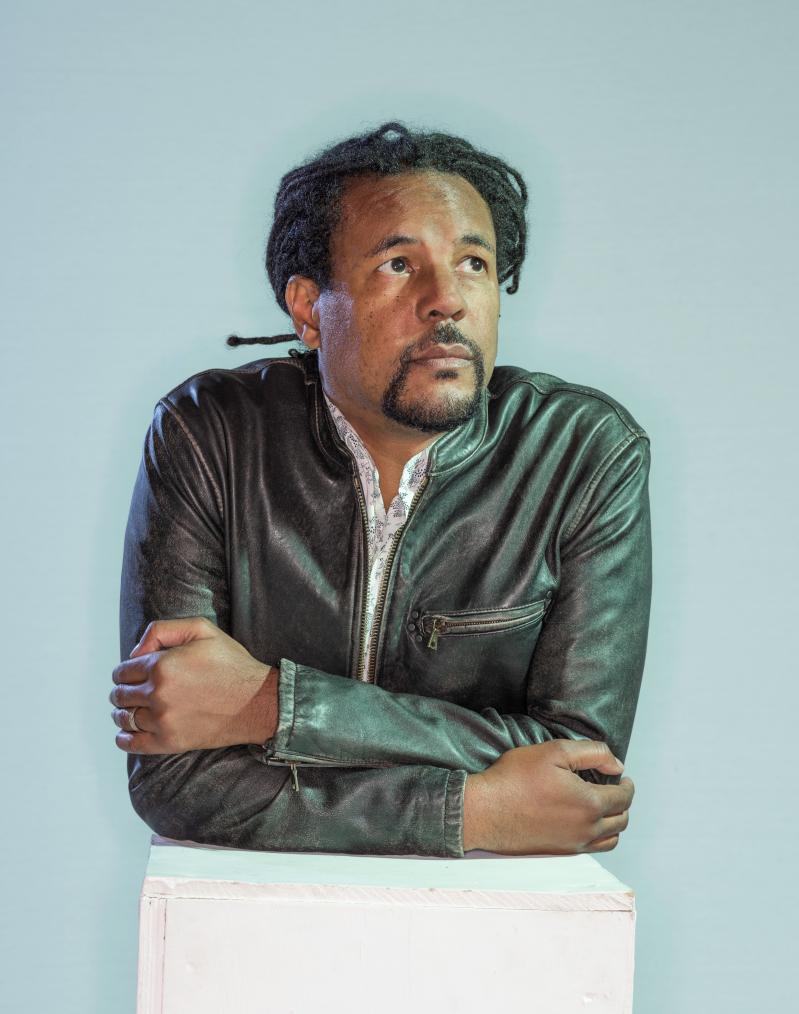 Here we will find an excuse to name-check the hugely popular literary light Colson Whitehead, author of "The Underground Railroad," which earned him a Pulitzer. Whitehead grew up in the Sag Harbor neighborhood of Azurest (too far east of the village for this walking tour) and wrote about it in his fourth novel, "Sag Harbor." Whitehead was among those — headquartered around Canio's Books and organized by its proprietors — who campaigned to preserve the John Steinbeck house (see below). He was the Steinbeck preservation committee's chairman.
Five more minutes' walk south on Main Street, and a right turn onto John Street, will bring you to the next stop.
E. L. Doctorow — "Ed" to friends — spent half his year in Manhattan and the other half at this waterfront house at 44 John Street. He often wrote there, according to a 2008 interview. ("You want peace and quiet and to be near the water at times," he told The Times.) The highly successful author of "Ragtime" and "Billy Bathgate" also kindly penned the introduction to a little book of small-town reminiscences called "Voices of Sag Harbor: A Village Remembered."
Nine more minutes' stroll brings you to the final stop. Keep going on John Street, away from Main. Turn right on Jesse Halsey Lane, then right again on Bluff Point Road. Keep going. . . . Keep going. . . .
John Steinbeck ("The Grapes of Wrath," "Of Mice and Men") lived with his wife, Elaine, in a modest, shingled cottage — with a small gazebo/writing-studio that he called "Joyous Garde," after the name of a castle in Arthurian legend — at 2 Bluff Point Lane, near the water's edge between Morris Cove and Upper Sag Harbor Cove. It has recently been preserved for posterity and will become a writer's retreat. You can see the gazebo from the street.
Can you glimpse the water of Upper Sag Harbor Cove, out beyond Steinbeck's writing gazebo?
Upper Sag Harbor Cove is where Jay McInerney ("Bright Lights, Big City") can sometimes be seen paddleboarding. In addition to being a literary celebrity and icon of the 1980s, McInerney is an authority on wine: He writes about it for Town and Country, and created the founding wine list at Baron's Cove Restaurant on Sag Harbor's West Water Street in 2015.
Steinbeck himself was often seen, back in the day, at the Black Buoy Bar on Main Street — a building that today houses eLTacobar (for those one pace behind the times, that's the late LT Burger restaurant). We suggest that it wouldn't be a bad way to end your day of exercise with a margarita at eLTacobar . . . or, if wine's more your thing, raise a glass of McInerney-approved wine in memory of Hawthorne and Melville at Baron's Cove.
TOO FAR TO WALK: More Sag Harbor Writers
We don't expect you to walk all the way from Nineveh to North Haven, so we haven't included house numbers or street corners connected to Langston Hughes, the great American poet, or Carl Bernstein of "All the President's Men" fame. But it would be a sin not to mention them.
Also beyond the bounds of this modest walking tour is: Oakland Cemetery, the last resting place of William Gaddis. Lauded as one of the most important American novelists of the 20th century, Gaddis lived in Wainscott and socialized with the Sagaponack-slash-Bridgehampton writers' circle, but was buried here, in Sag Harbor. (His gravestone has a quote from his most well-known novel that misspells its title: "The Recongitions" instead of "The Recognitions.")
Then there is Mashashimuet Park, where Candace Bushnell ("Sex and the City") was seen walking her dogs after she retreated from Manhattan during the Covid-19 pandemic. This June, Bushnell brought her one-woman show, "Is There Still Sex in the City?," to the arts space The Church, on Madison Street.
And, finally, we would feel badly if we failed to note the most prolific of local writers, Velda Johnston, who published some 37 novels of the mystery and Gothic-suspense genres. She and her husband lived in the old Samuel C. Hildreth house just beyond the auto-repair shop on the furthest end of Main, where it becomes the Bridgehampton Turnpike. Among other overachievements, Johnston is surely the only author on this list to have had a television movie made out of one of her tales starring Barbara Eden and Larry Hagman. "Serious literature," she said, took too much time and was "too hard."