We are truly blessed out here to have the finest selection of fish and shellfish coming from our cold, clean waters. The varieties available that can be used in all manner of raw preparations ranging from the obvious (tuna, fluke, striped bass, scallops, and squid) to the esoteric and more tricky (bluefish, sea robin tails, and razor clams). These are tricky because they must be mere hours out of the water and handled properly before eating.
The ways in which to prepare raw fish vary wildly, as well, with dishes from around the world, many having existed for thousands of years. It is believed that the Chinese were the first to prepare raw fish by mixing it with salt and herbs. This method had traveled to Japan by the Kamakura Period (1185 to 1333) and an early Japanese cookbook (1489!) gives directions to slice the fish and mix it with vinegar, salt, and spices. The origin of ceviche is debated, but many believe that it gained popularity — along with tiradito — some 2,000 years ago on the Pacific coast of Peru. The Moche civilization of that area would marinate fish with the juice of a local passionfruit called tumbo. Ceviche has become a national dish of many types of fish marinated with citrus and aji amarillo, a hot yellow pepper. You can find aji amarillo paste at King Kullen and local Latin markets. In Peru, ceviche is often served with tortilla chips, fried slices of plantains, and popcorn.
There is also carpaccio, tartare, yusheng, aguachile, poke, sashimi, kinilaw, hoe, koi pla, and stroganini a.k.a. raskolotka. Those last ones are the names for frozen raw fish strips eaten as-is in Siberia, lacking any seasoning and no doubt more of a protein staple for survival. However, some discerning palates near the Gulf of Ob have discovered that dipping the stroganini in mustard or, better yet, a mixture of vegetable oil, mustard powder, and reindeer blood, brings the flavor profile up a notch.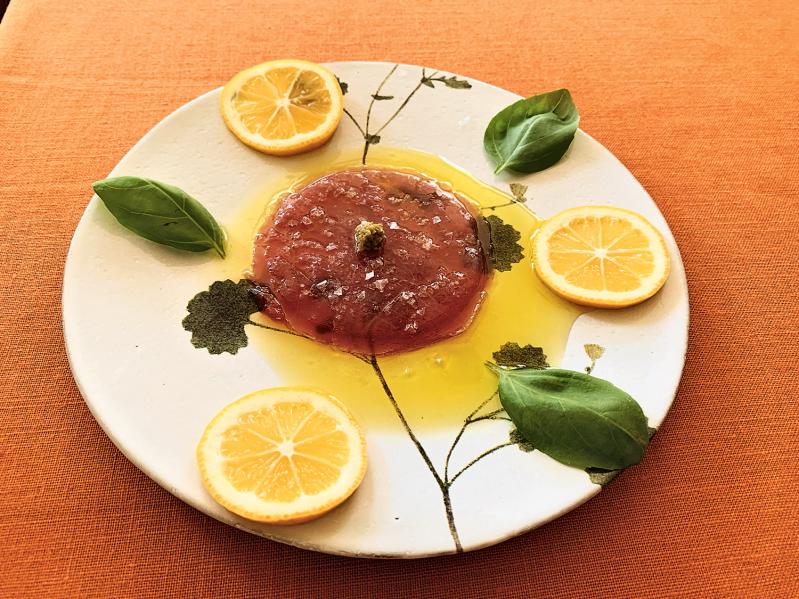 Whatever delicacy you want to whip up with super-fresh local fish, there are some surprisingly simple and easy rules to follow. After that, raw fish recipes typically take a mere few minutes to prepare.
Every Citarella and fishmonger in our community sells some form of so-called "sushi-grade" fish. Joe Gurrera, the owner of Citarella Fine Foods, pooh-poohs the term sushi-grade in his book Joe Knows Fish. It simply means fresh. Super fresh. It is always recommended that the filet be frozen beforehand, to rid it of pesky parasites. Some species are absolute no-nos for raw consumption, like swordfish and many freshwater fish. Some are more perishable than others, like red snapper (but that fish has to travel, anyway, and isn't local). The rules about freezing fish at home vary according to which authority you consult — the various books, online cuisine pundits, and even some East End chefs, who have their opinions. Some say 24 hours, some say seven days. According to some, farmed fish can be safer than fresh-caught, because the stringent laws imposed upon the farms take care of the fear factor. It should also be taken into consideration that some aquaculture operations use antimicrobials and antibiotics, which may kill off bugs but may not be what you want to ingest. Fluctuations in water temperature later in the summer also play a part in what you should consider.
Jeremy Blutstein, a South Fork chef and the co-owner of Mavericks in Montauk, is a proud promoter of "trash fish," like the ugly sea robin (a.k.a., gurnard), bluefish, razor clams from the North Fork, porgy, even the royal red shrimp that may be bycatch. Just keep in mind that some of these must be literally no more than a few hours out of the water and in the case of bluefish, bled out, then iced, then perhaps brined. The Suffolk County Health Department recommends that locally caught fish be frozen in a home freezer for seven days before consuming.
Blutstein is also a huge fan of Spanish mackerel, black sea bass, and tilefish. "I just take a quality product and do as little as possible to it," he says. His restaurant is now serving a fluke crudo with shaved fennel, pink grapefruit segments, and a guajillo oil. The crazy beautiful addition to this simple preparation is shards of lacy black tuiles, made with squid ink and rice flour. They resemble fishnet stockings or red drum skin, and add a sweet briny crunch to the dish . . . but we digress. . . .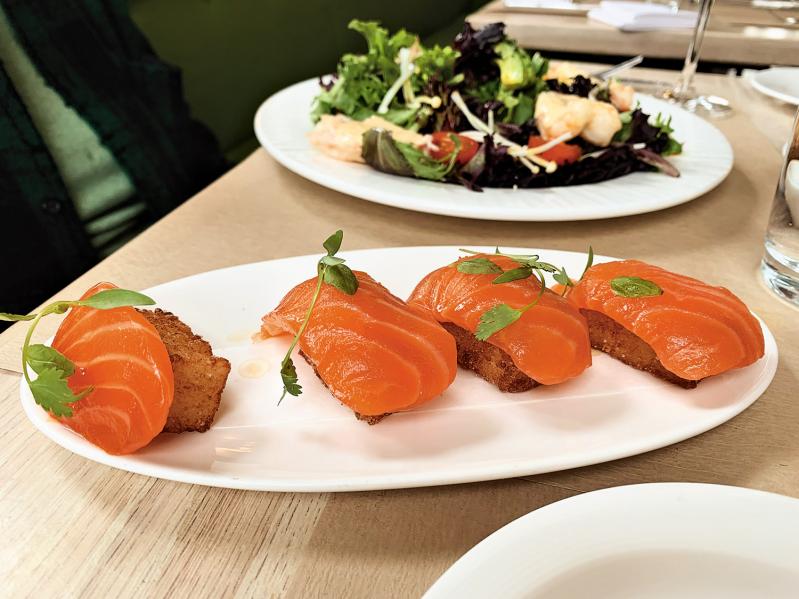 Jesse Matsuoka, the co-owner of Sen in Sag Harbor with his brother, Tora —  and also co-owner of K Pasa and Manna — is a sushi chef and sake sommelier. His first piece of advice: safety. His second piece of advice: Have an extremely sharp knife. You need to be aware of how you are holding the fish and how you are handling the knife. Don't smush the fish; slice it in strokes, using 60 to 80 percent of the blade. He believes that when the fish is cut properly it tastes better.
At Sen they have a super-duper freezer that can have the fish ready in 24 hours. One of the chefs at Sen, Luis, makes "leche de tigre" for polpo, shrimp, and yellowtail with rice vinegar, red onions, shallots, cilantro, coconut milk and lime juice and lets it marinate for a day before serving. Matsuoka sources a lot of his fish from Gosman's in Montauk and even directly from Japan and says a little grated ginger, scallions, and a citrus-soy mixture (ponzu) is all you need, topped off with a pinch of Amagansett Sea Salt.
Most of the raw preparations we are familiar with in restaurants are either Latin American in flavor profile or Asian, prepared with tuna or salmon. Italian crudos are even simpler, no more than raw fish topped with lemon juice, fruity olive oil, and crunchy flakes of salt.
A good way to think of how you want to prepare a raw-fish dish is to remember Samin Nosrat's book and program Salt Fat Acid Heat. These are the elements that can best bring out the flavor of mild fish. The salt can be salt (duh) or soy sauce; the fat can be the fish itself or perhaps the addition of cubed creamy avocado; the acid either citrus or vinegar, and heat from chiles or ginger. Some crunch is always welcome, so maybe add slivers of daikon or red radish, sliced scallions, tortilla chips, sweet-potato chips, vinegar potato chips (!), tempura flakes, or maybe even homemade chile-flavored Pop Rocks as the Lido Bottle Restaurant does in Newport Beach, Calif. That is, if you want crackling in your brain when the ponzu hits the poke bowl.
If you're interested in going the esoteric route, find some Meyer lemons for your citrus flavor, or yuzu kosho, a tantalizing and potent paste made with yuzu peel, chiles, and salt. You can find this at Hen of the Woods in Southampton or buy online.
Be adventurous. Catch some fish or buy it from your favorite fish market, and try your hand at ceviche, carpaccio, crudo, sashimi, or poke. I hope the recipes here inspire you.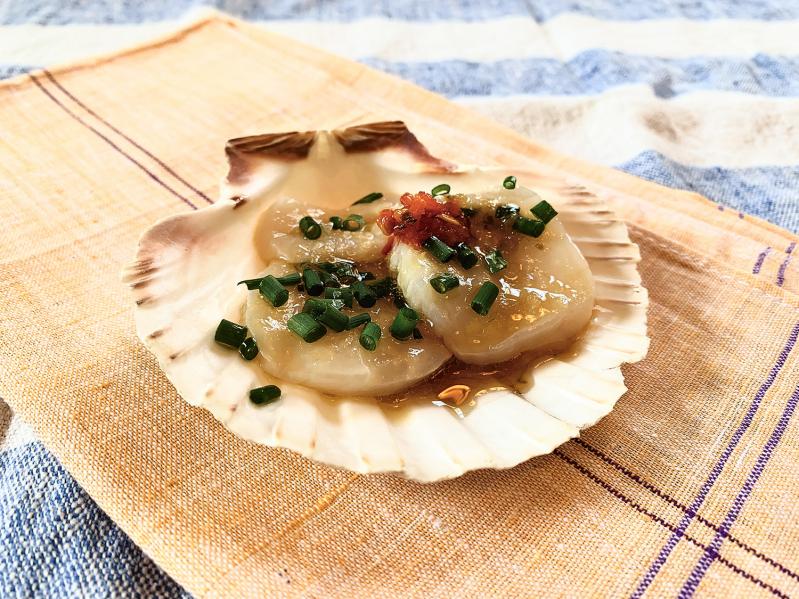 Scallop Crudo
This recipe is from wellseasonedstudio.com and it couldn't be easier. Tips: Remove the little triangular tag of muscle from the side of each scallop before preparing. And be generous with the ginger. Add more. I also like the jarred kind from Ginger People.
Serves 2
1/2 lb. sea scallops, sliced into three pieces
2 Tbsp. fresh lime juice
1 tsp. soy sauce
1 tsp. rice vinegar
2 Tbsp. olive oil
1/2 tsp. minced ginger 
1 Thai chile or jalapeño, thinly sliced
2 tsp. finely chopped chives
flaky sea salt 
Mix the marinade by combining lime juice, olive oil, soy, rice vinegar, and ginger. Whisk to combine. Taste, and adjust seasoning as desired. Place a tablespoonful of marinade on each plate. Arrange scallop slices on top, overlapping in a circle. Spoon remaining marinade on scallops, add chile slices over all, and sprinkle with chives and sea salt.
Peruvian Ceviche
This recipe is from the Food Network, courtesy of Santos Loo. It is good with grilled corn and sweet potatoes.
Serves 4
1 and 1/4 lb white fish filets such as striped bass, fluke, or flounder, cut into 1-inch dice
1 red onion, cut in half lengthwise, sliced thin, soaked in ice water for an hour, then drained
1 aji amarillo, rib and seeds removed, diced
1 clove garlic, minced
Salt and pepper
1/4 C. fresh lime juice
1/4 C. fresh lemon juice
2 tsp. finely chopped cilantro
1 head butter lettuce, washed and dried
Grind aji, garlic, and pinch of salt with a mortar and pestle. (Or just chop finely.) Combine fish, lime and lemon juices, aji and garlic paste, salt and pepper, and cilantro. Let marinate for 10 minutes. To serve, place ceviche in lettuce leaves and top with red onion slices.
Spanish Mackerel Tartare
This recipe is so simple it's more of a sentence. This comes from Joe Gurrera's Joe Knows Fish cookbook.
Serves 2 as an appetizer
8 oz. skinless Spanish mackerel    
     filet, chilled
1 Tbsp. chopped chives
1 Tbsp. olive oil
Sea salt or French gray sea salt
Microgreens for garnish
Toasted Italian bread for serving
Cut the mackerel into ½-inch cubes, Do not overchop or the texture will turn mushy. In a chilled medium bowl, combine the fish, chives, and olive oil and toss gently to coat. Season with salt to taste. Serve chilled with microgreens and slices of toast.