Growing up in East Hampton made for a magical childhood — hiking in the woods, swimming in the ocean and bays, exploring the Walking Dunes with friends. We had no social media distractions, and only one movie at a time played at the movie theater; if you had seen it already, you had to hop on your banana-seat bicycle and find something else to do. Lucky for me and my sister, our parents were creative, loved the outdoors, and especially loved sharing food. So, in our house, we went on picnics almost every night of the summer. Long before outdoor living rooms and dining spaces became the fashion, we would pack a picnic basket, climb into the old pale-yellow Jeep, and go to Little Albert's Landing Beach.
Although my mom owned a shop in town and worked full time, she was always ready for the picnic. She had a basket and a tote bag prepared and ready to go, filled with everything we might need that night. Only the food changed from evening to evening. It varied from simple to elegant, but was always delicious. There was a rhythm to these excursions, and we all helped in setting up and cleaning up. My dad brought metal skewers, so we could always toast marshmallows over the grill. I remember twisting them in the sand to clean off the sticky goo, before putting them back in the canvas tote.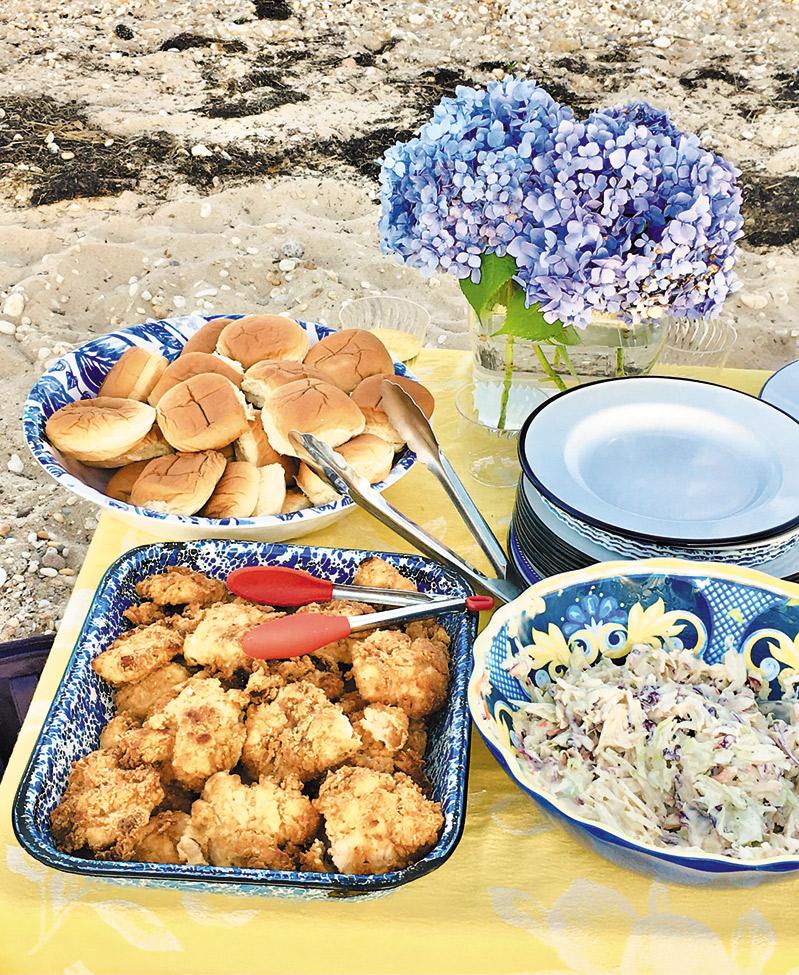 For us, the location was almost always the same in the summer. There was a spot at Little Albert's Landing, right by the jetty, that had a large flat rock that functioned like a table. We would set up a tiny grill that my father made out of a metal colander, held by a couple of pieces of wood, with a cake rack on top. He would arrange a few charcoal briquets in the colander and build a small fire. Hamburgers, hot dogs, chicken skewers, and scallops were grilled on the rack. As my parents sipped cocktails out of a jelly jar, my sister and I would wade in the water, gathering shells and treasures we found in the dried seaweed. Soon we would be called back to the blanket and dinner was served. A lovely green herb sauce would appear from the basket, and a beautiful potato salad or rice salad would get dolloped out on the French tin plates — the blue enamel ones with the white speckles. More jelly jars of lemonade and wine would appear, and cloth napkins would be distributed. As the sun began to set we would sit and eat beautiful food, and talk and laugh and be grateful for our surroundings. There was always something magical about eating outside. We have very few pictures of those picnics. We were too busy being in the moment to capture them.
I learned from my parents, and their close friends who often gathered with us, that picnics are essential to living your best life on the East End. We are so lucky to be surrounded by such beauty. It would be a shame not to go out and bathe in it. A meal alfresco is always good — and I love my dining room on the porch at home — but sitting with my feet in the sand, watching the sun set over the water is pure magic.
Picnics can be had at any time of the year, as long as you are prepared. I have fond memories of late-autumn picnics in Northwest Woods, climbing the large erratic rocks that were left behind by the glacier that formed Long Island. It was cold out, but we were dressed for it — this was back in the 1970s, when girls my age wore warm ponchos and those vests made out of hand-knit squares — and we had a blast. Wouldn't a twilight picnic at the Christmas lighting of the Montauk Lighthouse be wonderful?
Picnics can also be at any time of the day. Breakfast is a favorite of mine, actually. Grab some amazing bagels and coffee and prepare for the day ahead by sitting on the grass at Amagansett Square. Ask the group to meet you near the blacksmith's shop in the Springs Historic District for a picnic brunch. My friends and I even have dessert picnics, where we take a thermos of coffee and tea, maybe some prosecco, and have dessert as the sun sets. (Alternatively, dessert might come from the ice cream truck making its end-of-day rounds. Who doesn't love the ice cream truck?) My friends often gather for full-moon picnics, and we peruse the fireworks schedules, as well, so we can catch a patriotic show in the sky for free as we dine. 
Part of the fun is discovering spots to call your own, sharing ritually with friends and family. I am unable to divulge my favorite secret spots, but you will find yours if you keep your eyes open. From Riverhead to Montauk, there are less-populated stretches of beaches and bays still waiting to be discovered. Consider a park, if you feel like people-watching or boat-watching. Bring a tablecloth and set up in minutes at a picnic table along the Sag Harbor waterfront, or let the kids run and play games — potato-sack race? Egg-and-spoon? — at Mashashimuet. Take a folding card table when an outdoor movie is being screened for charity. Take a blanket to spread on Havens Beach when the fire department carnival is being held there. Take a backpack with glasses, cheese, and a bottle of something bubbly to the end of Barcelona Neck.
Only one rule is nonnegotiable: You must always leave your spot in the same condition you found it. Nothing is more distressing to many of us locals, who treasure our natural spaces, than going to the ocean for an early-morning walk and being greeted by a rubbish heap of empty hard-seltzer cans and the charred embers of last night's party. Out here, we are always close to a body of water, and animals and sea creatures do not deserve the garbage and plastics that too often are left behind. So be mindful, use sustainable products when possible, and always have a garbage bag with you. (If you plan to have a fire on the beach, check out the town's laws for safe burning and burn containers!)
Whether you have a theme ("How many ways can we prepare a bumper crop of white corn in August?") or are planning an old-fashioned covered-dish supper with friends, it is always fun to walk in carrying something unexpected. How about a peach cobbler, a big bowl of guacamole, or shrimp cocktail? Sometimes I gather what I need to make a giant, pressed sandwich that can be sliced and shared. Cold sliced steak on a baguette with watercress and horseradish sauce is a picnic sandwich most anyone would love. Pass around mozzarella and tomatoes drizzled with pesto, or a gorgeous charcuterie platter.
My friends and I picnic a lot more frequently than most Americans do these days, but while we always vow to meet weekly, we never quite manage to go as frequently as we intend. It's true: Life was more simple when mom and dad piled us into that yellow Jeep. But I have high hopes for this summer. Picnics nourish mind and body, as well as spirit. It's all about being outside, in nature, and just absorbing the present and your surroundings. We are so lucky. Maybe that's why, when I was little, we never took music along, but just listened to the sounds of nature. We still drink from jelly jars, and even fill some with strings of battery-operated twinkle lights, so when night falls, we can see what is on the table.
Basket Checklist
Every season we set up our picnic basket with some essentials, so it is ready to go at a moment's notice. After we have enjoyed our outing, we clean the dishes and leave it ready for our next picnic. By using real plates and utensils, you cut down on waste and leave less of an environmental imprint. Always leave the picnic area just as you found it, if not better!
A sturdy basket that has a lid, big enough to hold the essentials • Reusable dinner plates, tin or melamine •  Reusable serving ware and eating utensils •  Reusable plastic wine glasses (try GoVino) •  Cloth napkins or dish towels • A bag for garbage •  A battery-operated lamp or flashlight, plus candles •  Wine opener • Lighter •  A couple of extra food-storage bags for leftovers •  Bug spray • sun block • Tablecloth or light blanket • Bottle of water for cleanup • Cold packs (to put in freezer the night before)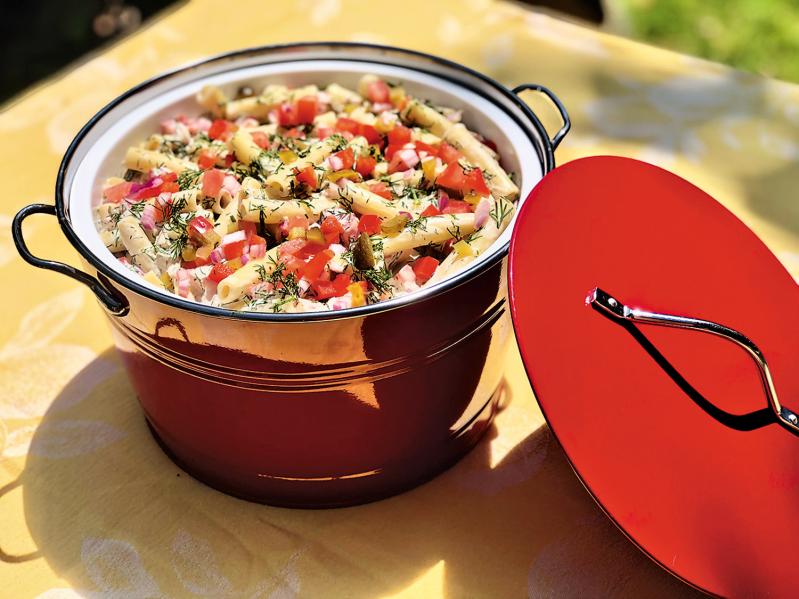 Ziti Salad From
"The Store"
This pasta salad recipe is famous in certain circles, and comes from a food specialty shop that was on Main Street, Amagansett, back in the early 1970s. It was called the Store, and it was a legend, back before the Barefoot Contessa, and even before Dean & Deluca. My parents adored it, and took to making this pasta salad all summer long. It is gorgeous — the veggies look like jewels! It is great both ice-cold and at room temperature, and perfect to take to a picnic. Fresh, seasonal vegetables and herbs give each bite a burst of goodness. I have enjoyed it for more than 50 years, and never felt the need to change or add a thing. It is not often that a recipe stands up to the test of time like that!
One of the key ingredients is juice from a jar of sweet pickles or gherkins, and you just have to use it. Promise? I consider sweet-pickle juice a crucial
secret ingredient in many things: tartar sauce, potato salad, deviled eggs, even tarragon chicken salad. Never drain those sweet gherkins. Always save the juice, even when the pickles are gone.
Traditionally, this was made with ziti, but you can use another tube pasta or rotini. I served mine from a red tin ice bucket, so it will stay cool, with a lid.
1 box tube pasta, cooked
1 bell pepper, chopped
1 tomato, seeded and diced
8 sweet gherkins, minced
1 small red onion, minced
2 handfuls dill, cleaned,
     dried, chopped
1 1⁄2 C. mayonnaise
1⁄2 C. sour cream
2 Tbs. sweet pickle juice
1 Tbs. red wine vinegar
2 packets of G. Washington's
      Rich Brown Seasoning
Combine wet ingredients and seasoning powder in a medium bowl, mixing well. Toss pasta in large bowl with half the dressing. Add vegetables and dill, and mix again. Add more dressing until coated well. Let sit for 10 minutes before eating, so the pasta soaks up the goodness. Garnish with additional chopped dill and peppers before serving.